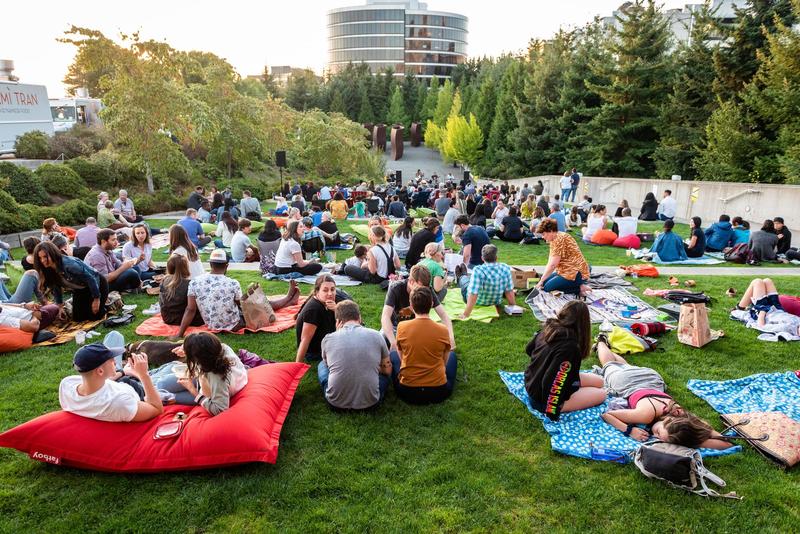 SAM News
Seattle Met's "Things to Do in Seattle" includes a recommendation for Summer at SAM at the Olympic Sculpture Park, noting that "live music, hands-on arts and crafts, and food truck meals define summer nights at the waterfront park." Join us every Thursday night and Saturday morning for all the free fun. 
More news for the sculpture park: USA Today 10Best is out with their annual readers' choice awards for the 2022 arts scene; we are happy to report we made the cut for their top ten best sculpture parks! To our fellow winners: our travel plans are set to check out the competition.
And don't forget to make your way from the sculpture park to the Seattle Art Museum: Alberto Giacometti: Toward the Ultimate Figure is now on view! Artdaily shared the news about the exhibition that features the iconic explorations of the human form by the modern sculptor.
Local News
Crosscut's Brangien Davis is inspired by the James Webb Telescope images, Alfredo Arreguín's paintings on view in La Conner, and even more cosmic art to see in town.
The Stranger may no longer have their legendary print covers, but art director Corianton Hale is back thanks to their new web design, which includes an "artist of the week" to explore. Here's his chat with Janet Politte, whose work is included in the Photographic Center Northwest's thesis exhibition.
The (other) big Seattle art world news this week: The Seattle Art Fair takes place July 21–24 at the Lumen Field Event Center. The Seattle Times' Jerald Pierce gives you a peek into the fair's triumphant return under its new organizer, Art Market Productions. SAM is thrilled to be the fair's beneficiary partner—drop by our booth to learn about the latest SAM and SAM Gallery happenings!
"Gallery owner Judith Rinehart knows that attending an art fair may fall outside of some people's comfort zones, but she encourages folks to take that leap. 'I think there's this myth that you have to have a robust arts education to engage with artwork,' Rinehart said. 'You don't.'"
Inter/National News
"Black Napoleon and smooching sailors": Kabir Jhala for the Art Newspaper on American painter Amy Sherald's first European solo show, now on view at Hauser & Wirth.
"A Hidden Self-Portrait Has Been Discovered Beneath Van Gogh Painting": Francesca Aton for ARTnews with another story showing how X-ray and other technologies continue to reveal art lessons.
Christina Olsen, director of the University of Michigan Museum of Art, offers up this op-ed for Artnet on "five ways campus museums model a more courageous future" for the field as a whole.
"All museums need to look honestly at their own practices of exclusion and what enabled them, from governance structure, to hiring practices, to opaque decision making, and be up front about them so the entire field can begin to act as true cultural stewards and meet the broad call for change."
And Finally
– Rachel Eggers, SAM Associate Director of Public Relations
Image: Robert Wade.