The Melodies of Art: Emerging Arts Leader Intern Emma Johnson Reflects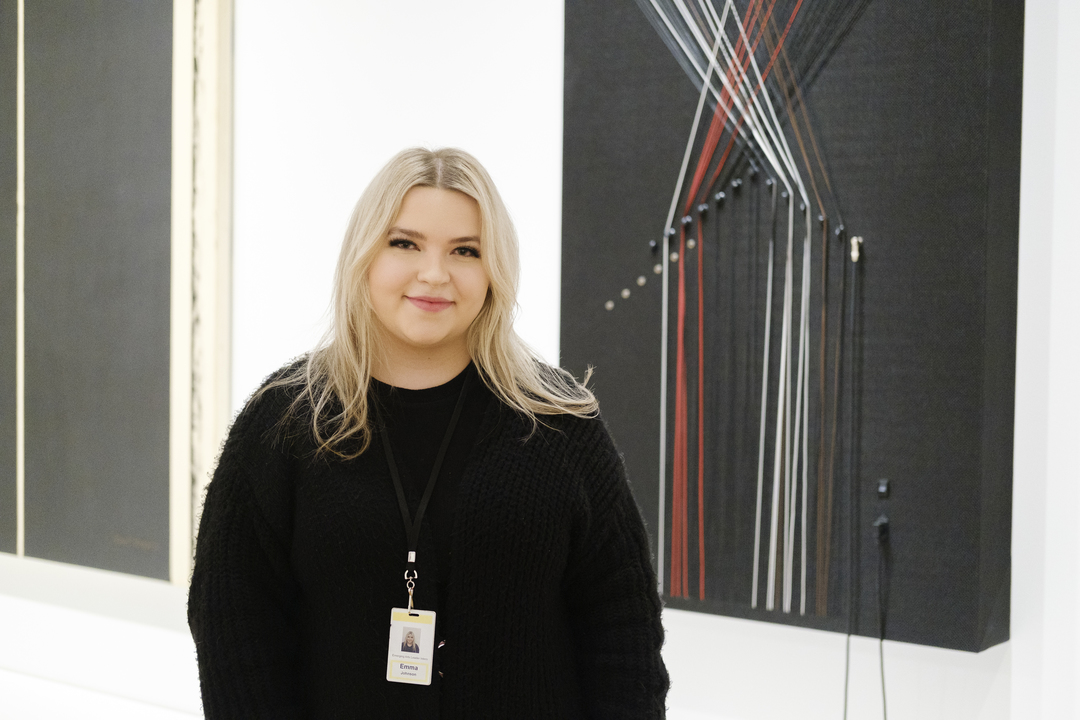 My first experience with the connective power of the arts was through music. As a child, melodies and lyrics—both new and passed down through generations—shaped my identity and created ties between myself, my family, and my community. In visiting museums like SAM, I feel the same connection to art that I do to musical compositions. With its own harmonies, dissonances, and rhythms, visual art provides me with meaningful experiences and a sense of belonging.
As I grew up, I became increasingly determined to weave the arts into my future career. After graduating with a bachelor's degree in art history, a minor in music, and building skills through museum volunteering, I was offered the opportunity to join SAM as the Public Engagement Emerging Arts Leader Intern. I was thrilled to start 2023 at my local museum, and I was eager to step into a new area of museum work.
My first day as a SAM intern was surreal. After passing through the staff entrance and finding my place in the fifth-floor offices, I realized my perception of museums was about to change. As part of the public engagement team, I focused on data collection and developing evaluation tools for museum events. I created several post-event surveys intended to collect meaningful feedback that offered a more thorough understanding of SAM's audience.
Through this research and data collection, I was able to take a deep dive into the goals and values of events and discover the many ways SAM connects with its community. Among them is SAM Remix. SAM Remix is more than a party, it's an evening dedicated to celebrating art, artists, authentic expression, and community connection. Behind the scenes of the event's contagious energy are defined goals and aspirations outlined by the public engagement team. I saw a passionate desire to engage with local contemporary artists and strong efforts to reflect the diversity of Seattle's artistic community through the event's talented lineup. This experience has inspired me to incorporate community-focused goals into my work's natural rhythm. I am now driven by questions of how all events can better engage and represent their audience, and ensure every attendee feels welcome, safe, and included. Community events are as vital to the museum as the exhibitions themselves: they truly play a part in connecting art to life. My last day at SAM was filled with heartfelt goodbyes and as a Remix volunteer, the perfect way to witness the result of months of hard work.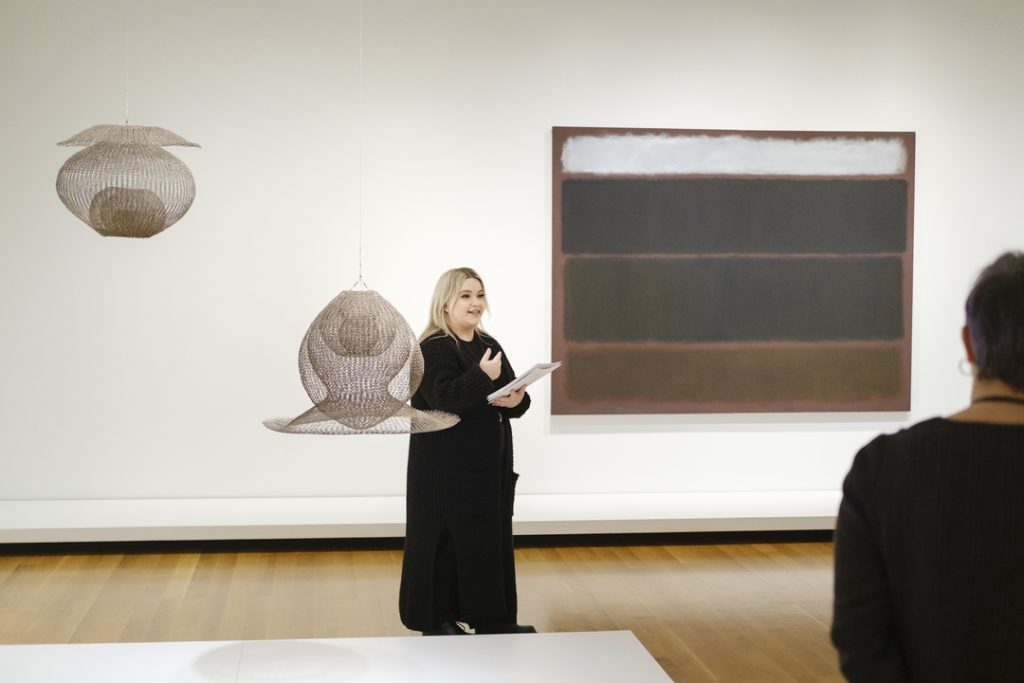 Outside of my role on the public engagement team, I was encouraged to connect with staff members across departments and felt the museum valued my voice. As an Emerging Arts Leader Intern, I was able to explore the various facets of the museum by attending and contributing to meetings, shadowing volunteers, witnessing the installation of Ikat: A Compelling World of Cloth, and having the opportunity to write and give a public tour. The tour was one of the most personally impactful parts of my internship. Making room for creative interpretations and passionate research, I was asked to share our perspective on art, leadership, and museum work.
Through this opportunity, I was able to revisit my connection to music, a part of my identity that connects me to many of the works on view, including Mark Rothko's Untitled (1963) and Naama Tsabar's Transition (2019). I felt honored to be able to share my own research and perspectives, tell personal stories, discuss the intersection between music and art, and to use my platform to amplify messages I consider important.
Looking back on my time at SAM, I have come to realize that this institution is not static. SAM is alive and possesses a desire for growth and change. Although evident across all departments, I saw this most in the public engagement team's efforts to put the interests and needs of its community at the forefront of its work. From planning community events like SAM Remix to highlighting the voices and perspectives of emerging arts professionals, SAM has instilled in me an excitement for the future of museums. I am grateful to take with me not only a strengthened skillset, but also ambition, hope, and a passion for public engagement into the next stage of my career.
As my internship (and this blog post) comes to an end, I would like to thank the public engagement team. To Jesse and Jason for their continued guidance and support; to Yaoyao, Erika, and Carrie for offering their perspectives, encouragement, and career advice; and to all of the incredible interns I was able to work alongside, but especially Teagan and Zak.
Finally, thank you to SAM for giving me the opportunity to do what I love and for creating a space that allowed me to form meaningful connections to both art and other museum visitors.
– Emma Johnson, SAM Emerging Arts Leader Intern in Public Engagement
Photos: Alborz Kamalizad.