Inside SAM's World of Compelling Cloth: Chief's Poncho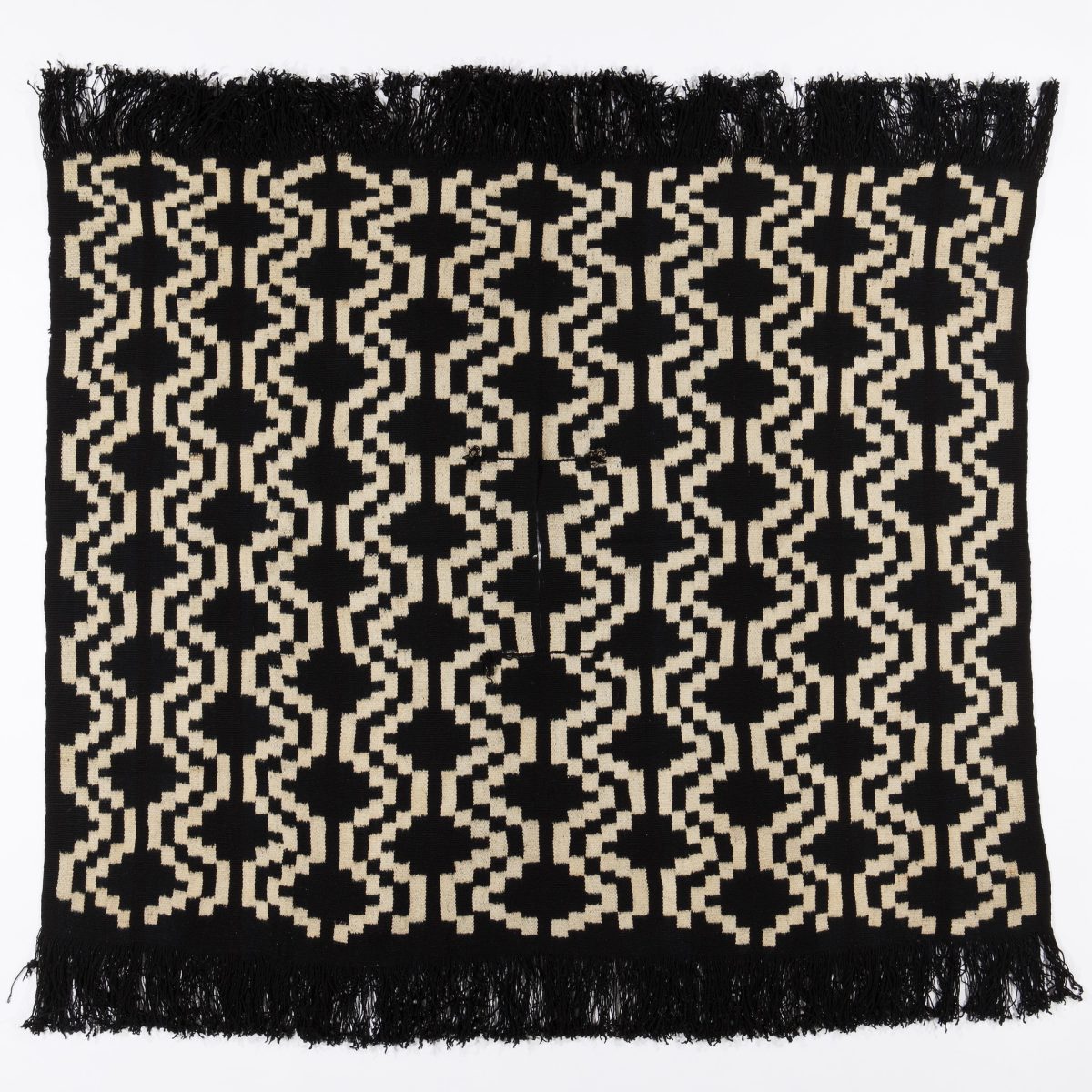 This stop on SAM's smartphone tour of Ikat: A World of Compelling Cloth explores an indigo and cream poncho created by the Mapuche people of Chile in the late 19th century. It includes photos and text not found in the exhibition's galleries as well as a verbal description of the textile intended for visitors with low to no vision, or anyone interested in taking a closer look at the artworks.
Scroll below to learn about Chile's Mapuche people, the connection between weaving and land rights, the significance of stepped crosses on Mapuche textiles, and a thorough explanation of one particular poncho on view in SAM's galleries. You can explore all seven stops of the exhibition's smartphone tour and thirteen available verbal descriptions while visiting SAM or on your own time. And don't forget: Ikat is on view at SAM's downtown location through Monday, May 29—don't miss it, get your tickets today!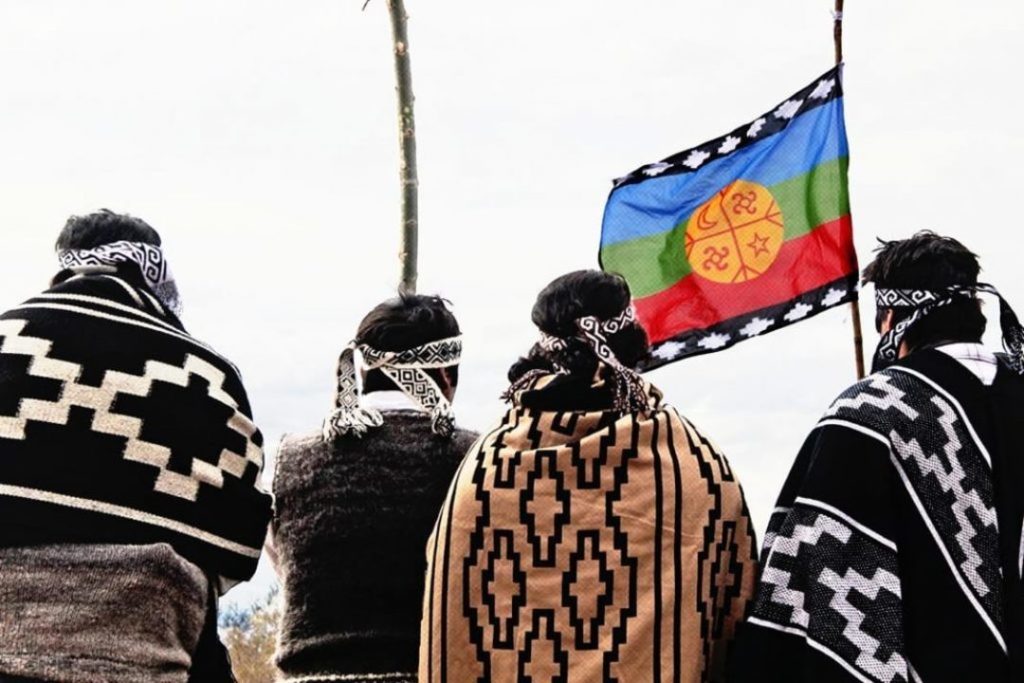 Who are the Mapuche?
The Mapuche are the largest group of indigenous people in Chile and make up about 9% of the country's population. Mapuche culture has existed in Southern Chile and Southwestern Argentina since 500 BC, but the current relationship between the Mapuche and the Chilean State is fraught. The government has stripped away land rights from the indigenous groups, and has met protests with a variety of human rights abuses.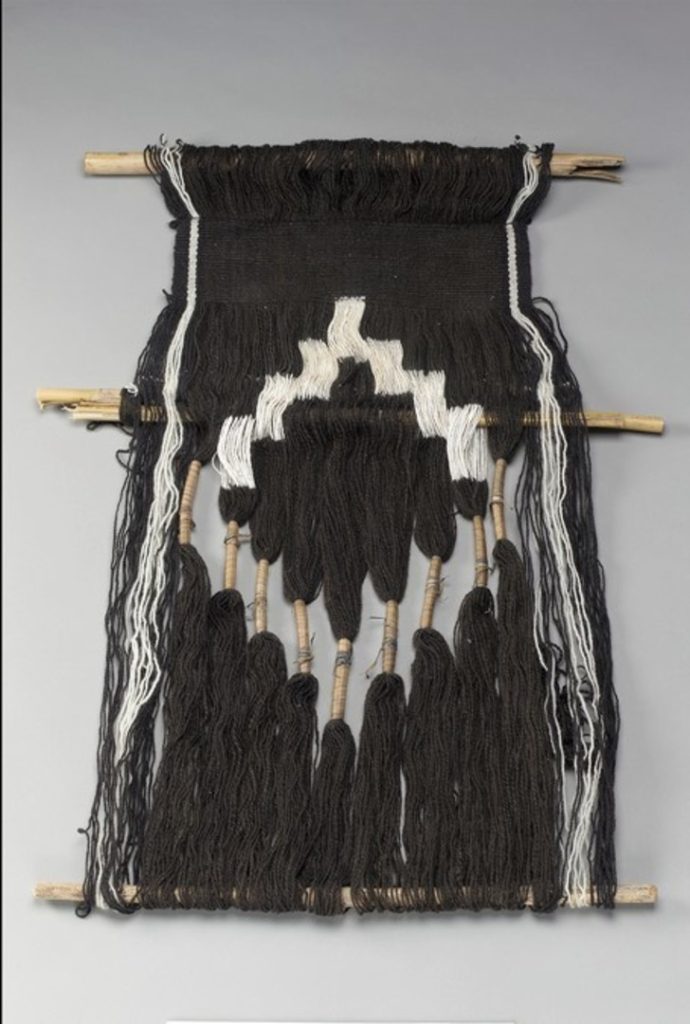 How are land rights and weaving connected?
As the Mapuche people lose their land, they also lose access to the raw materials used in traditional crafts, such as weaving. Indigenous forests are being cut down and replaced with more profitable logging materials, like eucalyptus and pine. Many of the indigenous species being destroyed are used by the Mapuche for dying wool, creating drums, and even in medicines.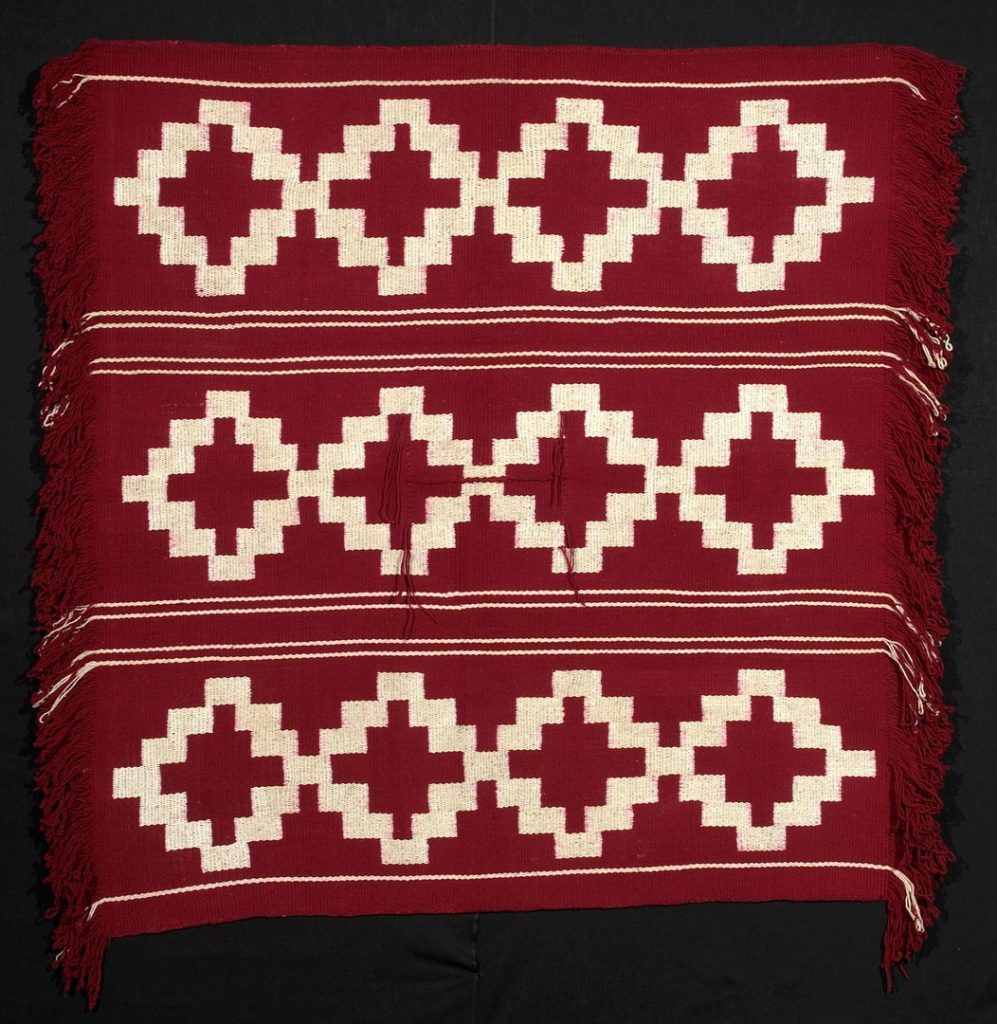 What is a Stepped Cross?
A stepped cross, also known as a gemil, or chief's mantle, is a design featured frequently in Mapuche weaving. It represents the art of handcrafting, science, and knowledge. A poncho with these bold geometric patterns and deep indigo hue would be worn by a distinguished leader in the community. The deep, almost black, indigo color indicates the "celestial vault". On a man's garment, this signifies the wearer is accomplished beyond the parameters of humanity.
Verbal Description of Mapuche Poncho
Woven in Chile by the Mapuche people in the late 19th century, made of sheep's wool and dyed with indigo. It is four feet and ten inches tall by four feet and eleven inches wide. This poncho is made by the Mapuche, which is the largest group of Indigenous people in Chile. It would be worn by a chieftain, a mature man of elevated position in their community. Lying flat, the poncho is a square shape. There is a vertical slit in the middle of the square meant for a person's head to fit through. When worn, the front and back sides of the poncho hit just below the waist of an average sized man. The poncho appears to be black and white, but upon closer inspection, the colors are the deepest shade of indigo and a warm beige. The indigo hue was achieved from months of dyeing and oxidation, creating a color so rich and intense it seems almost darker than black. The pattern on the poncho is made of geometric designs of stepped crosses and lines in indigo with the surrounding space being a warm cream color. Nine equidistant vertical lines cover the poncho. Sitting on the lines are staggered stepped crosses. The stepped crosses look like pixelated diamonds, with three steps on each side. An indigo fringe sits on two edges of the poncho—what would be the front and back when worn by a person. Symmetry is a very important part of the textile. If you folded the poncho onto itself in any direction, it would create a perfect inversion every time. The poncho is made of woven Spanish merino wool; thick and rough but still pliable. When worn by a chieftain, the fabric wouldn't simply fall flushed to its wearer, but pucker and lift as the sturdy wool tries to maintain its shape.
– Lily Hansen, SAM Marketing Content Creator
Photos: Mapuche, late 19th century, Chile, warp ikat sheep's wool, indigo, 58 x 59 in., Collection of David and Marita Paly. Mapuche protesters wearing traditional clothing © Negro Ramírez. Loom and weaving with "cacique's mantle" design Nancy Epulef Barra, Mapuche, b. 1971 wood, wool yarn, vegetal dye/dyes © National Museum of the American Indian. Chief's Mantle (Manta de Cacique) Chile, Mapuche, 20th century wool; ikat © Minneapolis Institute of Art.