Muse/News: Summer Goth, Abstract Bearden, and 1920s Paris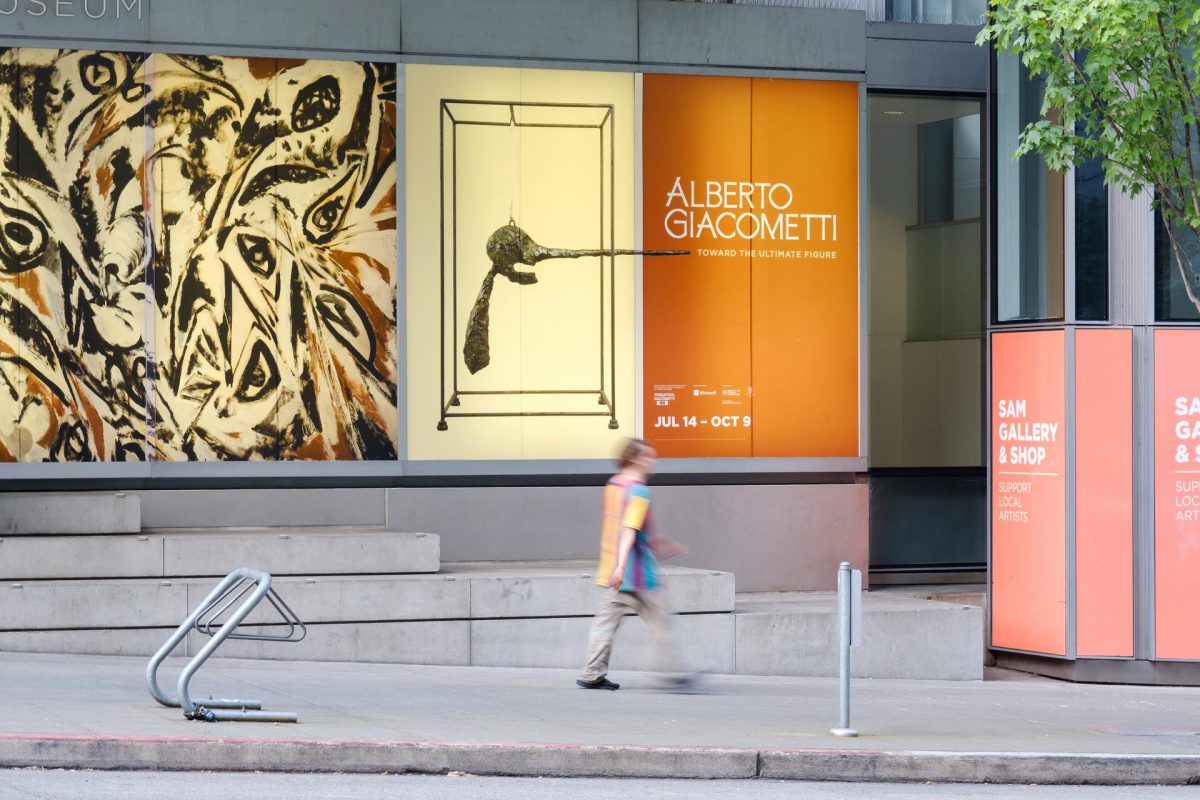 SAM News
"An existential blockbuster": Margo Vansynghel previews Alberto Giacometti: Toward the Ultimate Figure for Crosscut's "things to do" in July. In addition to SAM's summer goth moment at the downtown museum, she also recommends the return of Summer at SAM at the Olympic Sculpture Park, the free series of performances, activities, and food kicking off this Thursday, July 14. 
"Few visual artists have become as synonymous with existentialism as Alberto Giacometti (1901–1966), sculptor of slender anguish… At SAM, photographs of the artist in his studio (by photographers like Richard Avedon, Henri Cartier-Bresson and Gordon Parks) accompany dozens of Giacometti's paintings and sculptures. Among a thicket of his elongated bronze sculptures and busts, expect some of his greatest hits, such as 'The Nose,' a bronze depicting a tormented Pinocchio-from-your-nightmares stuck in a cage, or the iconic, life-sized 'Walking Man I.'"
For their latest events round-up, The Seattle Times' Vonnai Phair interviews Robert Rutherford, SAM's Manager of Public Engagement at the Olympic Sculpture Park, about this year's edition of Summer at SAM. 
"'The park has been an amazing resource for the last two years helping people cope with everything that's going on by just having some green space and some respite and a space to retreat to,' Rutherford said. 'One of the things that we really wanted to focus on as we come back into in-person programs is bringing the piece that's been missing from the last two years from the park — and that is community.'"
Here's Brittni Williams for Travel Noire with recommendations for "one day in Seattle," including the Olympic Sculpture Park and its "spectacular, contemporary sculptures that are a treat to capture in photos."
Local News
Here's KEXP's announcement of Ethan Raup as the music organization's next President and CEO, succeeding longtime CEO Tom Mara. SAM's music-loving Chief Financial Officer, Cindy Bolton, serves as a KEXP board member and helped select Raup for the position.
This past Saturday, the new Georgetown arts space Mini Mart City Park held its opening celebration. The Stranger's Jas Keimig previewed its first solo show of colorful works by Nikita Ares.
For the Seattle Times, Gayle Clemans reviews the Romare Bearden exhibition now on view at the Frye Art Museum.
"These abstract paintings are both radically different from his later collages and full of foreshadowing, holding hints of Bearden's compositional virtuosity and material experimentation. This exhibition sets out to prove a point and it does so brilliantly: These paintings were fundamentally important to Bearden's development as a collage artist."
Inter/National News
Artnet's Zachary Small looked into attendance figures for museums across the country, finding that for many, it has plateaued or dropped. SAM shared data showing about an 88% recovery to pre-pandemic numbers, faring better than some other institutions but with a ways still to go.
"A beacon of light": Here's the New York Times' obituary for celebrated abstract artist Sam Gilliam, who died recently at the age of 88. Five of his paintings are in SAM's collection; revisit this SAM Blog deep dive into his work Union (1977).
Hannah Stamler for Art in America reviews Pioneers at the Musée du Luxembourg, a survey of women artists who worked in 1920s Paris.
"The show considers how female painters, photographers, and sculptors, drawn to Paris from near and far, navigated the era's tensions, finding ways to insert themselves into a still male-dominated art world and proclaim their right to self-determination."
And Finally
– Rachel Eggers, SAM Associate Director of Public Relations
Image: Alborz Kamalizad.