Object of the Week: Indian Warrior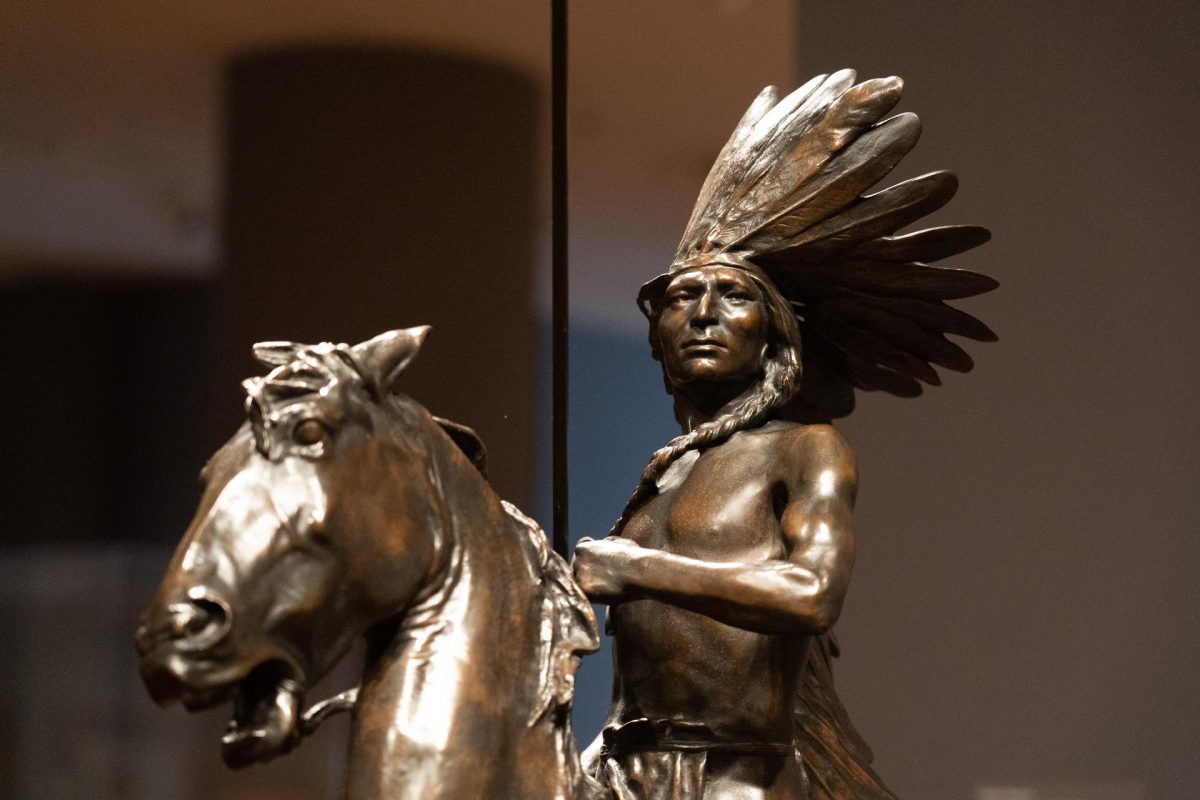 Alexander Phimister Proctor was an American artist renowned for his bronze sculptures depicting the western frontier. Toward the end of 1896, he received the prestigious Rinehart Scholarship to practice in Paris on a three year contract. The scholarship committee commissioned Indian Warrior for the Rinehart Prix de Paris Collection. 
In the fall of 1895, Proctor traveled to Glacier National Park in Northwestern Montana and stayed at a Blackfeet reservation where he studied two Blackfeet men. He started the cast for Indian Warrior there, and later finished it in New York and Paris. The model for the figure was a man named Weasel Head, while the horse was owned by a mutual colleague named Dixon. A New York lawyer, Dixon allowed Proctor to borrow the horse for the piece.
Proctor brought the lessons he learned in Paris to his practice of American naturalism. In Paris, he absorbed the Beaux-Arts style which upheld classicism in sculpture. As for the naturalistic element, he was interested in depicting realistic scenes from the American West. In this piece, the figure sits calmly above a trotting horse in action. Where they are going is beyond what the viewer knows. Yet, the figure's spear draws itself parallel to the nape of the horse in a way that honors the spiritual connection of the two main subjects. Personal interdependence lies in the body language of them both: proud and secure.
Proctor's appreciation of Native American culture is a layer of protection provided to historically white Western artists. Proctor's privilege lies in his freedom to determine Native Americans worthy enough to sculpt. The concept of the Noble Savage stems from this privilege and calls this artwork into question. Indian Warrior does not find a hold in contemporary Native American representation-nor does it attempt to. It functions as Proctor's own interpretation of Natives existing within their culture and doesn't leave room for further understanding.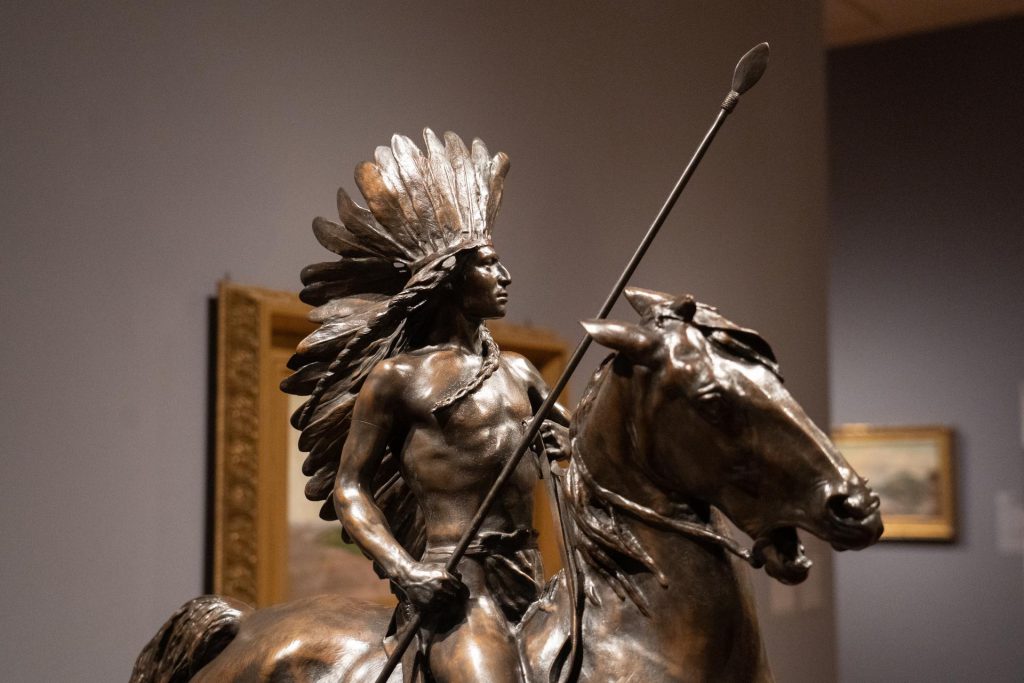 Folding back these layers does not detract from Proctor's artistic excellence. He was a master of his craft. Augustus Saint-Gaudens, a fellow acclaimed American sculptor and friend to Proctor, knew this. Theodore Roosevelt, a continued supporter and avid commissioner of Proctor's work, expected it. Yet, this piece is only poignant because of its subject matter. The way in which the horse and Weasel Head are both stopped in a moment in time. Admiration can fill the subsequent space. But admiration is nothing without reflection. And reflection is nothing without the impulse for more. To follow this piece to where they are going.
The responsibility of responding to Native American monuments lies with every person that views Indian Warrior. These snapshots of moments in time are a careful reminder of what it means to be valiant beyond the circumstance. Proctor's technical excellence in Indian Warrior is made possible by who he is representing. This work is emotive and communicative because of the history it depicts. It is not Proctor's touch that carries this work, but the themes that it reflects on Native Americans being represented by white mainstream artists. If there are accolades to be given to this work, its honor should be in the identity of Weasel Head, and the legacy of Native American heritage. Where is the horse taking Weasel Head? Or where is Weasel Head taking the horse? Beyond the space of the Seattle Art Museum, to the future in sight, for all to see.
– Moe'Neyah Holland, SAM Emerging Arts Leader Intern
Images: Chloe Collyer.