Muse/News: Art for the Earth, Fair Reflections, and Venice Prizes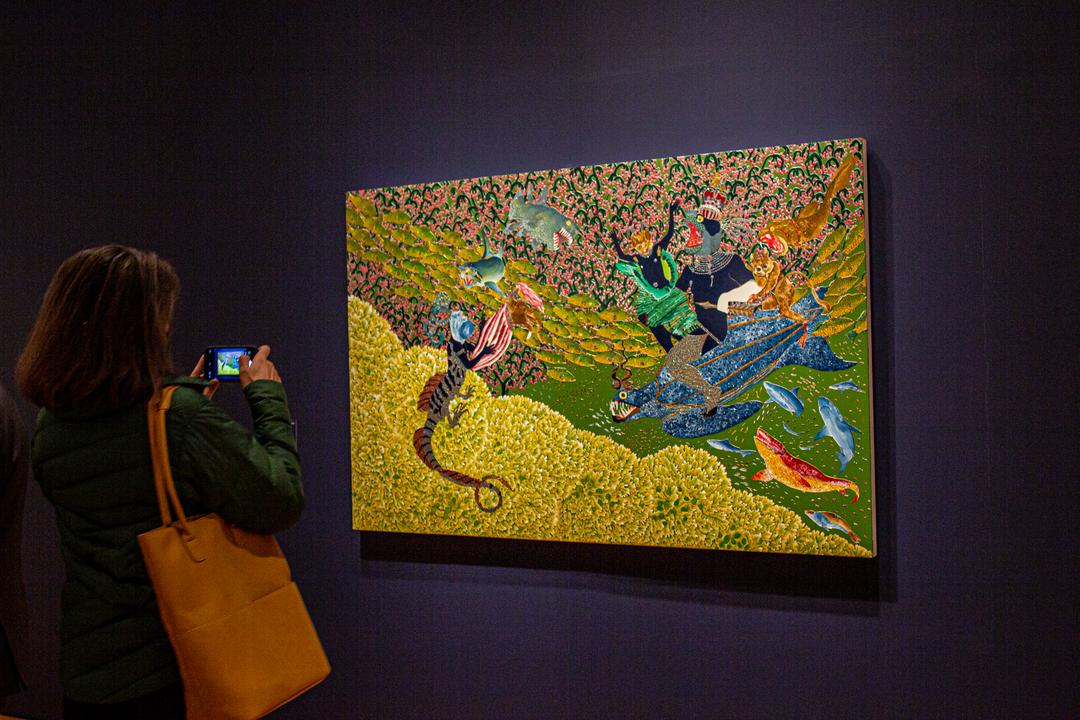 SAM News
Earth Day is every day! Get inspired to create change with Our Blue Planet: Global Visions of Water, now on view at SAM. Aesthetica Magazine features the exhibition on their list of "5 exhibitions for Earth Day" from around the world. So does the Stranger's Everout list of things to do in Seattle for the important holiday. And Seattle Met includes the exhibition on their list of things to do in Seattle right now.
JiaYing Grygiel for ParentMap offers up "Best Things to Do With Kids on the Seattle Waterfront," sharing fun secrets for a visit to the Olympic Sculpture Park (and very cute pictures of her kids zooming around sculptures!).
"Every hour on the hour, a bell chimes and the Father and Son water fountain reverses. Take the walkway over the railroad tracks, where transportation-obsessed kids will love that you can watch train, car, plane, and boat traffic all from the same vantage point."
Local News
Grace Gorenflo of the Seattle Times continues on the arts recovery beat, with recent stories on creative pandemic fundraising and this look at Mayor Bruce Harrell's plan for the arts–and what arts leaders think.
The Stranger's Jas Keimig heads to the Henry Art Gallery's new exhibition and reports back on "Finding Yourself Inside a Magma Slit."
"How a 1962 art critic reviewed the Seattle World's Fair": Crosscut's Brangien Davis looks back on the 60th anniversary of the Seattle World's Fair and its "World of Art." (She also shouts out some exhibitions to see for Earth Day, including Our Blue Planet at SAM.)
[Seattle Times art critic Ann G.] Todd was much more impressed with the Fine Art Pavilion's exhibit of 'Northwest Indian Art,' curated by University of Washington anthropology professor and ethnobotanist Erna Gunther (who also served as director of what is now the Burke Museum). Previewing the show in the very first issue of ArtForum magazine (June 1962), Todd gushed, 'It would be difficult to imagine more stunning proof of the expressive genius of the Northwest's aboriginals.'"
Inter/National News
"5 Incredible Art Pieces From World-Class Contemporary Artists That Anyone Can Afford": Jeff Miles for ARTnews with some very cool artist editions you can buy. Might we also recommend a visit to SAM Gallery and SAM Shop?
Tabitha Barber for the Art Newspaper reviews: "A new visual history of domestic service spanning 400 years examines the lives of those working within the home."
Artnet reports back from the Venice Biennale: "Sonia Boyce and Simone Leigh Win Golden Lions at the Venice Biennale for Work Honoring the Visions of Black Women."
"Both Boyce and Leigh were the first Black women to represent their nations at the 127-year-old biennale. They are also the first Black women to win Golden Lions… Asked about her plans after the award ceremony, Boyce told Artnet News, 'I'm going to close the blinds, lie down, and cry for an hour.'"
And Finally
We would really like to be in one of these jazz clubs right now.
– Rachel Eggers, SAM Associate Director of Public Relations
Image: Natali Wiseman.