Object of the Week: Coulee Dam Construction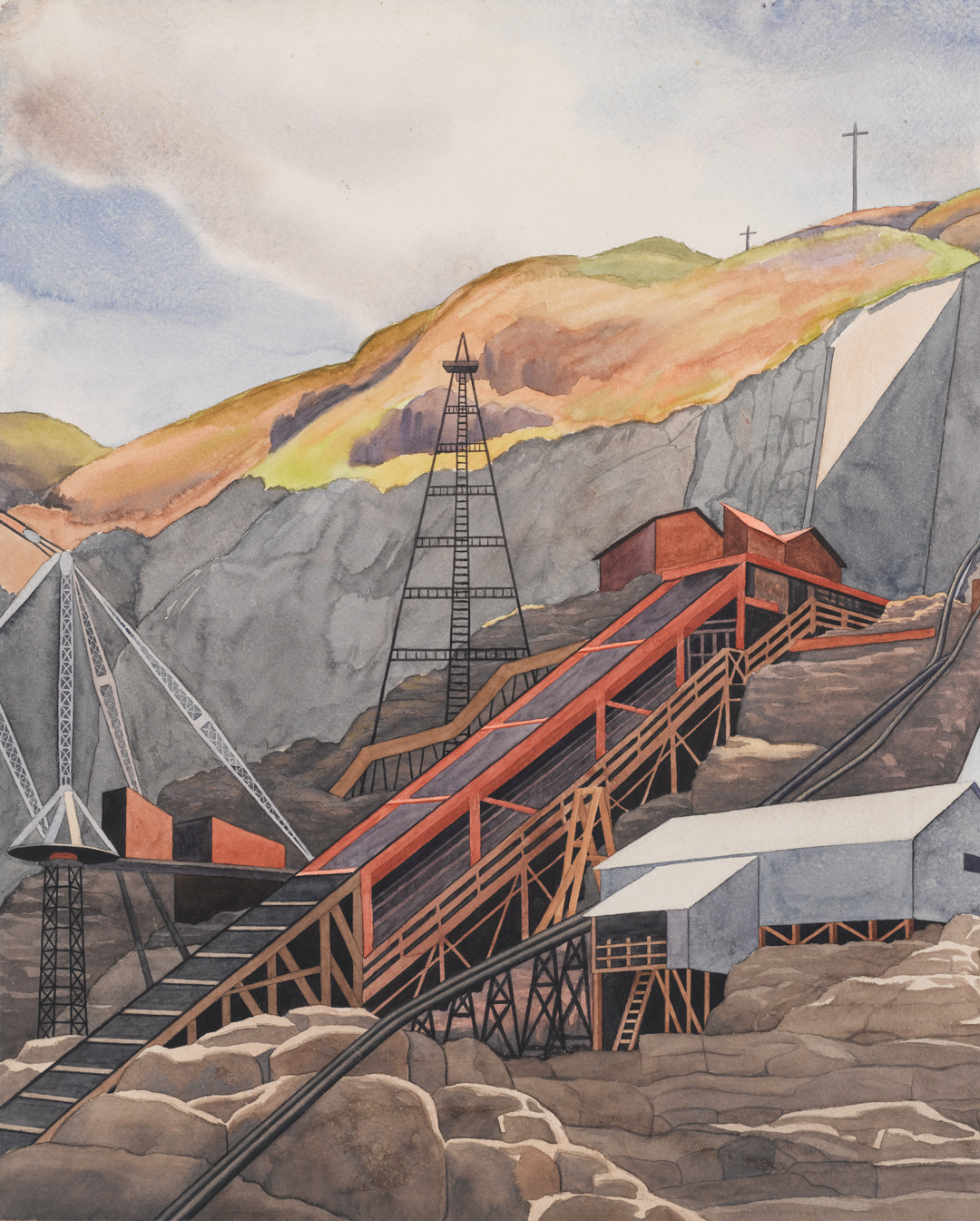 With its natural beauty and landscape, a huge influx of people began moving to the West during the 19th and 20th centuries. The construction of dams throughout America's landscape was considered an outstanding achievement for the nation's economy and became a defining moment in America's history. In the 1930s, President Franklin D. Roosevelt implemented the New Deal's Public Works Administration (PWA), a government-sponsored relief program meant to subside the economic impacts of the Great Depression. The creation of this program resulted in the creation of many iconic structures throughout the country, such as what we now know as the Grand Coulee Dam. Artist Z. Vanessa Helder spent two years documenting and painting the formation of the Coulee Dam, creating a series of works that tell the dynamic story of its completion.
In Coulee Dam Construction: Skip Way and Grout Shed, Helder captures the dam's evolution in its final years of construction in her bold precisionist style. The perfectly straight diagonal lines formed from the building equipment draw our eyes to the man-made gash in the mountains, formed by several years of hard labor done by local industrial workers. The red construction buildings and materials provide a bold contrast between themselves and the gray and beige background of the dirt and debris of fallen rock. Further contrasting the soil and shale foreground, the mountain top and sky boast brilliant shades of green, orange, and blue. These stark contrasts between the focal points of Helder's painting showcase the commanding presence of the industrial boom in the Northwest and the strength and perseverance of the environment around it.
Today, the Grand Coulee Dam still stands, and the impacts that it has had on the environment continue to develop since its construction that Helder captured in the 1930s. Dam construction left a colonial imprint on the landscape, contributing to the loss of local biodiversity, flooding, pollution, and poorer water quality. While there was a high amount of public support of projects such as the dam due to the increase in local jobs and increased infrastructure, it has become time to re-evaluate our means of energy production. Human intervention in nature is a prevalent theme that emerges from the art of Helder. Looking at Coulee Dam Construction: Skip Way and Grout Shed, we can re-examine the reasoning for why these dams were built and how the environment and people are affected nearly a century after its completion.
– Kari Karsten, SAM Emerging Museum Professional Curatorial Intern
Image: Coulee Dam Construction: Skip Way and Grout Shed, 1939, Z. Vanessa Helder, American, 1904–1968, Transparent watercolor, 18 1/4 x 14 7/8 in., Framed: 30 1/4″ x 27 3/4″ in., Eugene Fuller Memorial Collection, 39.54.