Imogen Cunningham: Mills College Amphitheater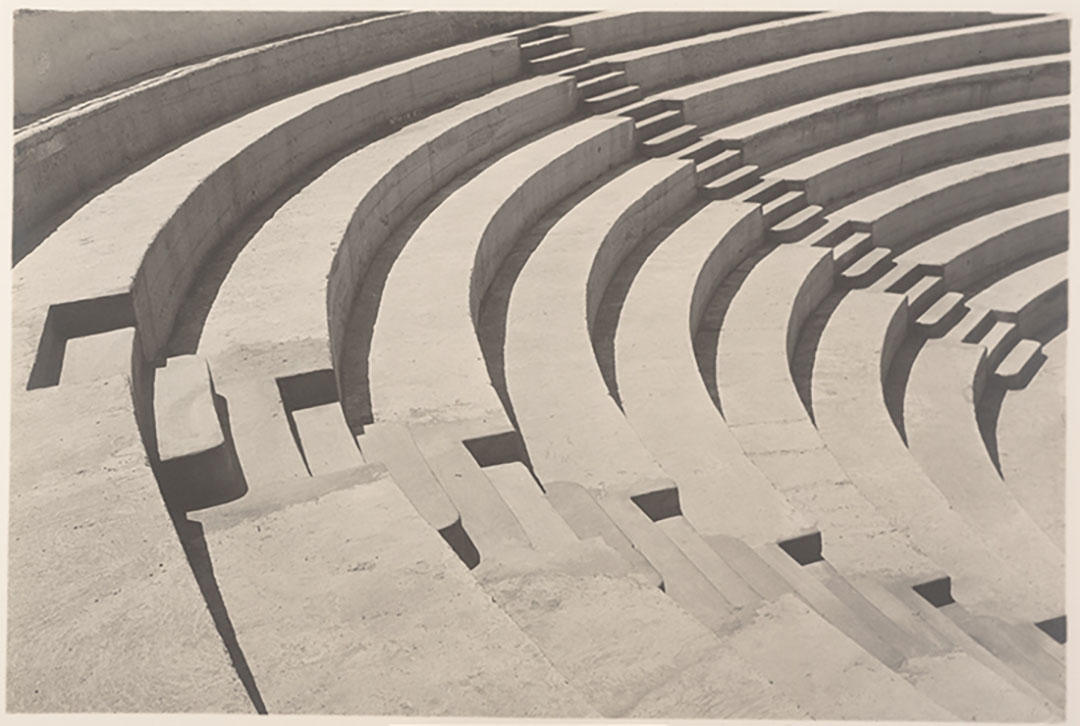 In June 1920, Imogen Cunningham's husband, Roi Partridge, accepted a teaching position in the art department at Mills College, a private liberal arts school for women in Oakland, California. With their three young sons, Cunningham and Partridge moved from San Francisco to an old house situated near campus which initially had neither plumbing nor electricity.
While in Oakland, Cunningham established herself as a well-educated woman and progressive role model in the community. She offered Mills College students uncensored advice about their professional aspirations and her home came to be recognized as a safe haven for private discussions about sexuality and family planning.
One important stream of income for Cunningham at this time was photographing Mills College student portraits, dance performances, and campus architecture. Her photograph, Mills College Amphitheater (ca. 1928), captures the curved concrete design of the college's outdoor auditorium. The image, likely inspired by the work of American photographer Paul Strand, plays with abstract geometric forms created by sunlight and shadows.
In this audio recording from the free smartphone tour of Imogen Cunningham: A Retrospective at the Seattle Art Museum, nonbinary black transfem choreographer and dancer Randy Ford discusses the significance of this image within Cunningham's larger body of work. She points out Cunningham's decision to forgo photographing the amphitheater's stage, opting instead to play with the shadows and sunlight of the empty audience.
Mills College Amphitheater, ca. 1928
Randy Ford: My name is Randy Ford. I use she/her and goddess as pronouns, and I'm a nonbinary Black transfem, just out here trying to live and make art that's going to change the world.

Narrator: Imogen Cunningham's photo of an outdoor amphitheater reminded Randy, a choreographer and dancer, of the Langston Hughes Performing Arts Institute in Seattle where she staged her first full-length performance, Queen Street.

Randy Ford: I'm also a Greek drama nerd, and so this just looks like a Greek amphitheater like back in the day. It looks like a coliseum.

Narrator: The photograph was actually taken at Mills College, a women's liberal arts college in Oakland, California, where Cunningham's husband taught. She often photographed architectural elements on campus, including the amphitheater. There is no stage in Cunningham's abstract interpretation. Instead, we see only curved concrete rows and rectangular steps highlighted by sunlight and shadows.

Randy Ford: Cunningham was very much just like, yeah, you know, the audience is the show. It's not always about what's on stage. It's kind of like what's the environment? What's the tone? What time of day is it? Was this right before the performance? Was this an empty show where no one showed up? Audience plays a huge role in live performance. As a live performer, I live for an interactive audience. Just let me know you're here. Let me know you feel me because, performers are also humans.
– Lily Hansen, SAM Marketing Content Creator
Photo: Mills College Amphitheatre, Imogen Cunningham, ca. 1928, Gelatin silver print, Image: 8 1/8 x 12 1/4 in, Collection of Gary B. Sokol.