Object of the Week: Night Watch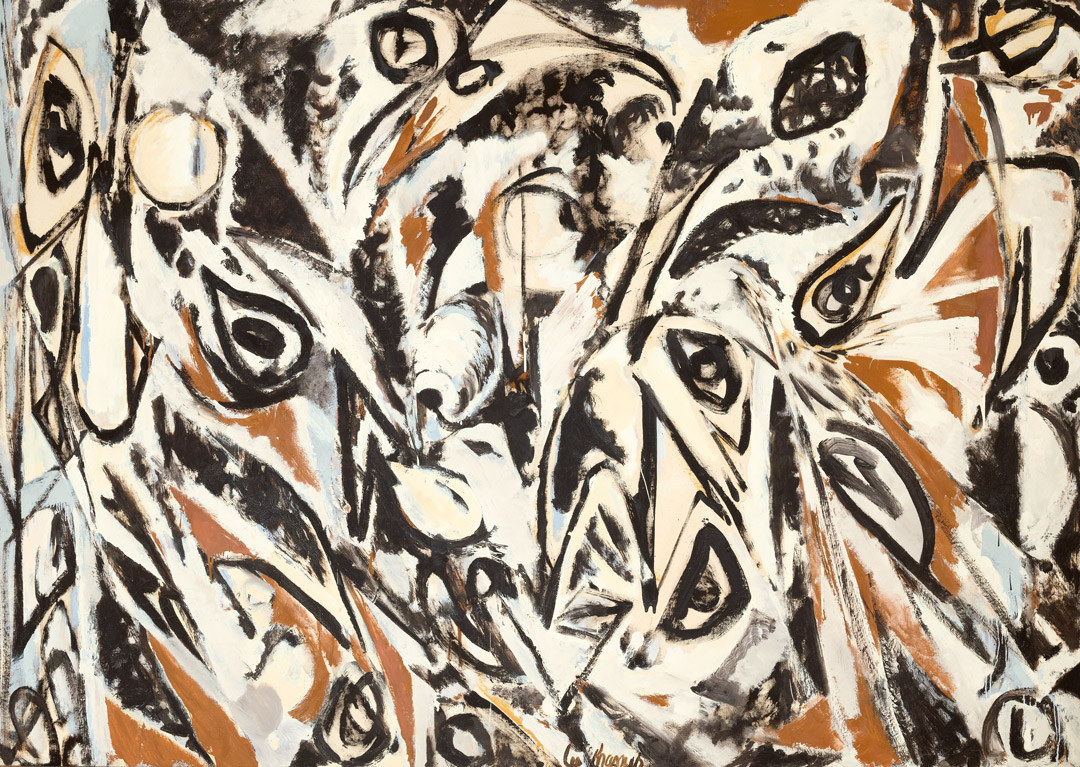 Night Watch (1960) by Abstract Expressionist artist Lee Krasner is part of a body of work often referred to as her "Night Journeys." Grieving the loss of her husband, Jackson Pollock (1912–1956), and her mother, Anna Weiss Krassner (d. 1959), Krasner found herself in a challenging and painful emotional space. Suffering from intense insomnia, she painted almost exclusively at night during this period. In her words, "I painted a great many [paintings] because I couldn't sleep nights. I got tired of fighting insomnia and tried to paint instead. And I realized that if I was going to work at night I would have to knock out color altogether, because I couldn't deal with color except in daylight."1
Though previously known for her dramatic use of color, Night Watch, along with other works made in the early 1960s, uses a reduced palette of black, ochre, and creamy white, with gray accents. The title alludes to one of Rembrandt's celebrated 17th-century paintings of a militia company and, with punctuating eyes as a recurring motif, alludes simultaneously to the militia's duty of keeping watch as well as a self-referential proclamation. Painting, for Krasner, was always autobiographical, and she maintained that "Painting is not separate from life. It is one."2
Despite their reduced palette and somber origins, Krasner's Night Journeys were an exciting artistic development. In a 1981 review of the exhibition The Abstract Expressionists and their Precursors at the Nassau County Museum in Roslyn, New York Times critic John Russell writes that Night Watch proves "Lee Krasner was able to go on turning the screw of her art at a moment in time when most of her colleagues were . . . beginning to lose momentum."3 Indeed, Night Watch—with its swirling brushwork and rhythmic composition—mines a deeply personal moment in the name of self-expression.
– Elisabeth Smith, SAM Collections & Provenance Associate
---
1 Richard Howard, "A conversation with Lee Krasner," in Lee Krasner Paintings 1959–1962 (New York: Pace Gallery 1979), p. 3.
2 The Metropolitan Museum of Art, Night Creatures, 1965, Lee Krasner, https://www.metmuseum.org/art/collection/search/486683.
3 John Russell, "Gallery View; Delights, Surprises—and Gaps," New York Times, March 8, 1981, https://www.nytimes.com/1981/03/08/arts/gallery-view-delights-surprises-and-gaps.html.
Image: Night Watch, 1960, Lee Krasner, Oil on canvas, 70 × 99 1/4 in. (177.8 × 252.1 cm), Gift of the Friday Foundation in honor of Richard E. Lang and Jane Lang Davis, 2020.14.4 © 
2021 The Pollock-Krasner Foundation / Artists Rights Society (ARS), New York.