Object of the Week: Soundsuit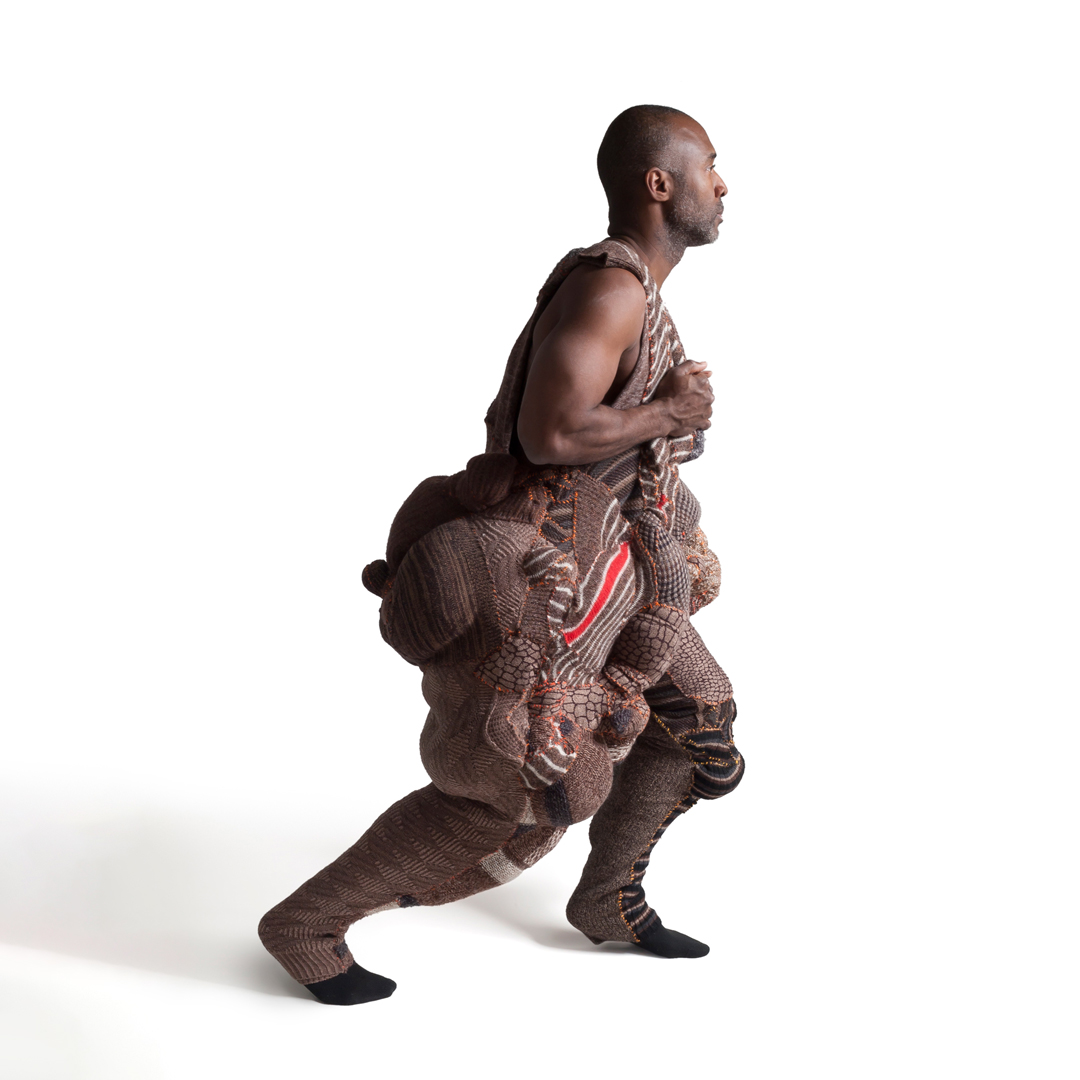 October 11 is National Coming Out Day, and to celebrate, we are featuring a work created by queer artist Nick Cave, now on view at SAM. SAM's collection includes many queer artists: from Marsden Hartley, Mickalene Thomas, and Francis Bacon to Paul Cadmus, Nan Goldin, and Catherine Opie. It is important to SAM that we acknowledge and discuss all artists' identities as part of the conversations we have about their work. While not all of the queer artists in our collection were out during their careers, and not all created works biographically address queerness, sexuality or gender identity, the visibility of queer artists is an important counter to decades of erasure and exclusion, especially for BIPOC LGBTQIA+ artists. Being seen and being yourself is what coming out day is all about, and Nick Cave's work represents this beautifully.
Cave began making his Soundsuits after seeing the video of Rodney King, a Black man, brutally beaten by police in 1991. He started by collecting sticks in a local park and stitched them together to create a suit that, when worn, allowed him to completely disappear. Once inside, the suit hid his Blackness, his gender, and other facets of his identity to give way to other modes of being that protected him from the outside world and, in many ways, gave him the freedom to move about and perform.
The Soundsuit by Cave in SAM's collection represents many elements inherent to the process of realizing one's sexuality, gender identity, and coming out: artifice, performance, and reinvention.
Let's tackle these elements one at a time.
Artifice: Cave's Soundsuits are works of art, but they also draw comparisons to costumes. The wearer/performer disappears in them, and, when worn, they create a completely different appearance from that of the person inside. Queer people have always created identities and personas—for adapting to the restrictions of straight spaces, expressing creativity, or for survival in an otherwise intolerant world. Aiding in the wearer's transformation and disappearance from view, Cave's Soundsuits are the ultimate type of protective artifice.
Performance: We queer people just cannot stop performing. Be it on Broadway, Drag Race, in Folk music, ballet or video games, there are queer people everywhere in the arts. We love to disappear into worlds of fantasy, to be the centers of attention, to express our ideas about the world, and to do it loudly and without reservation. The Soundsuits are performance objects that demand attention—they are colorful, loud (literally and figuratively), visually arresting, and they tower over and expand well beyond the average size of a person. When worn, they take up space with their presence and are unabashedly on display.
Reinvention: Cave takes ordinary objects—his studio space is basically a flea market of toys, shells, fake fur, and whatever else he finds out in the world—and turns them into Soundsuits that are part sculpture, part percussion instrument, and part costume. This idea of reinvention is a key component of the coming out experience that many queer people experience. The newness of coming into one's own identity provides an opportunity to take the essence of oneself and re-introduce it to the world in a brand new, inherently strong, and freer form—much like the Soundsuits, whose raffia strands, knitted sleeves, and beads are reborn as a moving and living work of art.
It is for these reasons that I thought Cave's work was a sound choice (see what I did there?) for SAM's Object of the Week. But I also chose it because it is an artwork—like each of the dozens of Soundsuits that Cave has made—that evokes joy, much like that of LGBTQIA+ culture. Cave's suits are alive with celebration, especially when they're worn by dancers and you experience the full effect of their materials, colors, movement, and the ways they evoke wonder. I hope for anyone coming out, that ultimately it is a process that not only transforms your life but also brings you joy. 
– Jason Porter, Kayla Skinner Deputy Director for Education and Public Engagement
Image: Soundsuit, 2006, Nick Cave, Human hair, fabricated fencing mask, sweaters, beads, metal wire, Height: approximately 6 ft., on mannequin, Gift of Vascovitz Family, in honor of the 75th Anniversary of the Seattle Art Museum, 2007.70 © Nick Cave.