Object of the Week: No. 19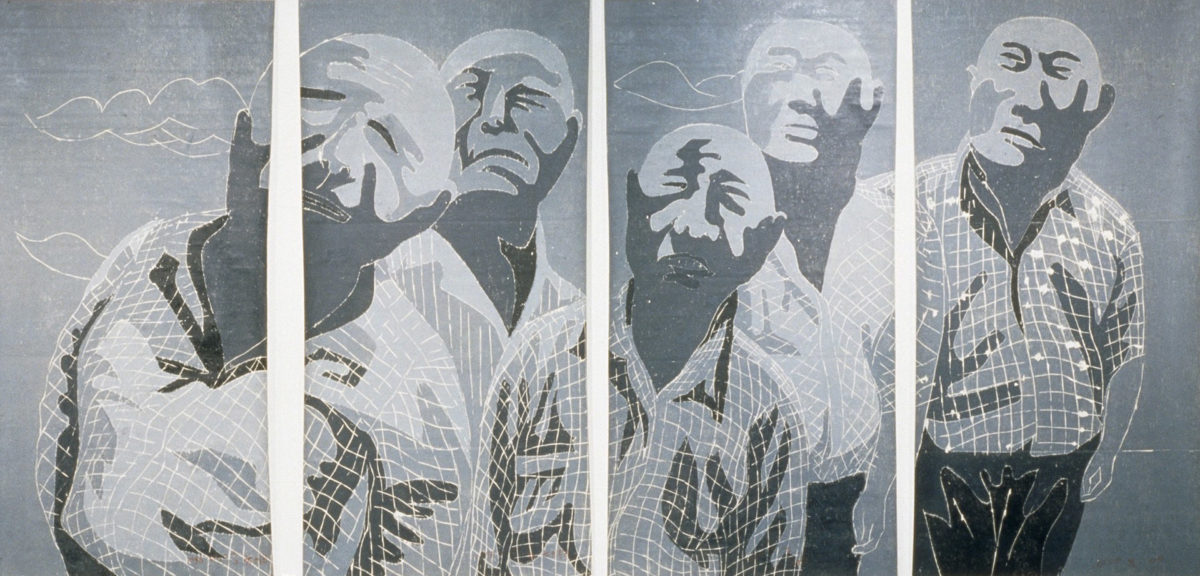 Fang Lijun's No. 19 depicts five people, all bald and dressed in button-up shirts, looking at something together. In the galleries of the Seattle Asian Art Museum, it's hard to place these figures and understand exactly what they are doing. The gray shadows on their faces and downturned mouths seem to suggest disapproval, or at least resignation. A sense of amusement gives way to an unsettling sense of curiosity about why they are dressed identically and have gathered together.
Fang Lijun's paintings and woodblock prints often feature groups of these lookalikes. They tend to communicate a singular emotion by simultaneously donning blank stares, maniacal grins, or awestruck expressions. In 1992, art critic Li Xianting described Fang's work, as well as that of fellow artists Yue Minjun and Zhang Xiaogang, as "Cynical Realism." This term encompasses works of contemporary Chinese art that, through irony and satire, responded to the societal changes of the 1980s. These artists came of age during the Cultural Revolution, a period marked by uniformity and a staunch ethos of collectivism, only to witness those values fall out of fashion a decade later amidst China's increasing embrace of free market economics. Reflecting this context, the viewer can see both humor and bleakness in No. 19. In a 2017 interview, Fang remarked that the silly or undignified impressions given off by his figures amounts to "mischievousness, mockery, making fun of people."1
In this same interview, a quarter century after the term was coined, Fang also voices ambivalence about his work being described as Cynical Realism. But a viewer might interpret No. 19 as commenting on Chinese society in other ways, including the artist's choice of medium. No. 19 is a woodblock print, which requires carving the negative of an image on a piece of wood, coating the panel with ink, and impressing it onto paper or fabric. Though woodblock printing has been a part of East Asian art for over a thousand years, Chinese artists of the New Woodcut Movement in the 1930s used the art form in a new way: to advocate for social change. These artists committed to "representing the underrepresented," populating their images with "peasants, beggars, prisoners, rickshaw pullers, boat trackers, famine victims, war refugees, industrial workers, and political protestors."2 Through easily distributed and visually accessible prints, these artists hoped to give voice to ordinary people and spark political consciousness.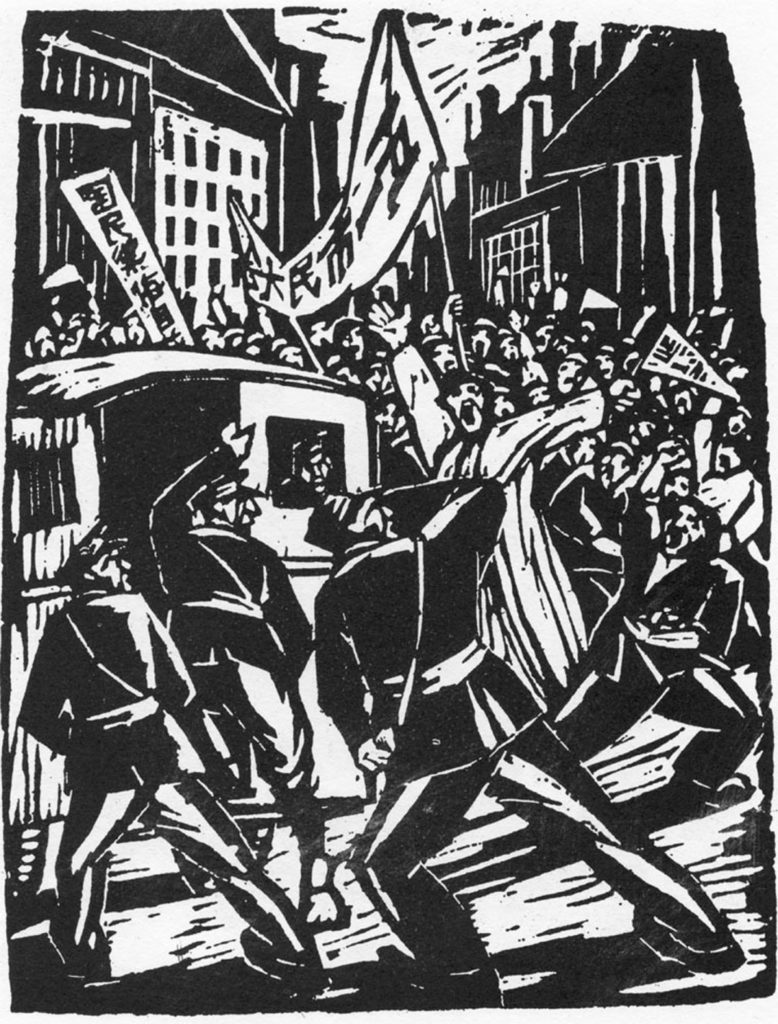 Likewise, the group depicted in No. 19—nameless, without distinguishing features—seems to be fairly ordinary as well. But compared to the protestors crying out for change shown in 1930s woodcuts, they seem quieter and more ominous. No. 19 might prompt the viewer to glance over their shoulder—an instinctive reaction to the feeling that they are missing what everyone is seeing. What could it be?
Returning to Li Xianting's 1992 article, a younger Fang Lijun is quoted as saying, "A fool is someone still trusting after being taken in a hundred times. We'd rather be lost, bored, crisis-ridden misguided punks than be cheated."4 Considering that this artwork was completed in 1996, these figures seem to exist in the aftermath of the 20th century and at the dawn of the 21st century in China. Representing a generation caught between a "before" and an "after," Fang Lijun's figures witnessed how mass mobilization towards one vision of the future could be invalidated or entirely reversed. While there are only five people in No. 19, it's not hard to imagine the woodcut print being duplicated many times over, producing 10, 15, or 20,000 of these sullen individuals. Their shabby clothes or slack faces may indeed be mocked by other people, especially those rebounding from upheaval by busily forging ahead in the new millennium. But their unwavering stares seem to see things a little more clearly.
– Yaoyao Liu, Museum Educator, Seattle Asian Art Museum
Yaoyao develops K-12 programs and resources related to other works of contemporary Asian art at SAM, including the Eyes on Asia video series.
---
1 Tessa Moldan, "Fang Lijun," Ocula Magazine, https://ocula.com/magazine/insights/fang-lijun.
2 Xiaobing Tang, "Echoes of Roar, China! On Vision and Voice in Modern Chinese Art" in positions: east asia cultures critique, Fall 2006, pp. 467-494.
3 Chang Yuchen, "From New Woodcut to the No Name Group: Resistance, Medium and Message in 20th-Century China," Art in Print, vol. 6, no. 1, artinprint.org/article/new-woodcut-no-name-group-resistance-medium-message-20th-century-china. Zheng Yefu print reproduced from Selection of 50 Years of Chinese New Printmaking, Vol. 1, 1931–1949 (Shanghai: Shanghai People's Fine Art Publishing House, 1981).
4 Stephanie Buhmann, "Fang Lijun," The Brooklyn Rail, https://brooklynrail.org/2004/02/artseen/fang-lijun.
Image: No. 19, 1996, Fang Lijun, various, woodblock print, Gift of Robert M. Arnold, 98.30.1-4 © Artist or Artist's Estate