Object of the Week: Essence of Spring, Chevreuse Valley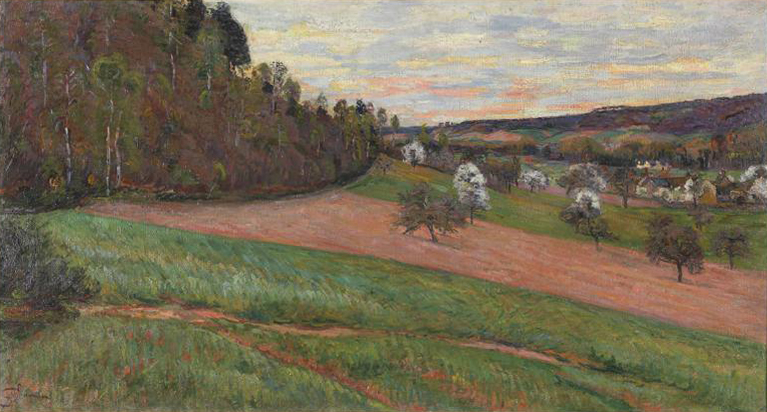 Born Jean Baptiste Armand Guillaumin, Armand Guillaumin was born in Paris, France, to a working-class family in 1841. And while he might not have achieved the same level of recognition as his contemporaries Claude Monet, Paul Cézanne, or Camille Pissarro, Guillaumin was embedded in this important circle of Impressionist artists.
Guillaumin's youth was spent in central France, where he studied art locally. After moving to Paris at the age of sixteen, he continued his education by attending evening drawing classes after working shifts at his uncle's clothing store. In 1861, he enrolled at the Académie Suisse, further supporting himself through employment at the Paris-Orléans railway and, later, Paris's Department of Roads and Bridges.[1]
For Guillaumin, his interest in the ephemerality of light and color connected him with his fellow classmates Cézanne and Pissarro, who would become lifelong friends. His work was included in the famous 1863 Salon des Refusés—a "historical launching pad"—and, a decade later, the first Impressionist exhibition of 1874.[2]
During this formative period, Guillaumin's mode of employ and proximity to the French railway system allowed him to travel (albeit locally) and explore the quickly industrializing landscape. Interestingly, many scholars also believe his financial situation and full-time employment impacted the time he could devote to his artistic career. Still, given his background and preoccupations as a member of the Impressionist circle, Guillaumin was committed to depicting working class scenes, landscapes—often with modern infrastructure such as bridges or viaducts—and the changing environment on the outskirts of Paris.
The mid-1880s are understood as a turning point for the artist, as he started focusing primarily on color. For this reason, he is often positioned as a bridge between Impressionism and Fauvism.[3] His painting Essence of Spring, Chevreuse Valley, ca. 1885, is one such painting, depicting an idyllic countryside with rolling forested hills and a gentle pastel-colored sky.
Lyrical sections of bold, saturated color—where forest abuts grass—are interspersed with flowering cherry trees and, behind them, small cottages and homes. Unlike some of Guillaumin's other paintings from this period, where the encroaching and expanding reach of Paris looms like a specter (this might resonate for those reading here in Seattle), the Chevreuse Valley's transition into spring—its atmospheric effects and energy—takes center stage.
– Elisabeth Smith, SAM Collections & Provenance Associate
---
[1] Fine Arts Museums of San Francisco, "Armand Guillaumin," https://art.famsf.org/armand-guillaumin. Selected bibliography: Gray, Christopher. Armand Guillaumin (Chester, Connecticut: Pequot Press, 1972); Rewald, John. History of Impressionism (New York: Museum of Modern Art, 1973).
[2] Pissarro, Joachim. Pioneering Modern Painting: Cézanne and Pissarro 1865–1885 (New York: Museum of Modern Art, 2005), 28.
[3] Fine Arts Museums of San Francisco, "Armand Guillaumin."
Image: Essence of Spring, Chevreuse Valley, ca. 1885, Jean Baptiste Armand Guillaumin, oil on canvas, 26 x 48 in., Gift of Mr. and Mrs. Philip E. Renshaw, 67.147