Object of the Week: Map of the World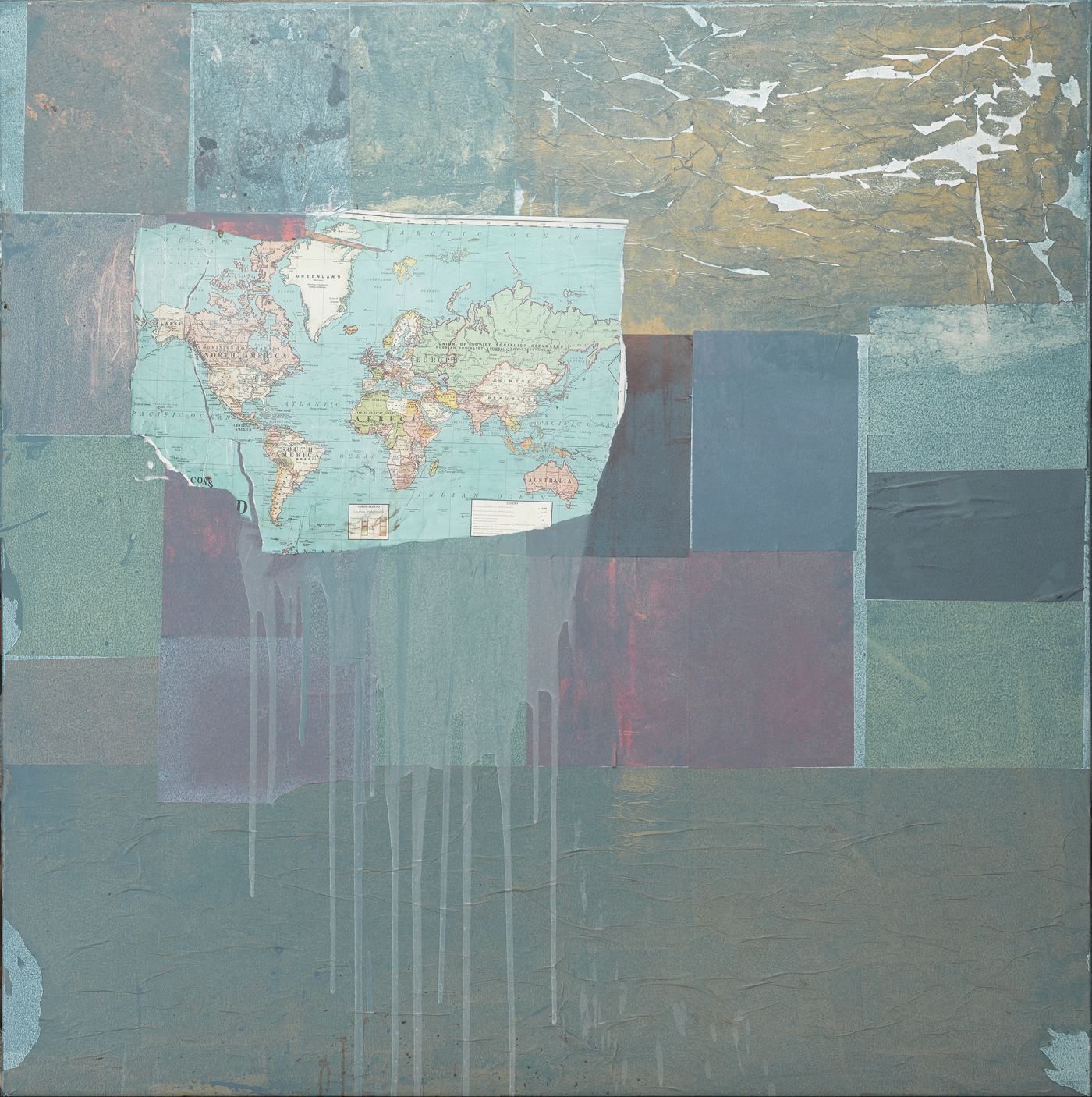 Brenna Youngblood's abstract paintings are invariably more layered—literally and figuratively—than first meets the eye. Originally trained as a photographer, Youngblood works with an extensive personal archive of photographs and objects that she collages onto the surfaces of her densely painted canvases. In a 2013 interview she discussed the importance of this textured surface, and the integration of everyday objects into it:
"Surface is and has always been integral to my practice. The transformation of the surface of my paintings mimics objects, materials, and textures from the real world (i.e. rusted metal, wood). . . . I like introducing familiar objects like the light bulb, the door handle, and wood grain. The paintings are 'a slice of life', if you will. They definitely reflect the everyday not just for myself, I think for others as well. They are not only for looking at."[1]
Youngblood is part of long tradition of artists who incorporate everyday objects into their work—we may immediately think of artists like Jasper Johns, with his thermometers imbedded into the canvas, or Robert Rauschenberg, with his photographs collaged onto their surfaces. In Youngblood's paintings, the objects that she includes often go beyond the language of abstraction and allude to social or political topics. They are, as she says, "not only for looking at," but speak to larger real-world issues.
In Map of the World (2015), a map of former colonial territories is embedded in the upper left quadrant of the painting, layered over an otherwise abstract, painterly surface. The political borders indicated on the map are long outdated, but the histories of colonialism that they represent still hold very real ramifications today. The sense of these histories bleeding into the present is suggested by the dripping paint that runs off the map, and the patchwork of rectangular forms just underneath that are themselves reminiscent of political boundaries.
We know that maps are never neutral—the distortions that privilege the northern hemisphere in most map projections are ubiquitous and well-documented, and the political claims they represent are contentious at best. However, they also become such a banal part of our everyday life that we stop looking at them critically, or consider what they really signify. In blending the map of the world (or one version of it) with the formal language of abstraction, Youngblood subtly but pointedly refers to these larger issues, asking us to dive deeper into the surface.
– Carrie Dedon, SAM Assistant Curator of Modern and Contemporary Art
[1] Brenna Youngblood, interview with Rosanna Albertini, "Not Only for Looking At," in Flash Art, September 2013, http://honorfraser.com/pdf/press/2013FlashArtBY
Image: Map of the World, 2015, Brenna Youngblood, map, acrylic, and construction paper on canvas, 60 x 60 in., General Acquisition Fund, 2016.7.1 © Brenna Youngblood Courtesy the artist and Honor Fraser Gallery