Object of the Week: Story Scroll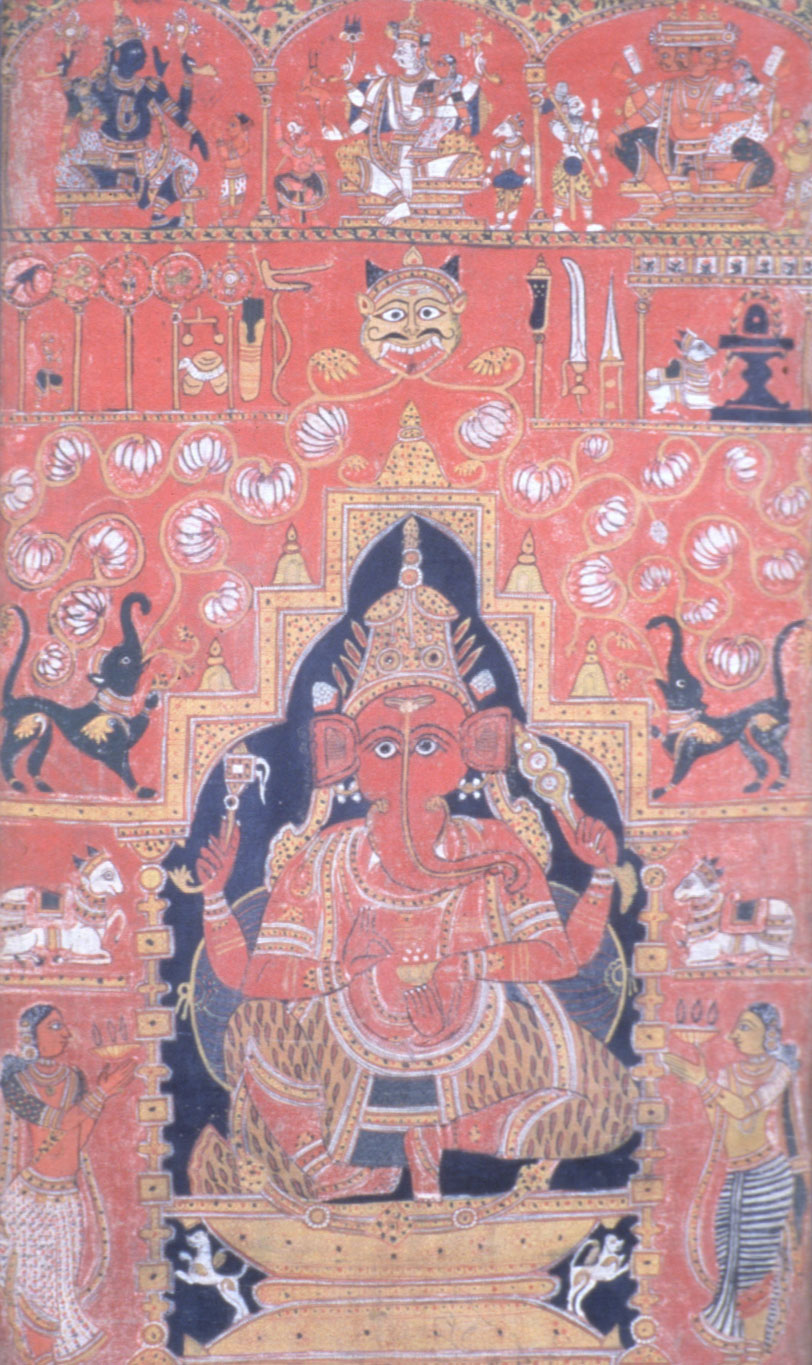 Red is often associated with strong emotion, and not only anger, despite the name of a common red dye source: madder root.
A mid-18th century painting of Ganesh on cloth, from a village in Telangana, in the eastern Deccan plateau of India, is striking in part for its red background and red-bodied Ganesh. Painted with black outlines, with areas of yellow ochre, indigo, and white, it is enlivened with black and red dots. As Lord of Beginnings, this Ganesh was the initial image in a long vertical scroll of painted scenes, unrolled one section at a time in performances for a regional weaver community. The scroll, of which this is a section, would have originally been 30 to 50 feet long and depicted their origins from the celestial weaver Sage Bhavana. This ancestor fought off a giant demon weaver, and then created colors for the community's use from its dead body—a scene depicted in the final image of the scroll also in SAM's collection.
The red of this painting may be from madder root—a dye from three species of the madder plant family that grows in areas of each continent. The few remaining painters of this Telangana tradition now use a ready-made ground red stone, but say that vegetable dyes were used previously.
At the time of this painting (ca. 1843), three red insect dyes were also available in India: lac from Southeast Asia, kermes (carmine) from an Asian beetle, and cochineal imported from the Americas. The insect pigments could produce deep reds, but kermes and cochineal faded quickly. These expensive reds required an enormous quantity of insects, as well. Madder was more available and inexpensive, more lightfast, and could produce many shades of red. A warm orange-red is perhaps the most common, with pinks and purples also possible. Madder root contains so many colors—five different reds, blues, yellow, and brown—that its dye produces a complexity not possible with synthetic dyes. It did, however, require special knowledge to make the dye and adjust the process for different shades.
Of the five red dye components in madder root, alizarin is primary, and was not created synthetically until 1869—long after several synthetic blues, greens, and yellows. Madder root eventually fell out of cultivation, and since then has been used in artisanal dyeing.
The process for creating the strong lightfast red developed in India (using a few unpleasant and smelly substances) was one of the most complex dyeing processes ever. A version known to Ottoman court painters was kept secret for several centuries.
To learn more about the history of dyes, pigments, and color in Asian art, the Gardner Center Saturday University series, Color in Asian Art: Material and Meaning, begins on October 3 with a talk by Jennifer Stager on the subject of a red pigment of the ancient world, titled "Dragon's Blood or the Blood of Dragons."
– Sarah Loudon, Director, Gardner Center for Asian Art and Ideas
Da Fonseca, Anais. "Replication and Innovation in the Folk Narratives of Telangana." ScholarlyCommons, 2019.
Finlay, Victoria. Color: A Natural History of the Palette. New York: Random House, 2002.
Pavani, N. and D. Ratna Kumari. "History of Telangana Cheriyal Paintings." International Journal of Home Science 2019: 5(2): 461-64.
Image: Section of a story scroll of sage Bhavana (Bhavana Rishi Mahatmyan Patam), ca. 1843, Indian, opaque watercolor on cloth, 58 x 34 1/4 in., Gift of Leo S. Figiel, M.D., Detroit, Michigan, 76.41