Object of the Week: Oiling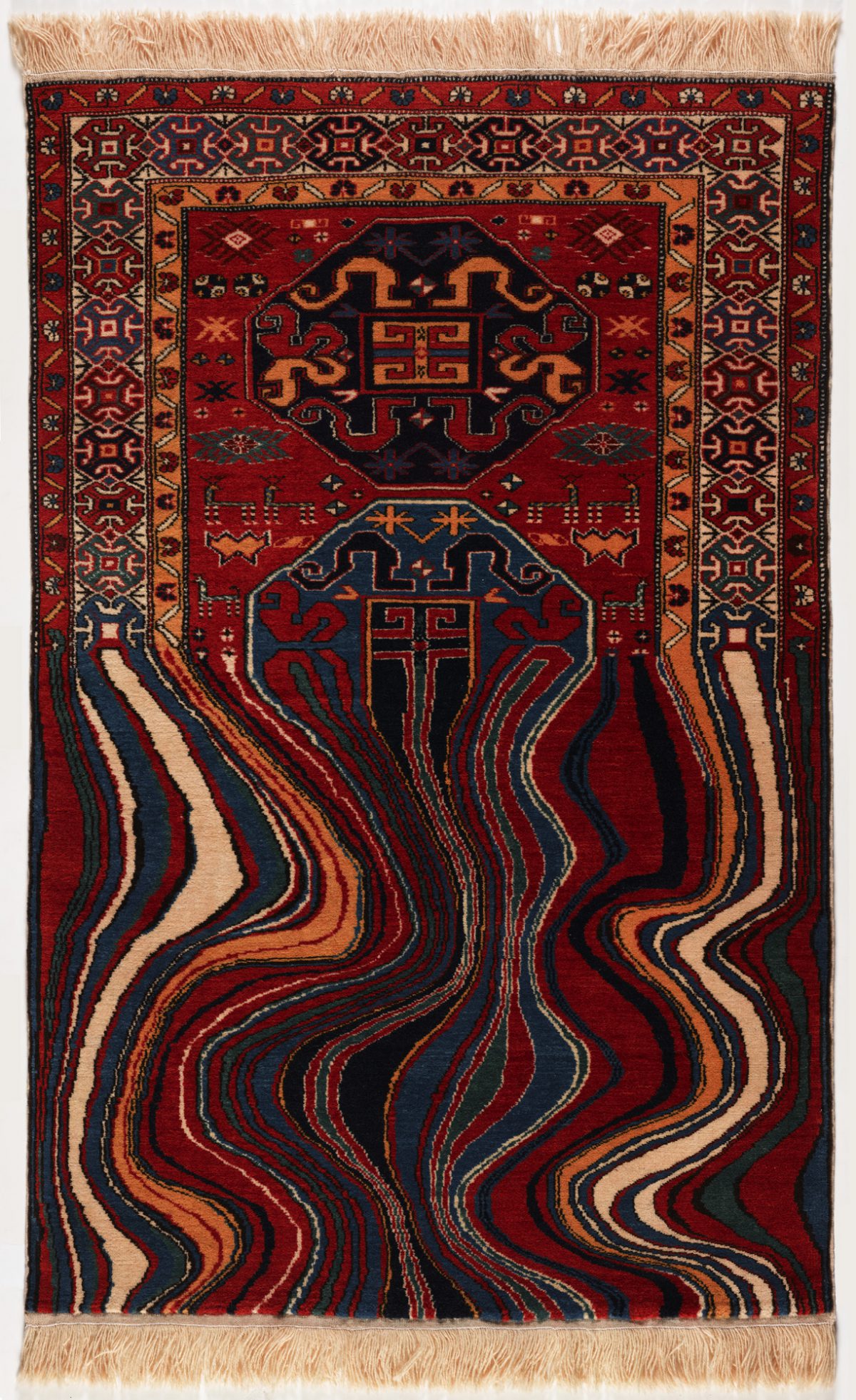 Faig Ahmed is a textile artist and sculptor based in Baku, Azerbaijan, who uses both traditional and modern carpet-making techniques to create something unexpected. His work, Oiling (2012), begins as a traditional wool-knotted Azerbaijani carpet, but then transforms and spills into a fluid, modern form as the pattern and weaving technique are altered.
Carpets have always occupied a place of interest for Ahmed. As a child, he entertained himself by rearranging motifs he found in the carpet on the floor of his grandmother's home. Unable to keep his ideas contained solely to his imagination, he cut out symbols from the carpet and moved them into new positions. His interest in the potential of traditional carpets to carry and transmit new stories stayed with him into his professional artistic practice.[1]
For Ahmed, the carpet is a "cultural code, or DNA, incorporating a language of universal signs that has been carried across generations and cultures through the immemorial migration and intermingling of peoples, in this case along the Silk Road trade routes."[2] Traditionally, in Azerbaijan, women were expected to weave a carpet before their marriage as part of their dowry. Today, those traditions and craft knowledge are no longer common, but there are still local weavers who continue to weave by hand. Ahmed works in collaboration with these women, based in the village of Bulbule not far from his studio in Baku. These weavers use the same hand-weaving techniques to create cut pile wool carpets that have been used in the area for hundreds of years. Ahmed explained in an interview that working with these women to realize his designs means he is constantly learning. "They teach me the meaning of symbols, but they are always trying to bring me back to tradition!"[3]
The title of the work in SAM's collection, Oiling, might have a dual meaning referring both to the oozing shape in which the carpet's design descends, and to the artist's country's relationship with oil. Azerbaijan has been connected to oil for hundreds of years. Medieval travelers to the region remarked on its abundant oil supply. In 1846, Azerbaijan drilled its first oil well in Bibi-Heybat—more than a decade before oil was discovered in the United States. By the 19th century, Azerbaijan produced more than half of the world's oil supply.[4]
In the words of the artist:
"The value of the Carpet for art is the fact that this object included layers of millennial stories that could be instantly translated into modern language. Through my work I am asking, where are the boundaries of craft and art? And carpet itself creates questions on cultural boundaries. As an artist, I was looking for a modern language of art to talk about the future, but I found an ancient one and started talking about the present. And in the present, there is no value more important than life itself."[5]

– Faig Ahmed
– Traci Timmons, SAM Senior Librarian
[1] Jessica Hemmings, "Faig Ahmed," Surface Design Journal, Spring 2015: 38-43.
[2] Cathryn Drake, "Faig Ahmed at Yarat," [exhibition review] Artforum (February 2017), https://www.artforum.com/inprint/issue=201702&id=66123, accessed September 2, 2020.
[3] Hemmings, Ibid.
[4] Mir Yusif Mir-Babayev, "Azerbaijan's Oil History: A Chronology Leading up to the Soviet Era," Azerbaijan International 10.2 (Summer 2002): 34-40, https://www.azer.com/aiweb/categories/magazine/ai102_folder/102_articles/102_oil_chronology.html, accessed September 2, 2020.
[5] Interview with Maria Rosaria Roseo: "The Carpet as a Cultural Metaphor: Interview with Faig Ahmed," Artemorbida Textile Arts, https://www.artemorbida.com/il-tappeto-come-metafora-culturale-intervista-con-faig-ahmed/?lang=en, accessed September 7, 2020.
Image: Oiling, 2012, Faig Ahmed, hand-knotted wool, 59 × 39 1/2 in., Margaret E. Fuller Purchase Fund, 2013.13 © Faig Ahmed