Object of the Week: Wu Liang Shrine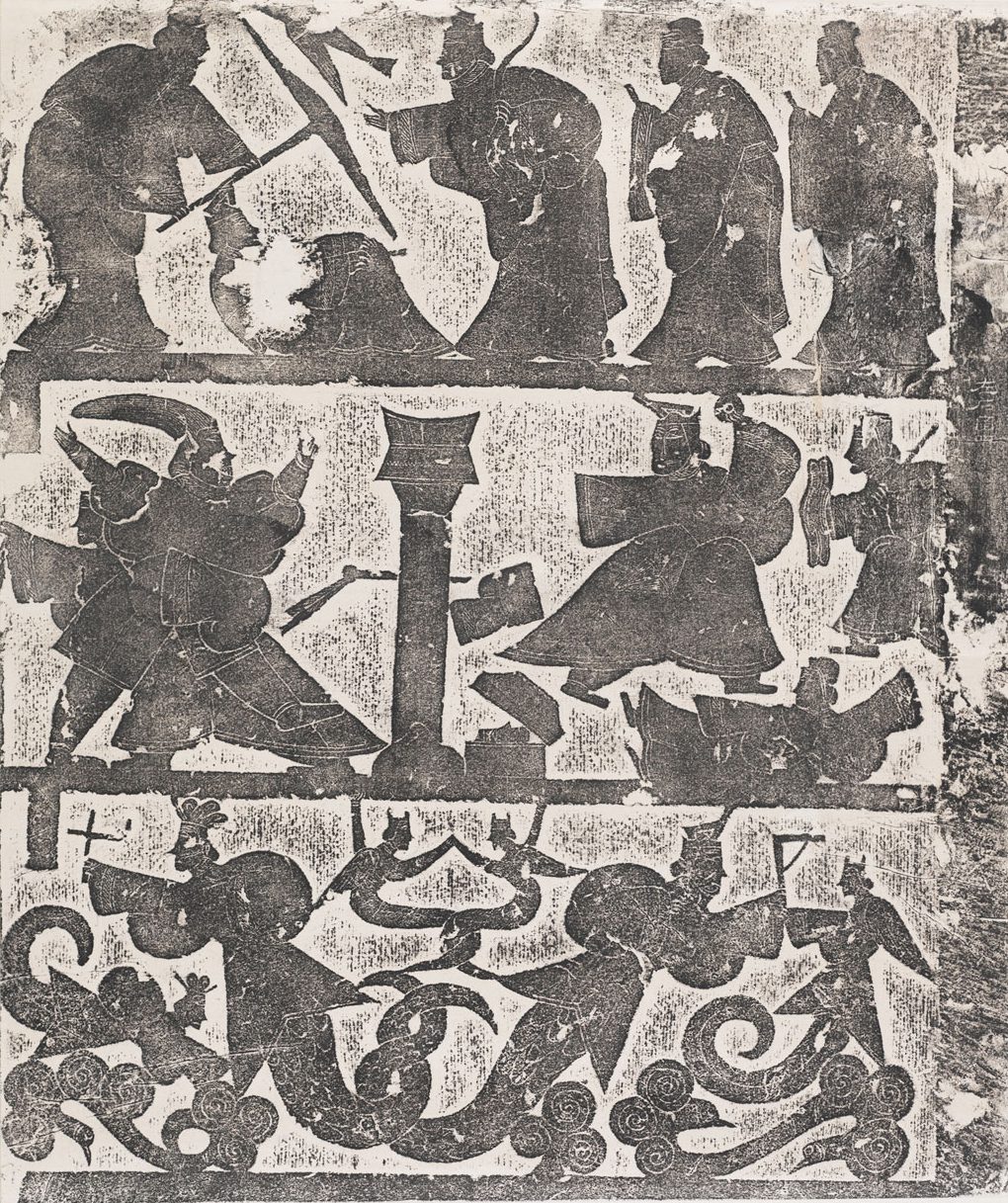 This ink rubbing on paper was made by an unknown hand around 1920. The rubbing captures the carved and incised stone surface of an Eastern Han period (25–220 CE) funerary monument, namely the Wu Family Ancestral Shrine located in Shandong province, China. The Wu family held positions in government according to inscriptions at the site.[1] The stone shrine, and its rubbings, serve as unique extant examples of Han pictorial style, carving techniques, and subject matter, as well as evidence of their funerary traditions.
The shrine's low relief carvings depict both historical and mythological scenes. The middle register of this rubbing depicts Jing Ke's failed assassination attempt of King Ying Zheng (259–210 BCE) in 227 BCE. The central pillar in the scene is pierced with the dagger used in the attempt. At left, Jing Ke struggles against the King's doctor.[2] At right, the King (the largest figure) holds a round jade disc above his head likely to signal his retention of power. The stone carver created the illusion of depth by overlapping and varying the sizes of the figures—the smallest figure, holding a baton and shield, runs to support the King. In the lowest register, serpent-human figures with scaly tails emerging from their skirts, perhaps deities, illustrate a mythological version of the tale.
Ying Zheng lived to unify China in 221 BCE, assuming the title of the First Emperor and founder of the Qin dynasty (221–206 BCE), which was the first power-centralized state in China's history. A ruthless leader, he was ultimately overthrown by a peoples' uprising, yet Ying Zheng is known for standardizing communication, currency, and infrastructure in China.
Stone carving and ink rubbing are acts of transference—the story moves from hand to stone, and from stone to paper. (Then, from paper to the digital photograph you and I experience now!) Ink rubbing is a simple method of reproducing the texture and scale of a surface. Here, the background is rough with even vertical tool marks, the raised figures are flat and smooth, and the incised lines delineating their garments are crisp. The right side of this rubbing has a border whereas the left side abruptly ends, indicating that it is a partial capture of the stone image.
Many rubbings of the Wu family shrine have been made over time and have entered institutional collections around the country, such as the Minneapolis Institute of Art, Philadelphia Museum of Art, Field Museum, Harvard Libraries, and Berkeley Libraries; of these, some were mounted on textile to be appreciated as hanging scrolls. Portland Art Museum holds a section of a shrine wall itself.
Due to its durability, stone has long been used to commemorate a person or a family's life as a physical marker of their existence. The practice of gravestone rubbing as a travel souvenir, genealogical document, or historical record continues. Today, during this crisis, we are embracing new rituals to memorialize our loved ones. The New York Times' A New Way to Mourn tells one man's story of an online gathering he led to celebrate his late wife, and the unforeseen intimacy of sharing stories, music, and remembrances from a distance until a stone can be placed in her honor.
– Geneva Griswold, SAM Associate Conservator
Want to learn more? See this bibliography prepared by former SAM Assistant Librarian, Jie Pan, and SAM Volunteer Charles Randles for further reading.
Image: Wu Liang Shrine: Chinese History and Mythology, ca. 1920s, Han Dynasty (206 BCE – 220 CE), Eugene Fuller Memorial Collection, ink rubbing on paper, 35.587.2
[1] Jackie Menzies. 1983. Early Chinese Art. AGNSW cat.no. XXI. Accessed May 10: https://www.artgallery.nsw.gov.au/collection/works/163.1979.17/
[2] Jane Portal (Ed.). 2007. The first emperor: China's Terracotta Army. Cambridge, Massachusetts: Harvard University Press: 67.