SAM Connects Community through Letters in Quarantine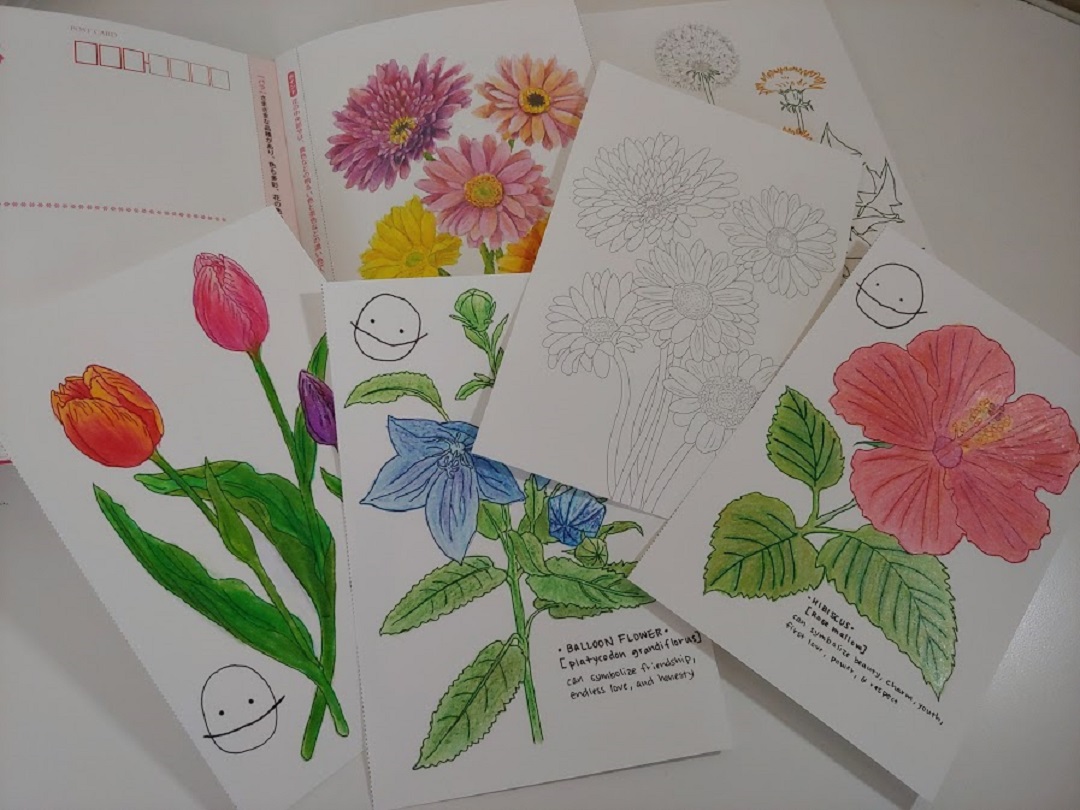 Whether seemingly big or small, sustaining connection is more critical than ever. Jenae Williams, Exhibitions and Publications Associate, and Seohee Kim, Division Coordinator for Education and Public Engagement, recently started writing letters to stay connected to their community in quarantine. They've shared a Q&A of their wonderful project below.
Not only do handwritten letters support the US Postal Service, brighten up someone's day, and remind others that they are not alone, but right now your letters can support community by showing love to Chinatown-International District! If you're feeling inspired, please check out Love Letters to Chinatown-International District #CIDLoveLetters. Share your love letters, and the Wing Luke Museum will collect and showcase submissions in a digital exhibition as part of the Wing Luke Museum's Resilience Campaign. Deadline is May 18! May is Asian Pacific American Heritage Month so we hope you will take some encouragement and inspiration from this post and write a letter to Seattle's International District or support the USPS by sending a letter a friend or loved one!
#LettersInQuarantine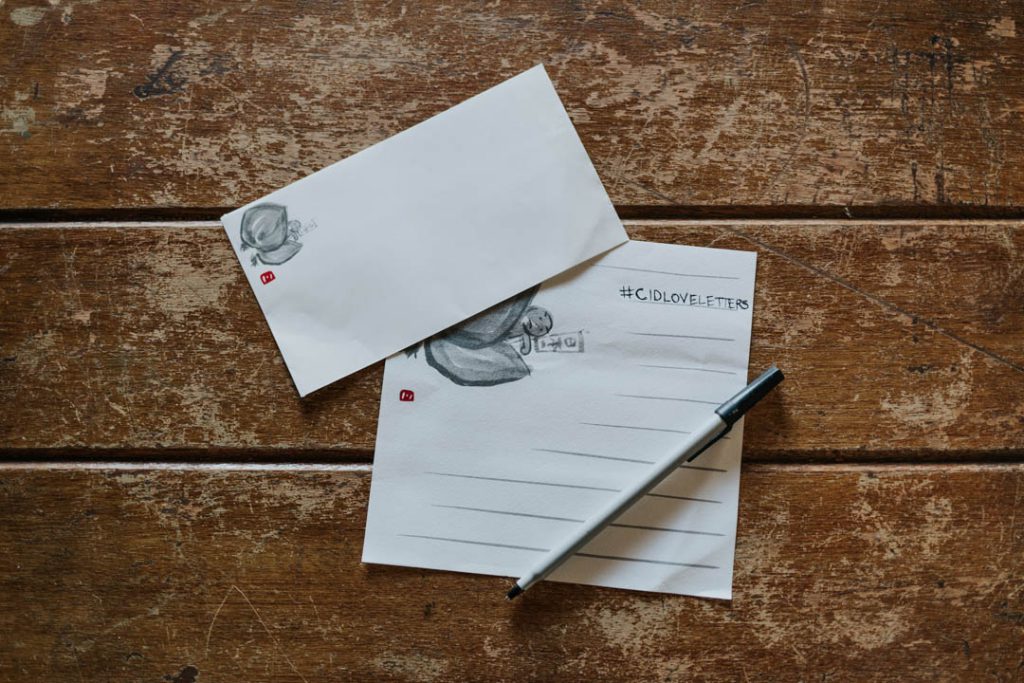 What first inspired you to write letters to people in quarantine?
Jenae: I genuinely miss seeing my colleagues at SAM every day, and I was first inspired by my managers Chiyo Ishikawa and Tina Lee, who do so well at checking in on many of us at SAM. Later, I read about how the US Postal Service is in danger of going out of business, which upset me deeply. USPS provides 600,000 jobs, delivers essential items (medicine! voting ballots!), and it's the only mailing service that reaches every household across the nation, no matter how rural. I am also reminded that compared to private mailing services, sending a letter or priority mail with the USPS service is equitable. It costs me the same amount of money to send a letter to a friend locally as it does to send a letter to my grandma in Hawaii.
Seohee: I've wanted to do something like this for a while, but I'd always brushed it to the back of my mind because I was unsure of when or how to begin. However, after over a month of being indoors and focusing solely on work, I needed a simple but creative outlet to allow myself to detach from the screen and practice self-care. Then, I was having a brainstorming video call with my dear colleague, friend, and muse, Priya, who showed me the beautiful postcards she'd been designing for her close ones. Insert mind spark here. A few days later, I saw Jenae's heartwarming Instagram story showing support to USPS with her letters to friends and family, and I felt the need to (finally) take action.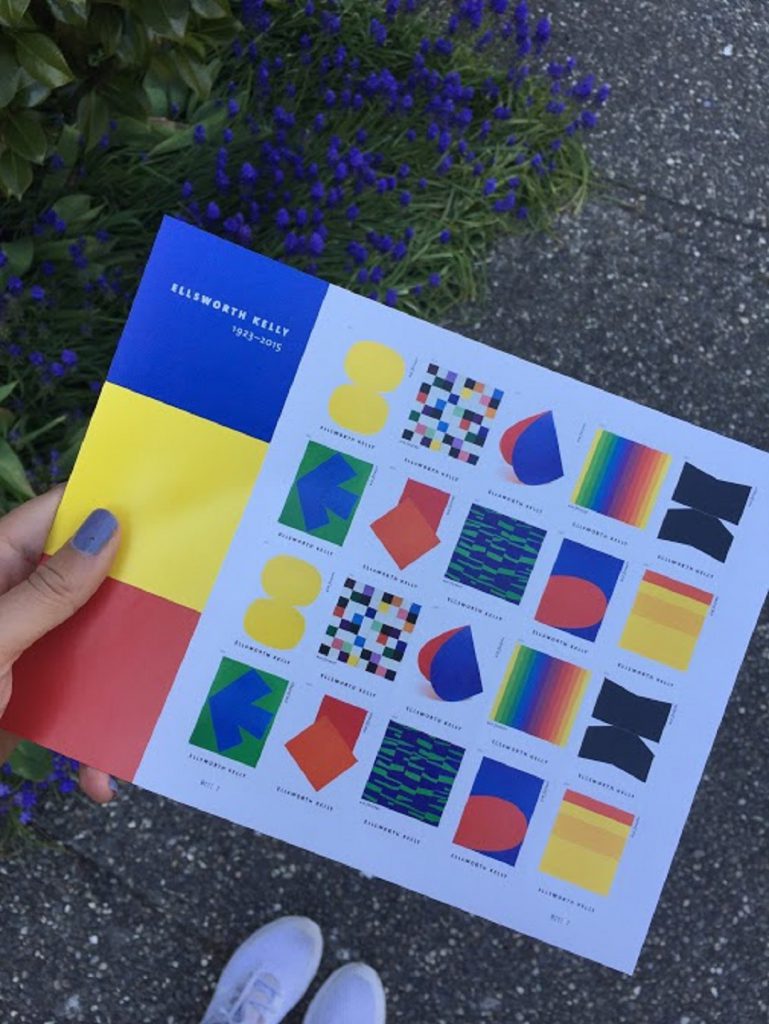 Where can we buy our own Ellsworth Kelly stamps?
Jenae: USPS released these stamps in 2019, so they may be hard to find. But check your local post office. Some locations, like mine, still have leftover sheets in stock. I'm excited for the Ruth Asawa stamps that are scheduled to be released this year!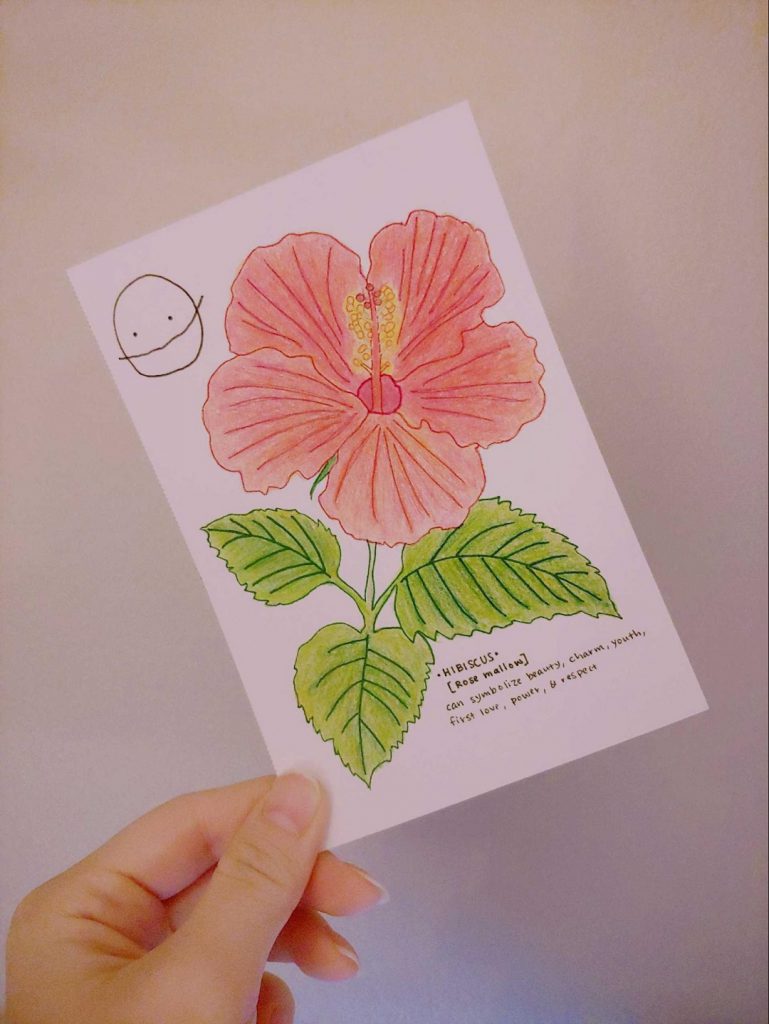 Tell us about the stationery/paper that you're using for this project?
Jenae: I'm using whatever paper I have at home right now. My mom gave me a pad of stationary for this project that pays homage to the early days of airmail so I'm using that first. With this paper, I like that after you're finished writing, you fold its edges up, and it turns into its own envelope. I also have Hello Kitty stationery from my childhood that I'll use later as well.
Seohee: I have been a hoarder of all things stationery since middle school, so I've been making use of my ridiculous collection. Among the bunch, my go-to have been these Daiso coloring books that have various images of flowers on the front and postcard layouts on the back of each page. In my free time and whenever I'm feeling stressed, I tear out a page to color while bopping to some good ol' 90s K-pop. It's been surprisingly healing for me, and possibly the only routine I've maintained over the past four weeks.
What was the response to your letter-writing project after you posted about it on Instagram?
Jenae: A lot of people responded with their address, but some just responded to say that they loved the stamps. I'm so glad. Maybe they'll go out and buy their own. I especially love that I received notes from friends who I haven't talked to in a long time.
Seohee: Excitement and support! I received quite a few responses from friends around the country with their addresses! To be honest, I wasn't expecting them to be as open to sharing such personal information, but that might just stem from the trust issues I've developed after watching nothing but serial killer documentaries on Netflix for the past two months.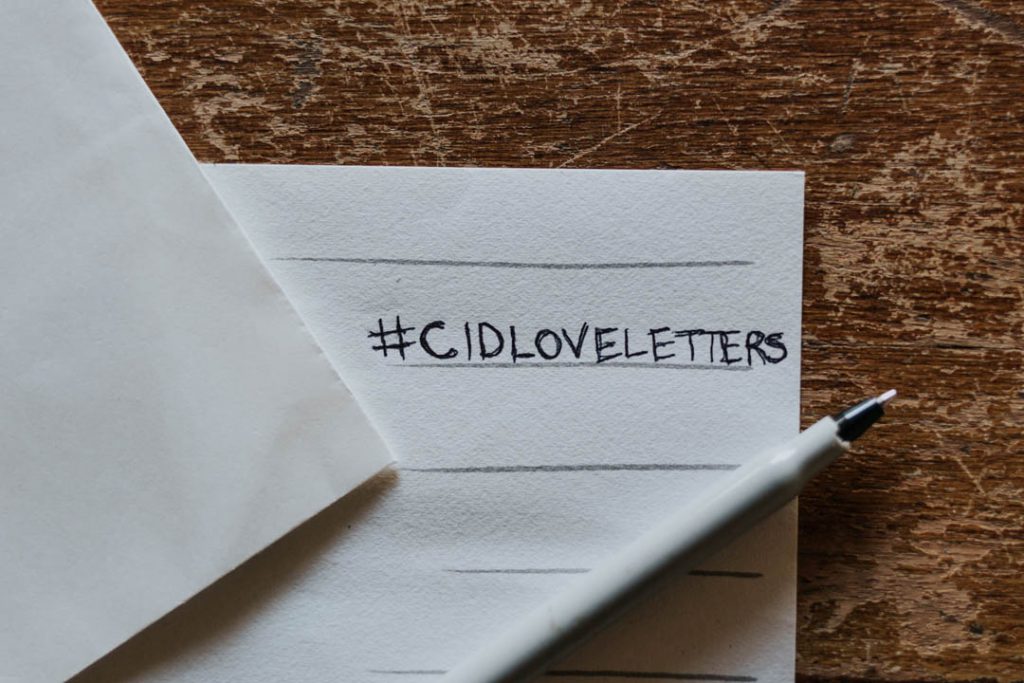 Have you found writing letters to be much different than writing emails? Any early letter-writing tips?
Jenae: I send work emails every day, but letters are definitely a different form of writing. I'm still learning to embrace the time and thoughtfulness it takes. If your thoughts start to run amok (this happens to me frequently) as you're writing, just go with it. I have to remind myself that it's OK to show my inner life sometimes.
Seohee: Yes! I've found that they're much more personal because I'm not writing with a specific intent in mind as I would for, say, a work email. It allows me to pause and really think about each person and what individual messages I want to send that might bring even a tiny bit of joy to their day. Not exactly a tip, but I've been having fun picking out individual postcards based on the image of the flower and their meaning. It adds just another hint of personalization to the entire experience. Also, I've been laminating my postcards with packing tape before mailing them out so that people have the option to wipe them down with a sanitizing cloth upon receiving them—just another COVID-19 precaution from a germaphobe.
Finally, what are you hoping to get from all of this?
Jenae: I hope one of my letters will be a bright spot to someone in quarantine and help them feel connected to me/humanity in a small way.
Seohee: I hope something as small as this could be a reason for someone to smile amidst the chaos that has become our new normal. If we can keep the web of connection and small joys going/growing, even better!
Images: Lauren Farris, Seohee Kim, Jenae Williams.