Object of the Week: Focus No. 37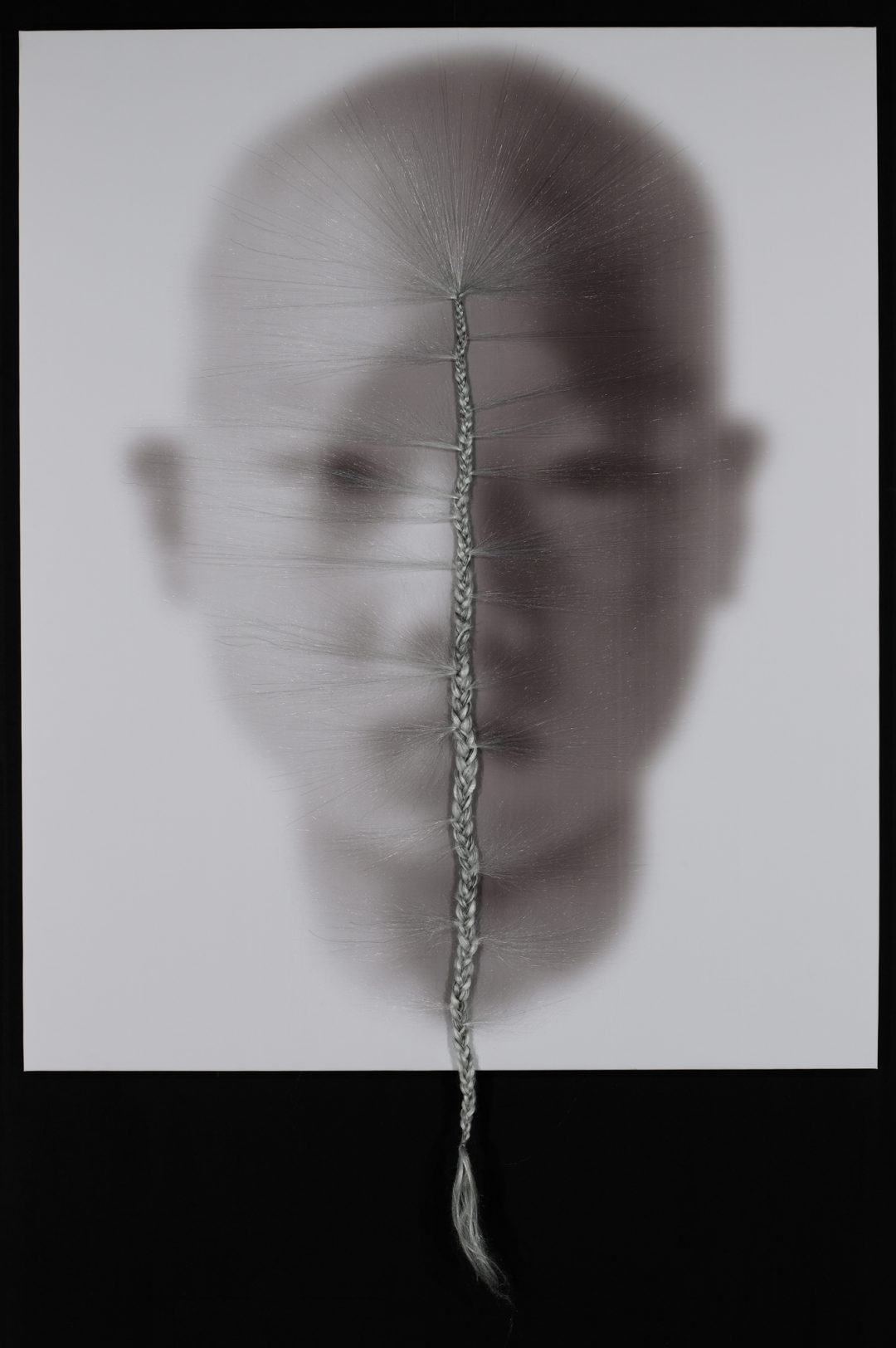 In honor of Women's History Month, Object of the Week will highlight works by celebrated women artists in SAM's permanent collection throughout the month of March.
From across a gallery, Focus No. 37 looks like the face of someone seen in passing. The person might appear vaguely familiar, prompting the viewer to stop and focus. But the face does not become any clearer after directing attention to the image, or moving closer. Instead, it is the white threads that wind across the surface of the portrait to form a neat braid that become more visible. The threads further obscure an already out-of-focus photograph, making the individual's age and gender seem ambiguous.
This work is part of the Focus series by artist Lin Tianmiao, who created multiple portraits of herself, family members, and friends modified by her thread-winding technique. Her artistic practice often involves materials associated with domestic labor and the Chinese household during the 1960s and 70s. Reflecting on her personal association with white cotton thread, Lin recalls the childhood chore of unwinding old uniforms and gloves provided by state-owned "work units," or danwei, and rewinding them into sweaters, tablecloths, hats, and curtains for family use or to exchange with relatives and friends.1
Speaking about the connection between her choice of materials and her own memories, Lin remarks, "When I look back at the materials I chose over the years and think about why I chose thread and other soft materials, I think it has to do with my personal experience. When I was a child, my [mom] sometimes asked me to help her with housework. It was actually like a form of corporal punishment in that it stamped a physical memory on me. When I came back [to China] from America and saw those kinds of materials again, I thought to myself: this is it, these are going to be my materials. It happened very naturally. Also, since I did a lot of housework when I was a child, it helped me acquire endurance and tenacity." 2
While the thread in Focus No. 37 does produce the effect of obscuring the photograph beneath, the central braid humanizes an anonymous face by bringing to mind a familiar haptic act. Just as Lin Tianmiao describes her memories of housework, the viewer might think about their experiences braiding someone's hair, having their own hair braided, or someone they know with braided hair. In this way, the work raises the question of how identity is formed. Individuals are not only defined by their outward appearance, but also by their everyday actions and practices.
– Yaoyao Liu, SAM Museum Educator
1 https://asiasociety.org/blog/asia/interview-lin-tianmiao-art-influence-and-bodily-reaction-inspiration
2 https://www.tate.org.uk/research/research-centres/tate-research-centre-asia/women-artists-contemporary-china/lin-tianmiao
Image: Focus No. 37, 2004, Lin Tian Miao, black-and-white photograph on vinyl with white embroidery, 55 1/8 × 66 15/16 in., General Acquisition Fund, 2004.25, © Lin Tianmiao.