Object of the Week: Slow Cooker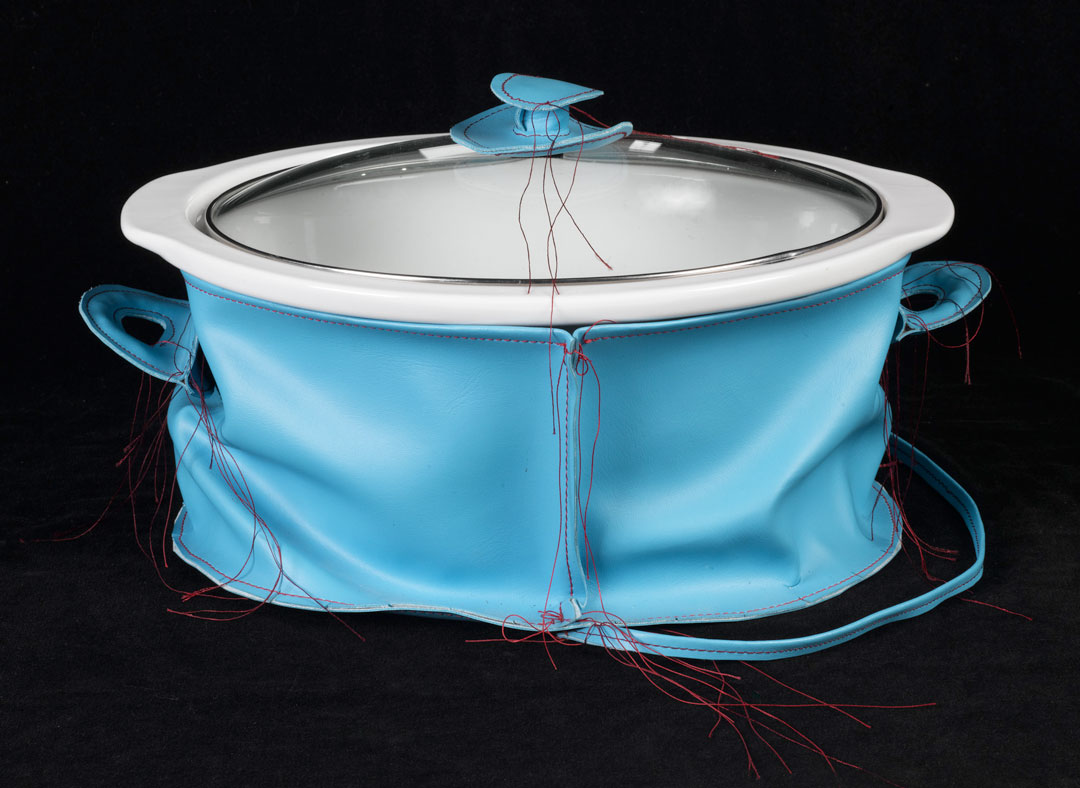 With these works, we have created art pieces that serve as cultural and historical artifacts that value and document the experiences, struggles, and achievements of those who have found their way, often through migration and exceptional sacrifice, to new places where they now work to contribute meaningfully within their communities.

  – Margarita Cabrera
Soft vinyl covers the customary porcelain, metal, and glass of this trusty kitchen crockpot. While the clear lid is left exposed, plush fabric replaces the sturdy handles and appliance parts. Red stitching adds a playful contrast against the sky blue base, and the remaining long, loose threads speak to homemade craftsmanship.
Slow Cooker is part of artist Margarita Cabrera's soft sculpture series, which reimagines commercial objects from bicycles and cars to household tools and cleaning supplies. Cabrera was a featured artist in Pop Departures, a 2014 exhibition at SAM that explored contemporary artists who look to Pop Art for artistic inspiration or critique. The malleable and everyday forms of Cabrera's sculptures draw on stylistic elements of works by Pop artist Claes Oldenburg.
Cabrera is an artist, activist, and community organizer. She infuses her art with socio-political and personal reflection as a Mexican American. Topics of cultural identity, migration, violence, inclusivity, labor, and empowerment—with a focus on US-Mexico border issues—are at the forefront of Cabrera's art practice.[1] In her transformative justice initiatives, Cabrera organizes artistic collaborations in local communities. For her 2010 outreach project, Space in Between, Cabrera partnered with Latinx immigrants from Mexico and Central America to create sculptures of Southwestern US desert plants.[2] Using fabric from the uniforms of Border Patrol forces, the soft sculptures recall embroidery techniques from Los Tenangos, Hidalgo, Mexico and traditions of Otomi Indigenous communities. The workshops empowered the participants to share their journeys of tremendous danger and sacrifice, crafting dialogues of unity, healing, and resistance.
Playful and interactive, the collapsible textures of Slow Cooker invite touch and public engagement. The bold, bright colors are illustrative of traditional woven Mexican designs. Slow Cooker provokes us, and perhaps teases us, as consumers and viewers, to reconsider these unassuming objects and the hands that made them. Cabrera shatters the invisibility of immigrant laborers in factory, farm, and service jobs—engaging the need for active listening and policy change at the ground level, igniting a political conversation that remains urgent and necessary.
– Rachel Kim, SAM Curatorial Intern
Image: Slow Cooker, 2003, Margarita Cabrera, vinyl, thread, and appliance parts, 13 × 8 × 10 in., Modern Art Acquisition Fund and General Acquisition Fund, 2015.7.2 © Artist or Artist's Estate