Muse/News: Punching bags wearing skirts, pet portraits, and multiple voices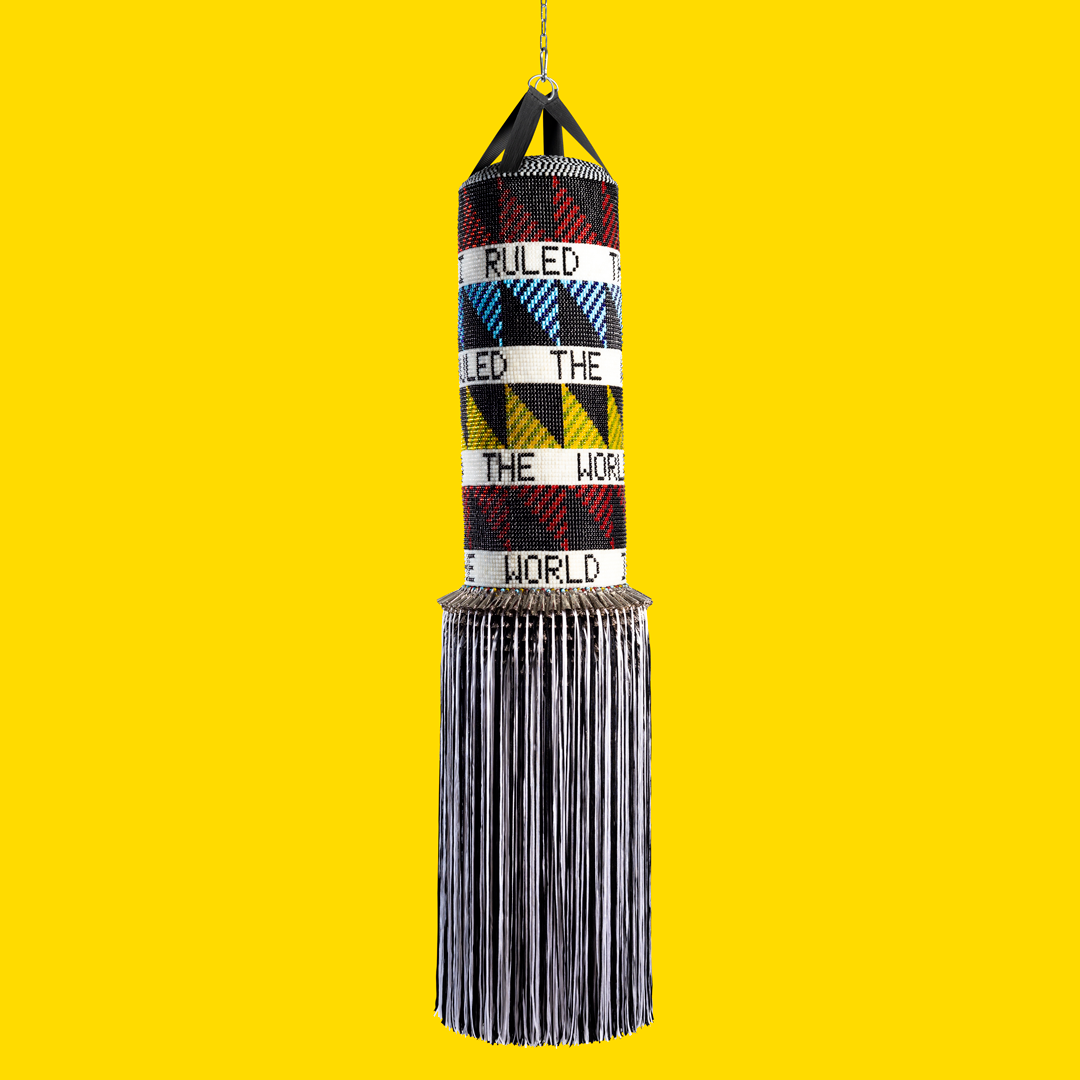 SAM News
There's only a month left to see Jeffrey Gibson: Like a Hammer! Seattle Magazine's Gavin Borchert celebrates the exhibition's insistence on blending all kinds of associations.
"You may notice the exquisite, painstaking craftsmanship first, or you may notice that many of the bags now look like they're wearing skirts."
SAM's Chief Conservator Nicholas Dorman spoke with Hyperallergic's Kealey Boyd for this story on the need for specialized conservators of East Asian art; SAM's forthcoming Asian Paintings Conservation Center will treat works from its collection and serve other institutions as well.
AFAR's Alison C. Meier calls The Allure of Matter: Material Art from China one of "10 Incredible U.S. Museum Exhibits to See This Summer." This immersive, exciting exhibition of contemporary Chinese art debuts at LACMA this summer—and heads to SAM in 2020.
Local News
Crosscut's Agueda Pacheco Flores on the recently debuted Nepantla Cultural Arts Gallery in White Center, which founders Jake Prendez and Judy Avitia-Gonzalez will devote to Latinx art and programs.
And another gallery is on the way out: Pioneer Square's Mount Analogue will shutter after its May show—but will "live on as a freewheeling print magazine."
Our pets are obviously the best. The Stranger's Jasmyne Keimig talks with several local pet portraitists—including Rebecca Luncan, a preparator and mountmaker at SAM!—who preserve their goodness for all time.
"It's a funny idea that even in 2019, this medium of representation, of memory, of love is something that people still seek out. That with our smartphones and our ability to capture every aspect of our lives, people still go out of their way to commission portraits of their animal friends."
Inter/National News
Hyperallergic's Jasmine Weber on the Musée d'Orsay's Black Models: from Géricault to Matisse, based on Denise Murrell's thesis on black models in French art.
Artnet has the stunning images from a newly discovered tomb in the town of Saqqara, south of Cairo; more than 4,000 years old, it's remarkably well preserved.
The Chicago Tribune's Steve Johnson reports on the postponement of a major exhibition on Native pottery at the Art Institute of Chicago, due to concerns over a lack of Indigenous perspectives.
"The principal thing that we have not accomplished is to have an aligned indigenous perspective, scholarly and curatorial, with the project," he said. "And I think that ultimately for us has been the crucial realization that our ability to reflect back what we were learning needed to be done in multiple voices, not just our voice."
And Finally
I would like to see it: An interview with the first full-time art therapist on staff at a North American museum.
– Rachel Eggers, SAM Manager of Public Relations
Image: IF I RULED THE WORLD, 2018, Jeffrey Gibson, Mississippi Band of Choctaw Indians/Cherokee, b. 1972, repurposed punching bag, acrylic felt, glass beads, metal jingles, artificial sinew, and nylon fringe, 79 x 15 x 15 in., Seattle Art Museum, Modern Art Acquisition Fund; by exchange Eugene Fuller Memorial Collection; American Academy of Arts and Sciences, Childe Hassam Fund; Sidney and Anne Gerber; Jan and Gardner Cowles; David Hoberman; Gordon Woodside; Ed Rossbach; Pat Klein and Stephen Wirtz Gallery; Gary Wiggs; Jerome D. Whalen; Karin Webster; Virginia Zabriskie; Dinah James and the Diane Gilson Gallery; Mr. and Mrs. Frederick Weyerhaeuser Davis; Norman and Amelia Davis Collection; Mrs. Will Otto Bell; Puget Sound Group of Northwest Painters Award in memory of Eustace P. Ziegler, 1969, 2018.17, © Jeffrey Gibson, photo: Peter Mauney.