Muse/News: Manyness at SAM, nuclear paintings, and the Whitney list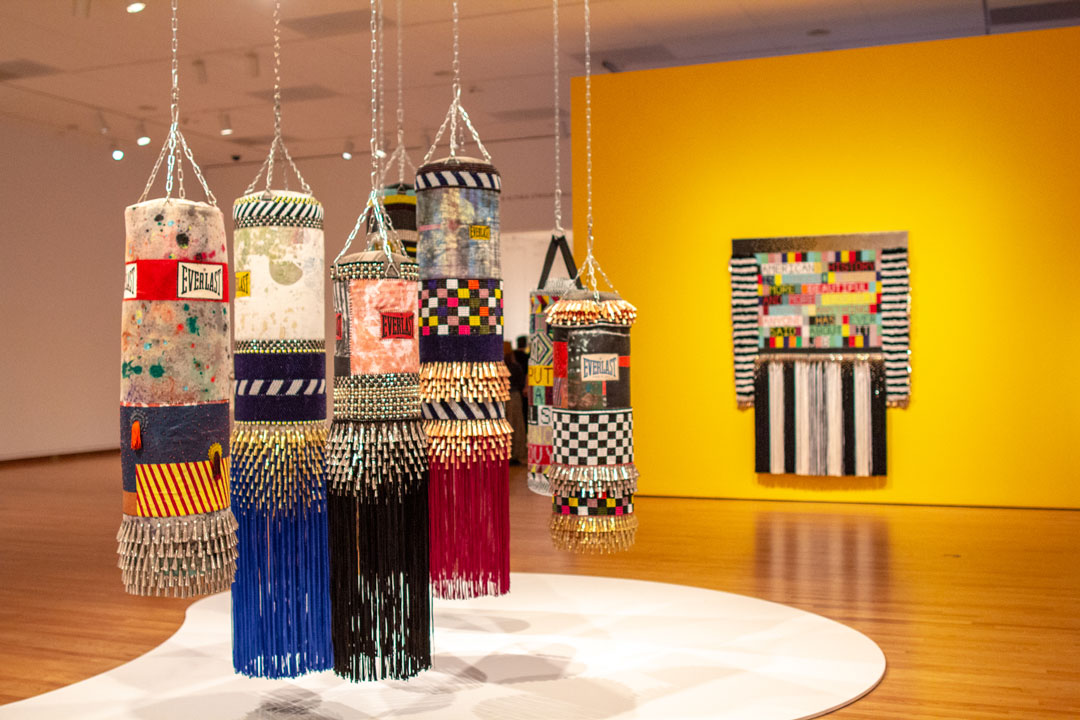 SAM News
Jeffrey Gibson: Like a Hammer is now on view! The Seattle Times featured photos from opening events in their print edition, and Seattle Met, The Stranger, Crosscut, Seattle Gay Scene, and new-to-Seattle art blog The Eye all wrote up the exhibition. What they're saying:
"Like a Hammer has a manyness, a simultaneous quality that instead of diffusing into some fractured postmodern identity coheres into something singular." –Stefan Milne
"His practice is largely informed by the 'in-betweenness' of the fixed points of identity. And there it blossoms." –Jasmyne Keimig
"The artist has created a kind of gumbo of new associations, igniting things as disparate as old song lyrics and ab-ex white-boy modernism and indigenous craft with the most vital and urgent of sensations." –Casey Arguelles Gregory
Seattle Met has their eye on another SAM show, highlighting the upcoming Gentleman Warrior: Art of the Samurai as one of "14 Seattle Events to Catch This Spring".
Carrie Dedon, SAM's Assistant Curator of Modern & Contemporary Art, contributed her thoughts on painter Sam Gilliam to this Artsy editorial in honor of Black History Month looking at "The Most Influential Living African-American Artists."
Local News
Crosscut's David Kroman and Dorothy Edwards follow Doug Latta during his last delivery of the Seattle Weekly; the paper announced this week that after 40 years, it will cease publication.
Special to the Seattle Times, Becs Richards sits down with Jody Kuehner, AKA Cherdonna Shinatra, to discuss her show DITCH, now on view—with daily performances!—at the Frye Art Museum.
The Stranger's Jasmyne Keimig reviews Nikita Ares' solo show of "so-bright-they're-nuclear" paintings in Sugar Babies Only, now on view at Specialist Gallery.
"Bright, vivid, frenetic hues take precedence above all in her paintings, the oiliness of the pastels are rich, creamy, and dirty. They give off their own heat, resembling the energy she puts into it. There's no tedium to it nor perfection, just like her."
Inter/National News
Here's one more celebration for Black History Month: Hyperallergic's Jasmine Weber asks seven notable arts figures to name Black artists overlooked by the canon who they cherish.
This year's Venice Biennale will host Ghana's first national pavilion. It's designed by celebrated architect David Adjaye and will feature work by John Akomfrah, El Anatsui, and Lynette Yiadom-Boakye.
The 75 participating artists in this year's Whitney Biennial were announced this week; the list includes Jeffrey Gibson and Disguise artist Brendan Fernandes.
"To its curators, the 2019 biennial feels very much like a product of its time, with artists 'grappling with questions about race, gender, financial inequality, gentrification, the vulnerability of the body,' said Ms. Panetta. But she added that the work in the show mostly strikes a tone that's less 'agitprop-like or angry' than one might expect in 2019. 'It's really work that feels more productive, forward looking, with a kind of optimistic and hopeful tenor to it.'"
And Finally
Alert: The Prince Estate has released a library of Prince GIFs. You're welcome.
– Rachel Eggers, SAM Manager of Public Relations
Image: Installation view Jeffrey Gibson: Like a Hammer at Seattle Art Museum, 2019, photo: Natali Wiseman.