Muse/News: Jeffrey Gibson's iconic forms, Tschabalala Self's avatars, and a maybe-Caravaggio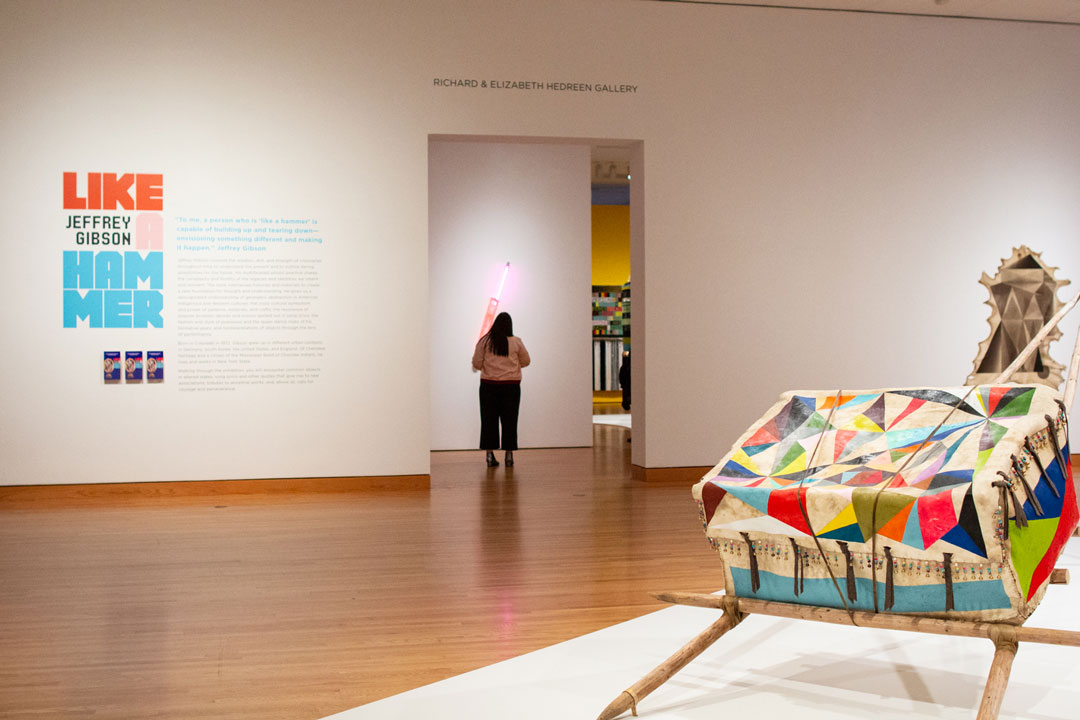 SAM News
Reviews for Jeffrey Gibson: Like a Hammer continue to hit! The Seattle Times, GRAY Magazine, KEXP's Sound and Vision, UW Daily, The Spectator, and family blog An Emerald City Life all wrote up the exhibition. What they're saying:
"Rather than offering an evolutionary tour of style, the exhibition exudes a feeling: a bold, fluid simultaneity, grounded in striking pattern, color and craftsmanship and provocative references to music, personal stories and indigenous practices." – Gayle Clemans
"Personal, brilliantly hybridized, and seriously eye-catching." – Blake Peterson
"It's the type of honest, colorful, modern and inclusive art that speaks to your heart and I really want my kids to see it." – Terumi Pong
In honor of his 50th anniversary at SAM, UW grad and SAM Films curator Greg Olson is the cover story of the alumni magazine Columns, with a profile by Sheila Farr and a photospread worthy of the big screen.
Artist Jacolby Satterwhite created an animation sequence for Solange's film that accompanies her new album; Complex speaks with the artist, whose Country Ball 1989-2012 is now on view at SAM.
Local News
Crosscut's Agueda Pacheco Flores spoke with students who learned yesterday that their school, The Art Institute of Seattle, would be permanently shut down—today.
The Stranger has a round-up of 15 Pioneer Square gallery shows to see this month, including Mary Coss at METHOD and Ryna Frankel at 4Culture.
Hyperallergic's Jasmine Jamillah Mahmoud spoke with artist Tschabalala Self about her Frye Art Museum show and her avatars of Black womanhood.
"You can choose your identity through an avatar. This freedom is power. This freedom subverts subjectivity and allows an individual to escape the cultural attitudes they are subject to."
Inter/National News
Artsy shares the news that the arts and cultural sector contributed over $763.6 billion to the American economy in 2015, making the case for the economic impact of the arts.
Hyperallergic shares the 43 extraordinary nominees for the 2019 World Press Photo Contest, including Finbarr O'Reilly's "Dakar Fashion" and John Moore's "Crying Girl on the Border."
Unveiled in London this week: a 17th-century canvas of Judith and Holofernes that may be a Caravaggio—but there is no consensus among experts. The New York Times' Scott Reyburn zooms in on the details.
"It's perhaps not what an auctioneer—or a billionaire collector—wants to hear about a painting valued at more than €100 million. The market demands that geniuses like Caravaggio work alone."
And Finally
Nothing made me happier last week than Alston's singing mice.
– Rachel Eggers, SAM Manager of Public Relations
Image: Installation view Jeffrey Gibson: Like a Hammer at Seattle Art Museum, 2019, photo: Natali Wiseman.