Muse/News: The hammer hits, post-analog art, and fun at Frieze Los Angeles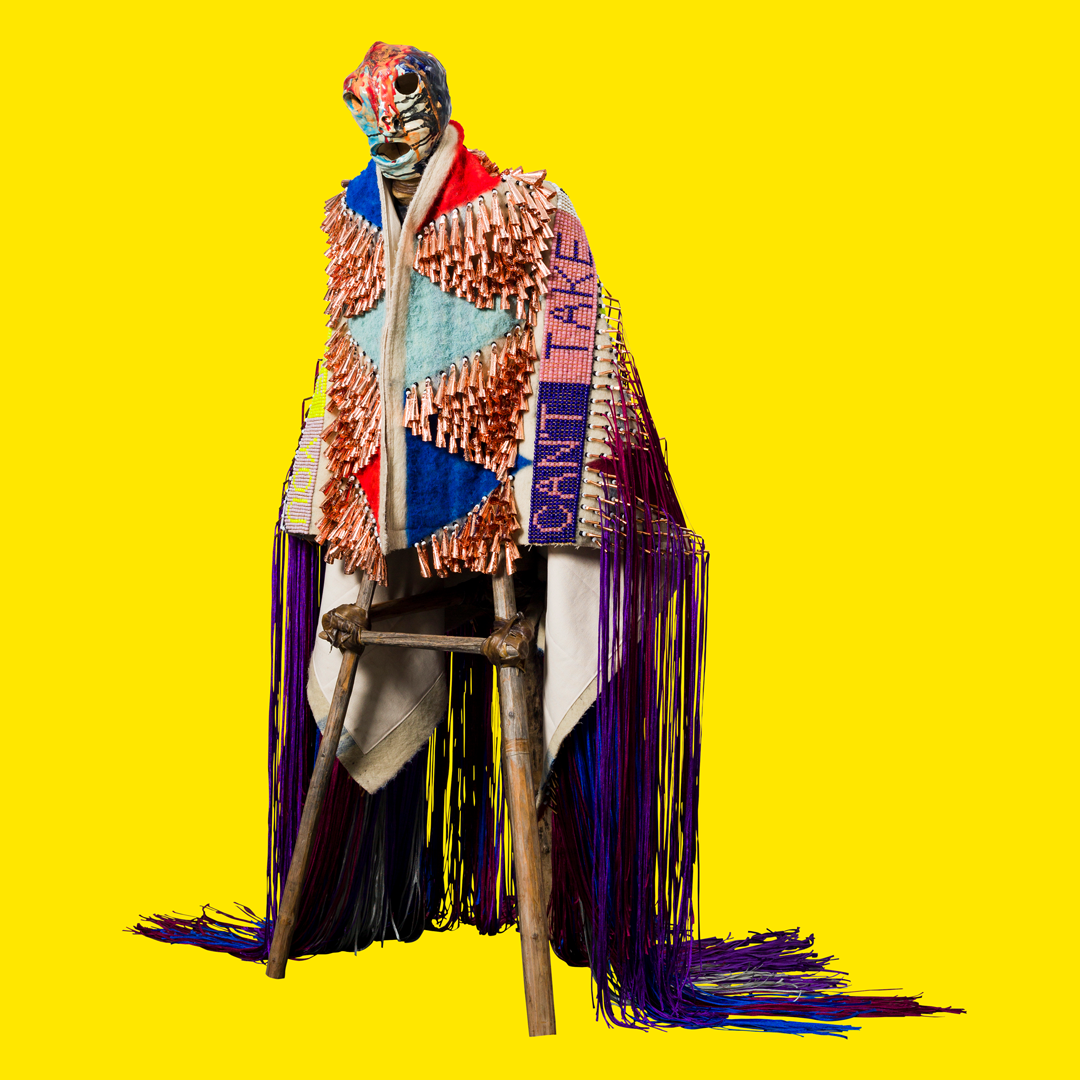 Jeffrey Gibson: Like a Hammer opens this Thursday! Seattle Magazine features the exhibition as part of their spring arts preview; the story also appears in the March print edition.
"The resulting collection is a riot of color and texture that playfully draws the viewer into a world—the experience of another human being—impossible to ever fully know, but commanding one's full consideration anyhow."
Nancy Guppy included Like a Hammer and the community celebration on Thursday in this New Day NW segment highlighting local arts happenings.
Fashion: Turn to the left! SAM's own Priya Frank and David Rue are both one of "7 Seattleites in outfits that say something" in this KUOW piece by Marcie Sillman and Megan Farmer.
Local News
How'd your Oscar ballot turn out? Add to your Oscar trivia with Brangien Davis of Crosscut's story on Margaret Herrick, a former librarian in Yakima who ended up becoming the first female executive director of the Academy of Motion Picture Arts and Sciences.
Special to the Seattle Times, here's Gayle Clemans on the importance of artist residencies in an inequitable Seattle; she visits Mount Analogue and the Jacob Lawrence Gallery.
The Stranger's Jasmyne Keimig also explored the residency project Ultra Light Beams at Mount Analogue, noting that the work in the show "falls loosely within the genre of post-analog art."
"Each artist presented here grapples with this meeting of the human hand and technology as we understand it today."
Inter/National News
Allison Meier for Hyperallergic on Tamiko Thiel's Unexpected Growth, now on view at the Whitney; in it, the artist continues her groundbreaking AR work, an example of which appeared at the Olympic Sculpture Park in 2016.
Artnet shares the findings of a report on fundraising in the arts that included some encouraging news: average individual contributions rose each year from 2014 to 2017.
The New York Times' Jori Finkel visits the inaugural edition of Frieze Los Angeles, as well as the new Felix LA art fair; for those who missed it, Graham Walzer took lots of great photos, too.
"'I don't ever remember Frieze New York actually being fun — and this was,' he said. 'My sense is this will be the first of many Frieze fairs out here.'"
And Finally
This one goes out to all my fellow southpaws.
– Rachel Eggers, SAM Manager of Public Relations
Image: CAN'T TAKE MY EYES OFF OF YOU, 2015, Jeffrey Gibson, Mississippi Band of Choctaw Indians/Cherokee, b. 1972, high fire glazed ceramic, repurposed tipi poles, wool, acrylic paint, wool blanket, glass beads, artificial sinew, copper jingles, and nylon fringe, 72 × 29 × 38 in., Collection of Vicki and Kent Logan, image courtesy of Jeffrey Gibson Studio and Roberts Projects, Los Angeles, California, photo: Peter Mauney.