Object of the Week: Dug Up from Kitchen Weeds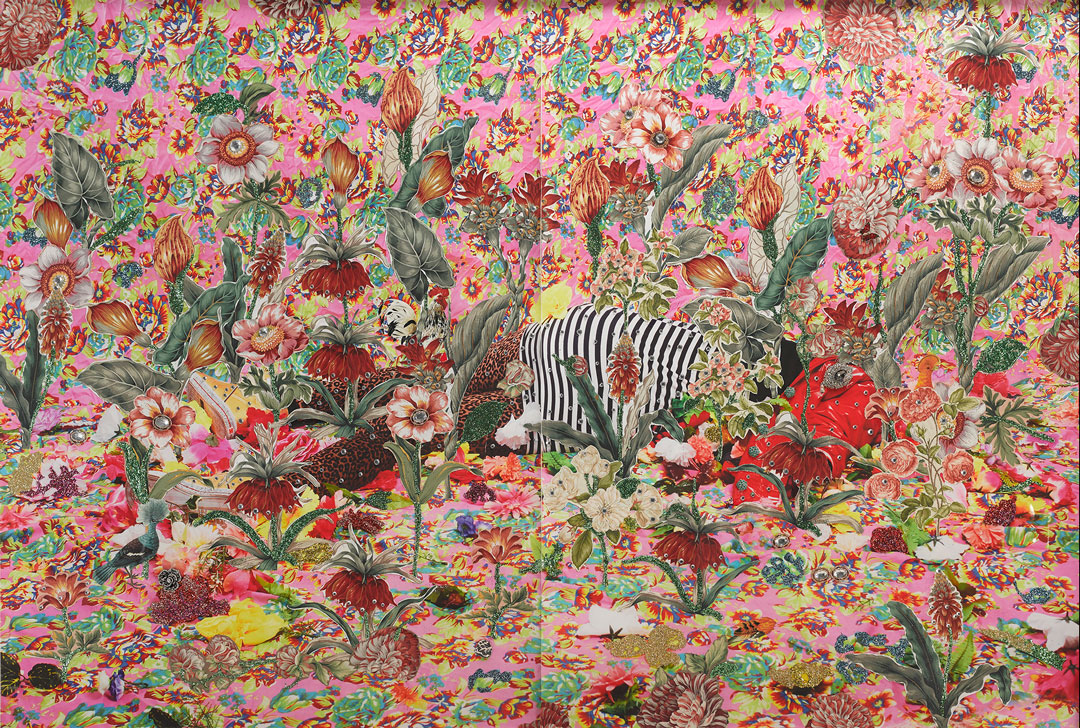 Ebony G. Patterson wanted to be an artist from a young age. Born in Jamaica to parents raised in rural poverty, Patterson credits her parents for encouraging her to follow her dreams. "Allow her to express herself," her father said when young Patterson argued with her mother. "Don't tell her to shut up." Today the artist is widely recognized for her accomplished work, and last January she was named a recipient of the United States Fellowship Award in the visual arts.
The mixed-media artist explores issues of race, class, and gender. First motivated by the treatment of Tivoli Garden's working-class community during the 2010 incursion in West Kingston, Jamaica, Patterson is especially concerned with the visibility of social injustices and the value of black and brown bodies.
In Dug Up from Kitchen Weeds,* colorful, patterned paper, and fabric come together with rhinestones and glitter to create a monumental collage garden, measuring seven-by-five feet. Its effect is mesmerizing. In the center of the overgrown flower bed, a figure lies hidden and obscured. Patterson doesn't offer a face, just a striped t-shirt, animal-print pants, yellow Chuck Taylors, and a red bandana. Remnants of a life. The body itself is present, and yet . . . invisible.
With her highly ornamented works, the artist's love for fashion and bling is clear. She wants to lure viewers into this beautiful world, then challenge them to look closer. Who is—or was—this person? It is a memorialization to those living on the margins, the viewer's opportunity to bear witness to this death. When asked about the seemingly dark theme, Patterson responds, "Is it simply dark because we choose not to acknowledge it? . . . Well I'm choosing to turn the light on. . . . Violence happens everywhere. . . . That's the truth, and it's all our problem."
This is reality, seen through Patterson's eyes, and she argues for attention and empathy.
– Jenae Williams, Curatorial Associate
*Read the poem that inspired this work: "Brief Lives" by Jamaican poet and short story writer Olive Senior.
Image: Dug Up from Kitchen Weeds, 2014, Ebony G. Patterson, mixed media photo collage on paper, 62 1/2 x 91 1/2 x 2 1/2 in., Bill and Melinda Gates Foundation Art Acquisition Fund, 2016.6 © Ebony G. Patterson