Best in Show: We Love Lynda Swenson's Artwork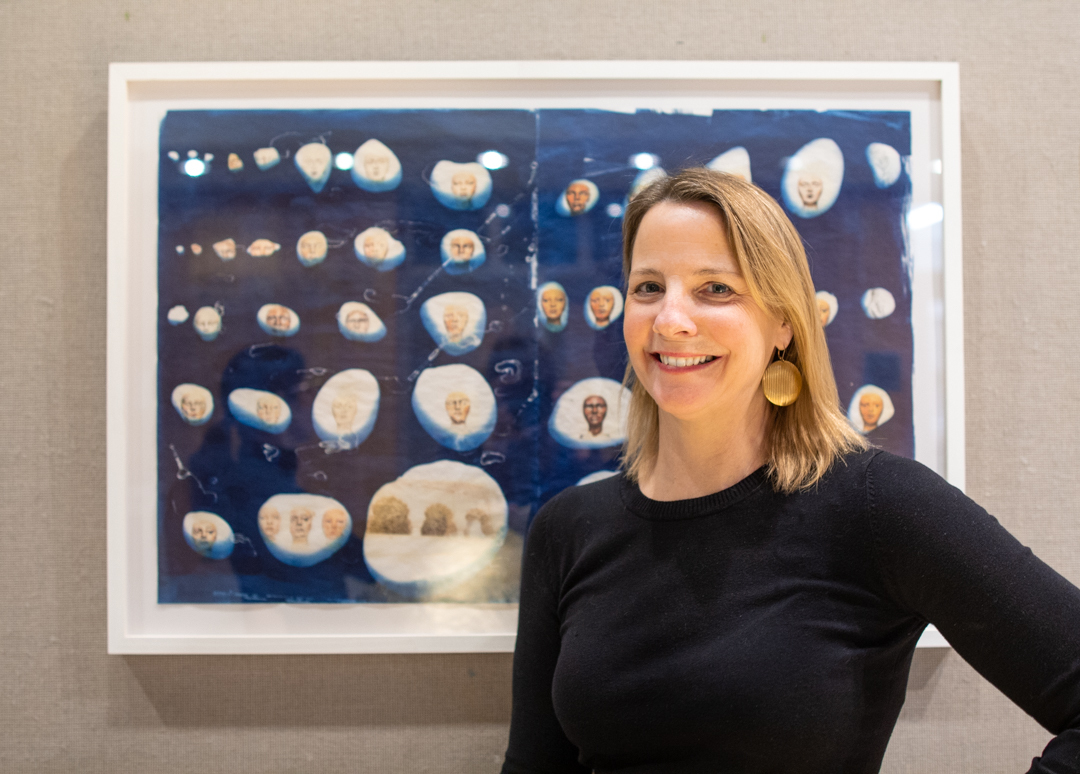 You probably assume that most people working at an art museum are pretty into art, but what you might not realize is how many of them are artists themselves. A trip to SAM's community gallery to see the SAM Staff Art Show, on view through February 3, is a great reminder of the talent that fills not just the galleries of our museums, but the administrative offices as well. Make sure to walk all the way to the end of the first-floor corridor to see the work that won our hearts and the most votes during the Staff Art Show reception. What you're looking for is an indigo diptych by Lynda Harwood Swenson. Her piece, Sticks and Stones 1 & 2 (Lapidation), contains a lot of tension while also feeling calm and contemplative. Give it a good long look the next time you visit.
Lynda is the Art Studio Programs Senior Associate at SAM. She's the mastermind behind our free Drop-In Studio events on First ThursdayS and summer Sundays and the interactive art-making activities that SAM offers through our education and public programs. She also recently became a member of Shift Gallery in Pioneer Square where you can see her work in a solo show February 7 through March 2.
SAM: When did you begin making art formally? Were you always working in print media? How did you arrive at it?
Lynda Swenson: I was lucky that I went to a high school that really valued art and art making and my art teacher in high school was a printmaker. She introduced me to the medium and I really fell in love with it and continued working in printmaking through college and most of my adult life.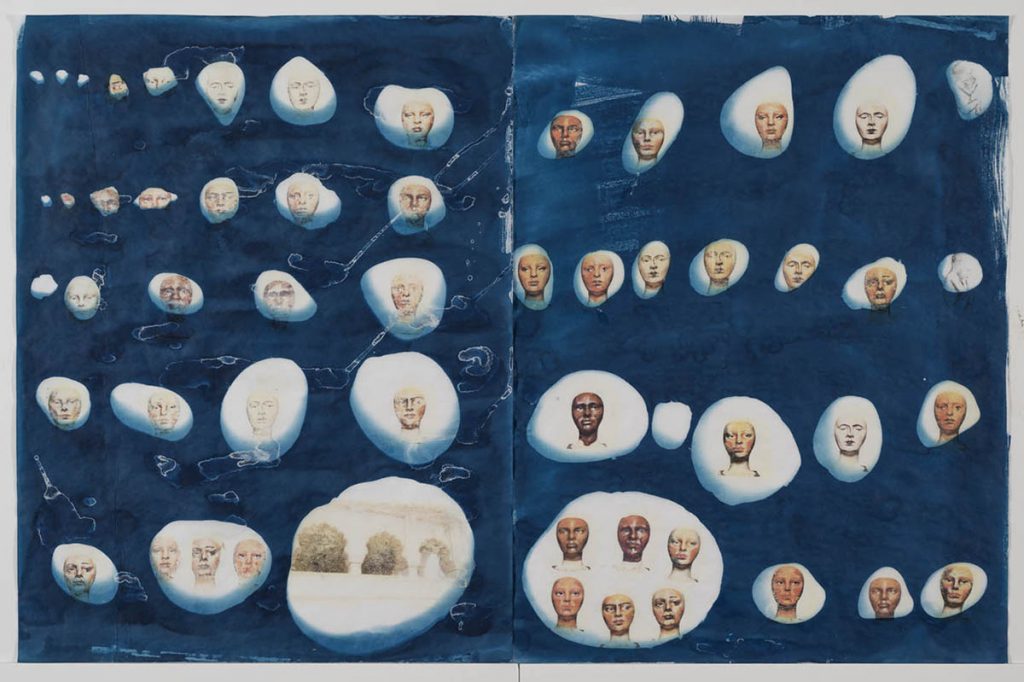 The title of this piece brings a lot of context to the work about both the topic and materials. Can you expand a bit on the meanings you are playing with?
In choosing the title, Sticks and Stones 1 and 2 (Lapidation), I was thinking about all the negative rhetoric directed at women in the last few years. Because the image is a photogram of stones, I thought it was a really simple way of telling the viewer what they were looking at, as well as what my intention was. Adding the word "lapidation," which means stoning a person to death, where no individual is held responsible—is suggesting an awareness that this is still happening in places and, metaphorically, it happens in our society all the time.
You said the women in this work are not based on actual people, how did you decide to depict them?
The women's heads in the work are from a found image from a magazine, I think they were carved wooden heads (I don't know who the artist is). I manipulated them through a copying process and then the transfer process. I really wanted to depict women from many ethnic backgrounds, even subtle skin color differences mattered in the work.
How are the white lines and shapes created? Are these traces of your process?
The white lines are part of the cyanotype process, they are a byproduct that is sometimes left behind on the paper, or in this case on the vellum, it may be from minerals in the water used to rinse the chemistry out after exposure.
The stones that you used in this work, are these actual stones? Where did they come from?
Yes, the stones are real and were from my yard. They were laid very neatly on vellum sheets that were covered in a cyanotype chemistry and exposed to light—the white parts of the image are where the rocks laid and the blue is where the chemistry was exposed to the sunlight.
Tell us about Shift Gallery, the artist-run gallery you joined this year.
This is currently the 15 year anniversary of Shift Gallery. It's an artist-run space in the Tashiro Kaplan building on 4th Avenue and Washington Street, near Pioneer Square. Shift is a great venue with a mission of supporting Northwest artists of diverse media and rigorous content. I feel like it's a great launching pad for Seattle artists to show their work.
What else are you working on right now? Where else can people interact with your work?
I have a solo show opening on February 7 at Shift, running through March 2. I also have work on view at the Coos Art Museum, in the West Coast Ink and Print show in Coos Bay Oregon until February 9.
– Chelsea Werner-Jatzke, SAM Content strategist and Social Media Manager
Images: Photo: Natali Wiseman. Sticks and Stones 1 & 2 (Lapidation), diptych, 33 x 22 inches, cyanotype photogram with image transfer on vellum, photo: Art Grice