Muse/News: Small but mighty, a black velvet jaguar, and the definitive moment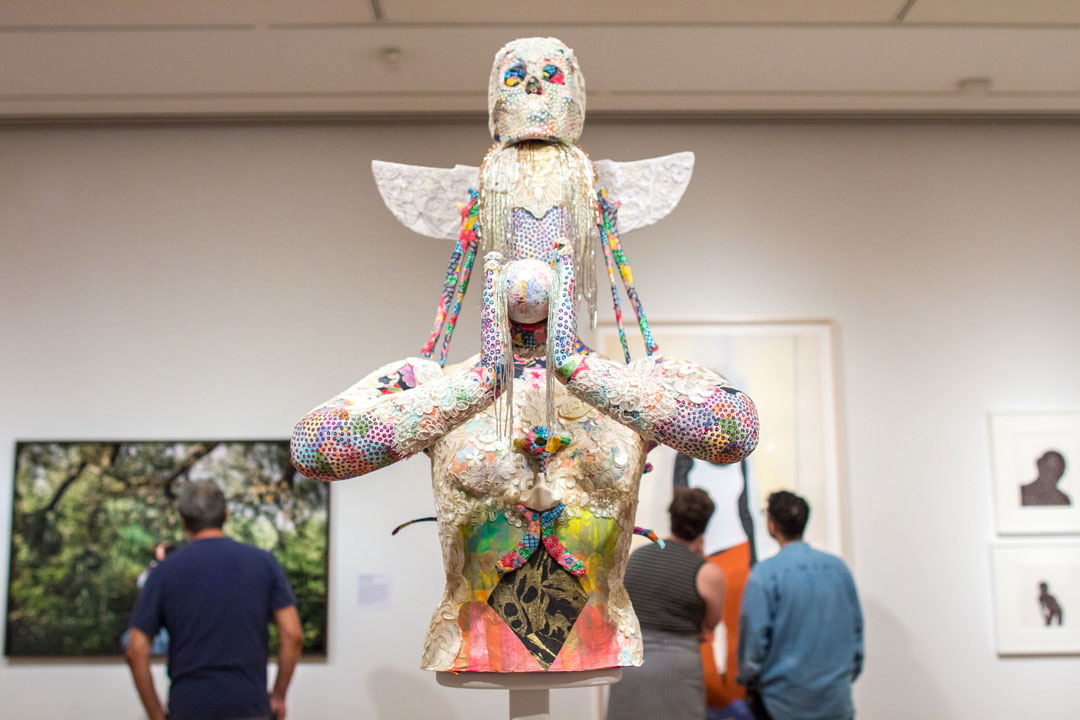 SAM News
Don't sleep on SAM: Now on view are several small but mighty installations. Michael Upchurch of Crosscut offers this excellent write-up of In This Imperfect Present Moment, and Seattle Magazine features New Topographics on its list of "13 Best Things To Do in Seattle in September 2018."
Why, thank you! SAM was voted "Best Art Museum" in Seattle Weekly's annual "Best of Seattle" readers' poll.
Sarah Bloom, SAM's Senior Manager for Teen, Family & Multigenerational Programs and Learning, was interviewed for this ParentMap feature that combines fall arts recommendations for the family with the reasons why exposure to the arts is so important.
"Building the skill of close looking is something we try to instill in children and caregivers together," Bloom says. "Looking at art is a skill that you build over time."
Local News
Margo Vansynghel of City Arts speaks with Maja Petrić, whose installation We Are All Made of Light is now on view at MadArt; it's the latest of her "immersive experiences that get at the core of shared experience."
Crosscut's Brangien Davis on the Bellwether Festival, which debuts a revamped format this year with more happenings and a companion show at Bellevue Art Museum; I definitely want to see Tariqa Waters' giant pack of Quilted Northern.
Emily Pothast of the Stranger reviews Pocket Full of Posies, Juventino Aranda's first solo museum exhibition, now on view at the Frye Art Museum.
"Aranda's work follows the magic all the way to its source, pointing to a reality where every manufactured object may be read as a text containing layers of history and meaning."
Inter/National News
The United States Tennis Association has commissioned artist-designed tennis courts in celebration of the US Open's 50th anniversary.
Manhattan's High Line will debut a section devoted to art, with a new commission every 18 months. Up first: Simone Leigh's Brick House, a 16-foot-tall bronze bust of combining human and architectural elements.
LaToya Ruby Frazier contributes to The Guardian's "My Best Shot" series; the winner of the 2013 Gwendolyn Knight and Jacob Lawrence Prize talks about how she captured this photo of her "guardian angel" grandmother.
"I set up the camera and the moment she came into the frame, I moved in, sat next to her and asked her to look at the lens. I had no idea what her expression was, I just turned and pressed the shutter release – you can see it in my right hand."
And Finally
The Louvre can have Beyoncé and Jay-Z; SAM has Saeed and Isaac! Keep an eye out in September for Buzzfeed's AM2DM road trip stories from Seattle, including their visit to the museum.
– Rachel Eggers, SAM Manager of Public Relations
Image: Installation view of In This Imperfect Present Moment at Seattle Art Museum, 2018, photo: Natali Wiseman.