Muse/News: SAM director honored, food art pops up, and photos that puzzle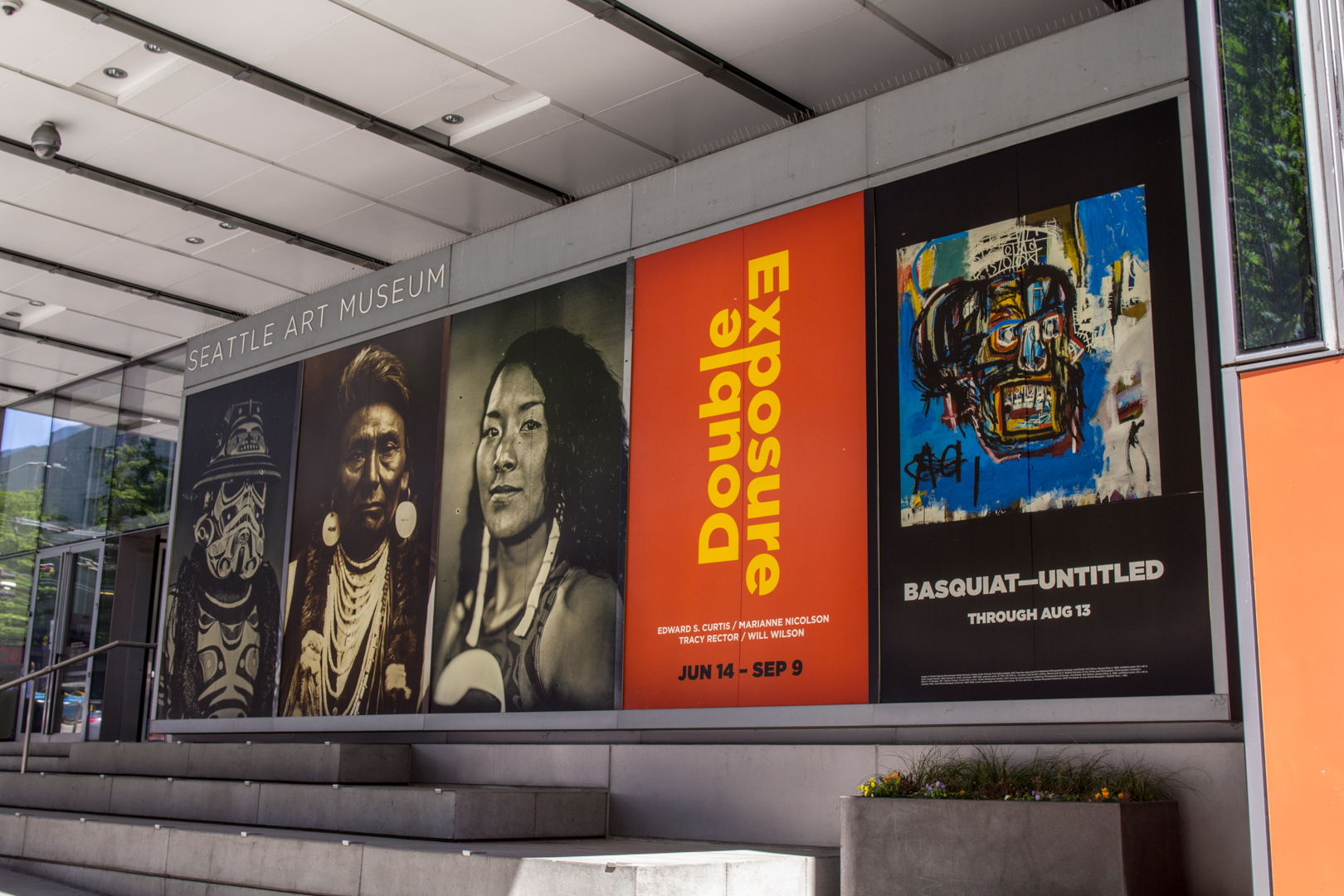 SAM News
Double Exposure: Edward S. Curtis, Marianne Nicolson, Tracy Rector, Will Wilson opens June 14! A photo by the Seattle Times' Alan Berner of our First Avenue lightbox appeared in print on May 19. The exhibition was also their visual arts pick for the "hottest events for June" in last Friday's Weekend Plus section.
"June will launch a series of shows about famous and troubling photographer Edward S. Curtis, his weird way of staging what Native American culture looked like and responses from contemporary artists. The flagship exhibit of this thorny flotilla will happen at Seattle Art Museum — the cultural struggle, using various art-weapons, is still raging."
In their June issue, Seattle Met Magazine presents Light a Fire 2018, shining a light on the city's most impressive nonprofits and the people who run them. This year, our SAM Director and CEO Kimerly Rorschach has been awarded Extraordinary Executive Director!
Esquire profiles Middle Fork artist John Grade, who has a new work in an unexpected location: Nordstrom's new men's store in Manhattan.
Local News
Did you catch Danai Gurira's Familiar at the Seattle Rep? Two takes on the play ran in advance of the play's final weekend from City Arts' Gemma Wilson and The Stranger's Charles Mudede.
You will find me NOWHERE NEAR those glass benches. But for those without fear, check out Seattle Magazine's look at the Olson Kundig revamp of the 56-year-old Space Needle.
Mac Hubbard for Seattle Met on the launch of Sunday Salons, the latest gallery around town to pop-up in an apartment; this one hosts the FoodArt Collection of Jeremy Buben.
"This ability to approach and resonate with our relationship to food is part of Buben's perpetual interest in this work. And the room for creative license is apparent from the trappings of the apartment: a nude with parts shielded by pancakes and a waffle wedge, neon indicative of diners, a mold of a Cheetos bag housing an air plant."
Inter/National News
Eileen Kinsella for Artnet on a show about sports and social justice opening in September at the High Museum in Atlanta; it will feature works by artist Glenn Kaino in collaboration with Olympic athlete and activist Tommie Smith.
Artnet's Sarah Cascone on the shuttering of the much-troubled and once-beloved Interview Magazine.
Ksenya Gurshtein for Hyperallergic on an exhibition of early American photography at the J. Paul Getty Museum that reveals much about the complexities of American life during the 1840s to the 1860s.
"It's necessary to look to such images as a reminder that evil has long been done in the name of national interests and that photography was as suspect at its inception as it is today, in the age of fake news and truthiness."
And Finally
This is something I can get behind: Lunch at 11 am. It's OK to be hungry! Eating is good!
– Rachel Eggers, SAM Manager of Public Relations
Photo: Natali Wiseman