Object of the Week: Xing ware-type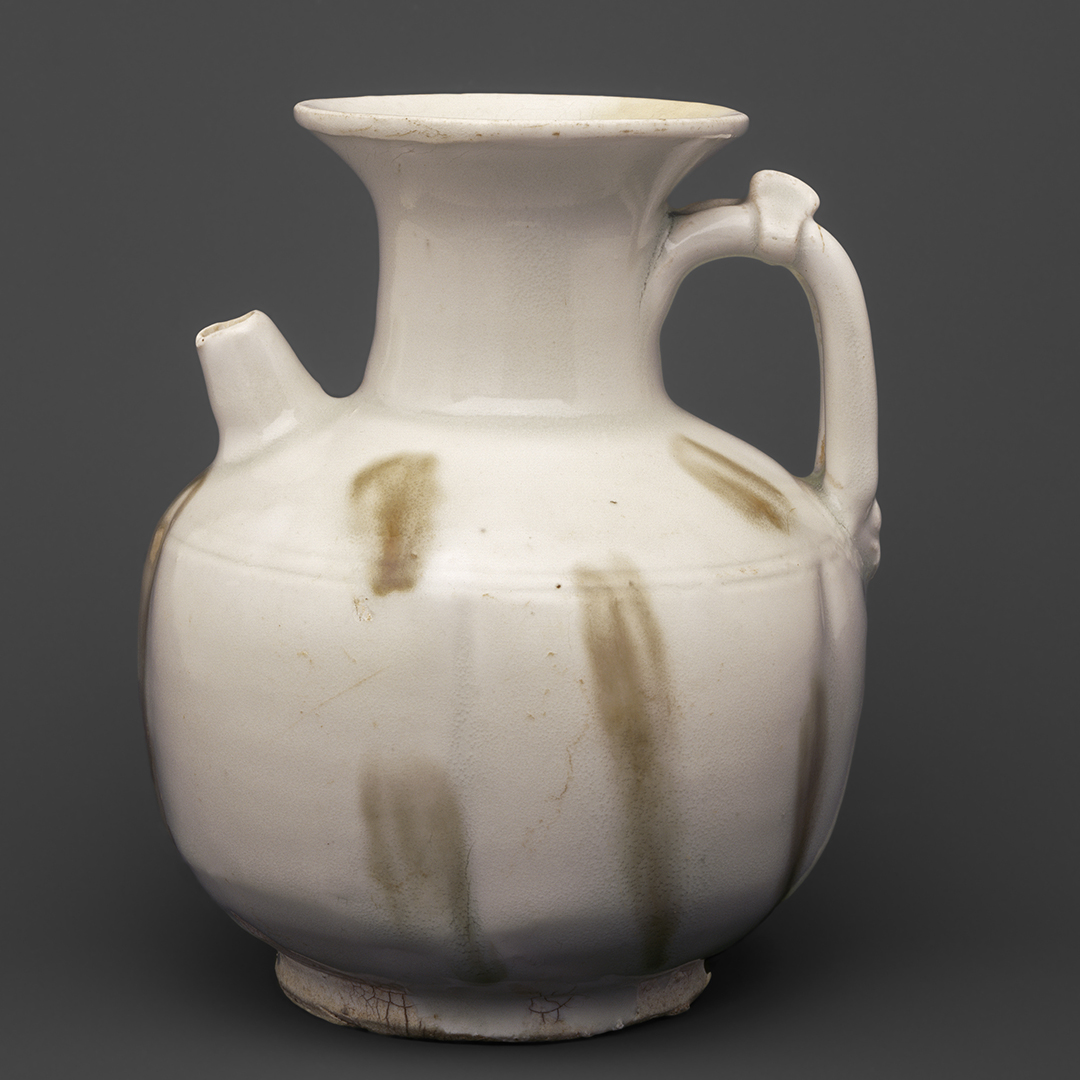 Sometimes I find myself struck by the contemporaneity of ancient objects, how something made hundreds or thousands of years ago can embody an aesthetic or message relevant to today. Take this Chinese Xing ware-type ewer, for example. Created during the 10th century, the porcelain vessel—with its white glaze and spontaneously placed markings—feels, to me at least, like it could have been made this past century, alongside works by artists such as Lucy Rie or Mary Heilmann.
Ceramics have no doubt made a comeback in the art world, a trend which suggests that the once rigid division between art and craft (and therefore ceramics) is no more. As art critic Roberta Smith rightly articulated in 2009, "It can't be said enough that the art-craft divide is a bogus concept regularly obliterated by the undeniable originality of individuals who may call themselves artists, designers, or artisans."[1]
Though today we might be less inclined to differentiate between artists and artisans, in 10th-century China there would have certainly been a distinction between makers commissioned by imperial courts and those who produced commercially. Xing ware, produced in what would today be China's Hebei province, caught the attention of the Tang imperial court and epitomizes Tang-era porcelain: the purity of its clay was unusually low in iron and titanium oxides (contaminants) and very fine grained. Fired in the kiln at 1250 degrees Celsius or higher, this porcelain was unparalleled in its sturdiness, translucence, and pure white color.
Similar in form to late Tang dynasty ceramic ware, this ewer is especially unique due to the greenish-brown splashes of glaze on its porcelain-white body. Used as a wine bottle, this vessel bears similarities to many late Tang wares, though it was unlikely to have been produced in a Xing kiln.[2] Perhaps it is the simplicity of form and coloration that makes this work feel so modern, or, conversely, that so many contemporary ceramicists find (for good reason) inspiration in the rich ceramic traditions of China, where porcelain was perfected and produced exclusively for centuries.
– Elisabeth Smith, Collections Coordinator
[2] The shape and glaze of this ewer is similar to Xing porcelain, but the clay texture is not nearly as fine. For more on this work and Chinese porcelain more broadly, see Julie Emerson, Jennifer Chen, and Mimi Gardner Gates (Porcelain Stories: From China to Europe, Seattle: University of Washington Press, 2000), 38.
Image: Xing ware-type, 10th century, Chinese, porcelain with white glaze on white slip, green-brown stripes, 5 1/2 x 2 13/16 in., Thomas D. Stimson Memorial Collection, 51.122