Object of the Week: Nail Police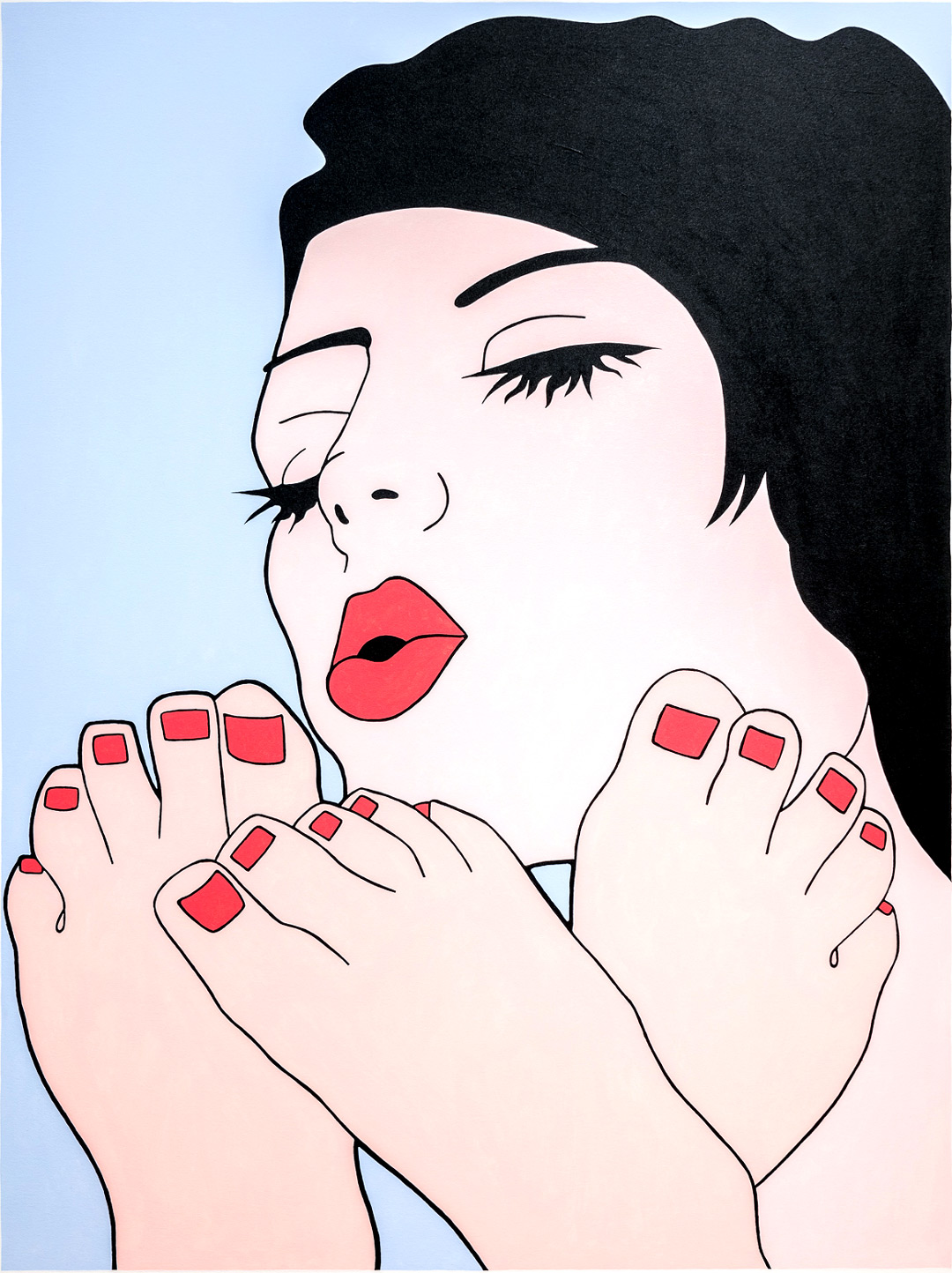 New Year's Eve ushers in and allows for all sorts of behavior. For some, it might be a night to reflect on the past year while making resolutions for the next, but for others it is a social occasion during which one can celebrate freely, throwing caution—and social mores—to the wind. This work by John Wesley, titled Nail Police, seems to be a proponent of the latter.
At first the work appears relatively benign, with a cartoon-like image of a woman drying toenail polish—a standard beauty routine. Upon closer look, Nail Police reveals more erotic undertones, and raises further questions: Why are there three feet instead of two? Is the woman pictured even painting toes at all? Is the painting in fact an adult fantasy rendered ambiguous?
One of Wesley's many strengths as an artist is his ability to create images that are at once explicit and enigmatic. And, like his highly stylized paintings, Wesley has defied easy categorization throughout his career. His flat, graphic figures and distinctive color palate of periwinkle blue and pale pink often align him with artists who share a Pop sensibility, although Wesley associates his uncanny, dreamlike compositions with Surrealism. However, his painting style, which bears little trace of the human hand, has also been espoused by many Minimalist artists, most notably Donald Judd.
Interested in our mass consumption of media, Wesley regularly begins his paintings by tracing images from publications such as newspapers and fashion magazines—dogs, birds, women, and cartoon characters—which are then converted into gouaches and, ultimately, acrylic paintings. This process allows certain characteristics to be reduced to their most basic elements. Here, this can be seen in the contours of the woman's feet, or the treatment of her full lips and eyelashes.
Regardless of how you might read this image, the last night of the year is as good a time as any to paint the town—and maybe even your toenails—red. However you celebrate, Happy New Year!
– Elisabeth Smith, Collections Coordinator
Image: Nail Police, 2002, John Wesley, Acrylic on canvas, 63 x 48 in. (160 x 121.9 cm), Gift of American Academy of Arts and Letters, New York and Hassam, Speicher, Betts and Symons Funds, 2004.90, © Artist or Artist's Estate.