Object of the Week: Woman Selling Flowers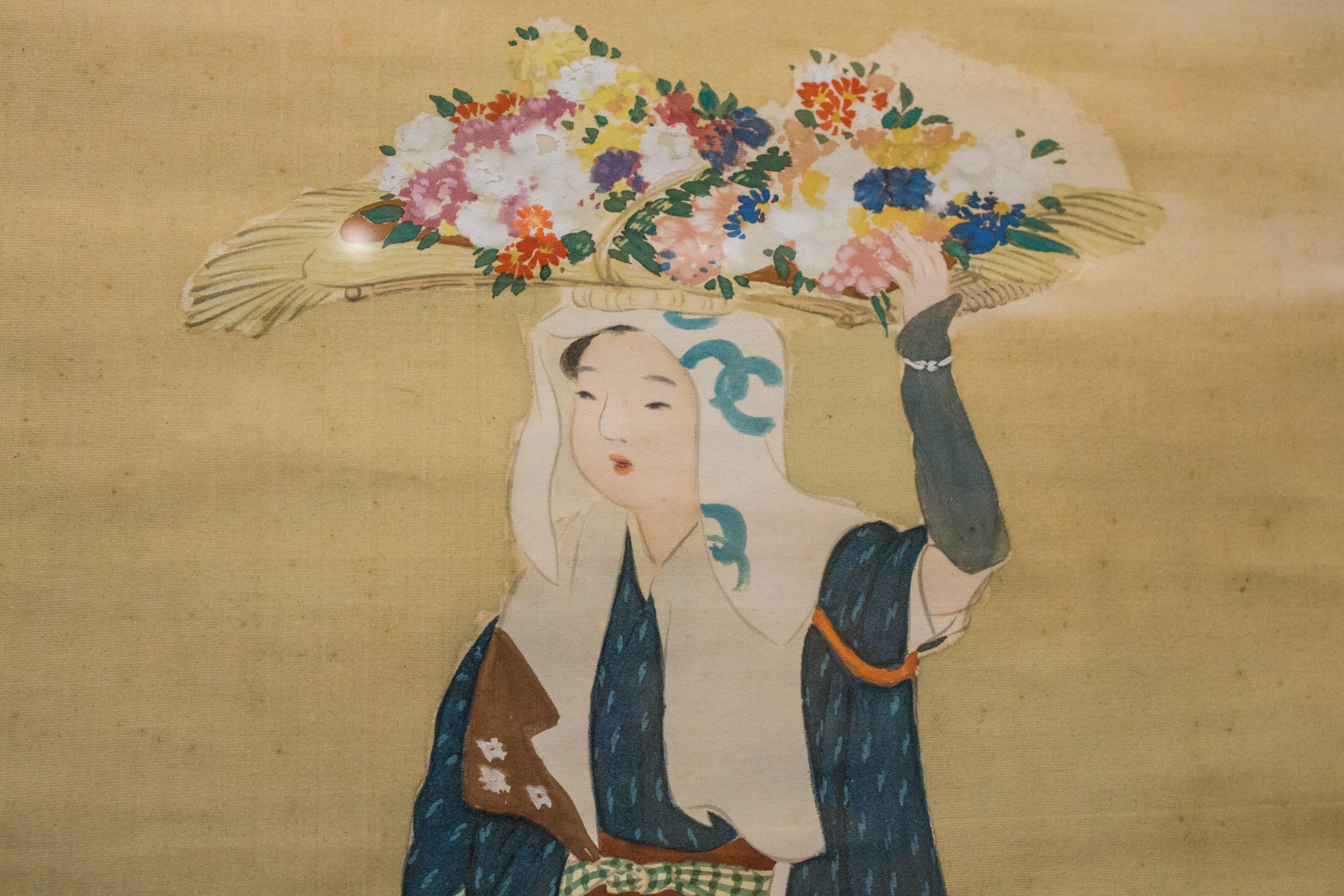 There's something intimate about this hanging silk scroll by Japanese artist Ito Shōha. In the rural scene we see a young working woman, in layers of white and indigo-dyed clothing, carrying freshly cut flowers. These details help her appear specific, individual. Set against a hazy ochre background and soft green leaves, her unassuming beauty is echoed throughout the bucolic image. Modest in both style and composition, this unpretentious scene might appear banal to today's viewers, but it is exactly this ordinariness that makes the work radical.

Shōha—one of the leading artists of her day—painted Woman Selling Flowers in the mid-1920s. This work reflects many of the artistic changes that took place during the Taishō (1912–1926) and early Shōwa (1926–1989) periods in Japan. On the heels of the Meiji Restoration, the Taishō era in particular saw years of unprecedented cultural transformation. Many artists during this time were exposed to Western art, and their exposure resulted in a shift away from the conservative artistic traditions that defined previous generations.
This painting by Shōha is best categorized as bijinga, a traditional Japanese genre that takes up beautiful women as its subject. Bijinga most often depicts geishas and courtesans, and helped establish an ideal standard of female beauty in Japan. In Woman Selling Flowers, however, Shōha offers up a more modern take on the genre, naturalistically representing a middle-class woman from Shirakawa (a northeast suburb of Kyoto) conducting her daily business.1 Absent are the highly stylized elements that typify bijinga, such as hair, dress, and makeup. Rather than representing an idealized female form, the woman here appears beautifully ordinary.
Shōha's brand of bijinga was met with critical acclaim for depicting the contemporary life of women without idealization.2 No doubt her own experiences as a woman informed the treatment of her subject in Woman Selling Flowers, and earned her a leading role as a bijinga artist. Shōha's intimate—and authentic—focus on the daily life of women in Japan connects this scroll to the other works on view in Talents and Beauties: Art of Women in Japan, the newest installation on view in our Japanese galleries. A visit to Talents and Beauties offers an important and wide-ranging glimpse into the diverse ways women are represented in Japanese art, and many works, such as this one, carry larger social and political significance.
– Elisabeth Smith, Collections Coordinator
Image: Woman Selling Flowers, late 1920's, Ito Shōha, ink and colors on silk. 84 1/2 x 22 7/8 in., Gift of Griffith and Patricia Way, in honor of the 75th Anniversary of the Seattle Art Museum, 2010.41.56
1 Michiyo Morioka and Paul Berry, Modern Masters of Kyoto: The Transformation of Japanese Painting Traditions (Seattle, WA: Seattle Art Museum, 1999), 268.
2 For more on the life and work of Ito Shōha, please see Morioka and Berry, 266-267.