Object of the Week: Untitled (2 Pieces)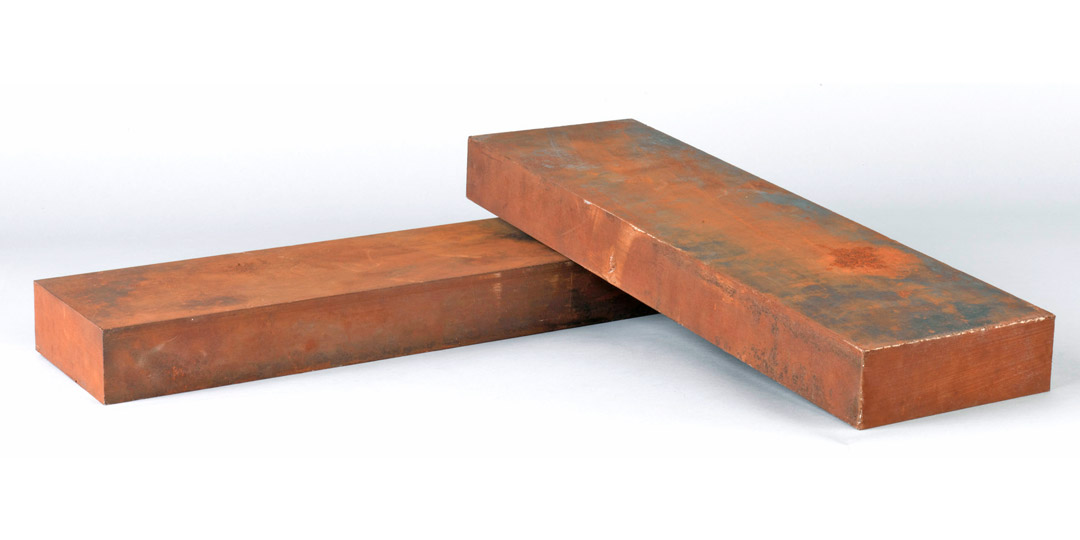 For my first Object of the Week post as SAM's new Collections Coordinator, I have chosen to highlight Untitled (2 Pieces) (1978) by American sculptor Richard Nonas. With a personal interest in modern and contemporary art, I have always found Nonas to be an under-recognized figure with an elusive body of work. But what is Object of the Week for, if not to engage deeper with art even if we feel challenged or uncomfortable in the process? We should never expect art to be straightforward—an important fact that challenges us to ask questions in order to better understand and appreciate an object's history, meaning, and making—no matter how difficult or elusive it may be.
In Untitled (2 pieces) two steel brick-like forms, each measuring 6 x 2 x 22 inches, rest one on top of the other. Despite the weight of their physical makeup, there is a certain lightness to the stacked arrangement—a tenderness if you will. The patina on the steel surfaces further softens the cold, industrial material, adding a sense of age to these familiar yet enigmatic objects.
For decades, Nonas has created sculptural installations defined by their minimal aesthetic, intimate scale, geometric forms, and use of everyday materials such as wood, granite, and steel. Unlike his Minimalist contemporaries Donald Judd, Carl Andre, and Robert Morris, Nonas was distinctly interested in the emotional and spiritual qualities of artwork, rather than the removal of such expressions (a hallmark of Minimalism). For Nonas, the physical presence of his sculptures is just as important as the relationship—and emotional interaction—between object and viewer.
Prior to entering the art world in the 1970s, Nonas was an anthropologist. For ten years he conducted field work in northern Ontario, the Yukon Territory, Mexico, and Arizona.1 Speaking about his time in Mexico, the artist recalled "the extraordinary way those people conceived and perceived the world spatially, the ways they situated themselves contextually were unlike anything I knew in my own culture."2 Nonas translated his observations and experiences as an anthropologist into an artistic practice aimed at challenging our notions of place and time.
His sculptural installations treat space as a medium, and transcend the cultural and historical associations we might bring to them. Just as the field of anthropology demands that we ask critical questions about cultures, objects, and the people who make them, Nonas's sculptures, too, force us to search for meaning within the works and ourselves:
And making sculpture? I start with memories of how places feel. The ache of that desert, those woods, that room opening out. Places I've been, places I've seen and felt. And felt always with some component of unease, apprehension, disquiet, fear even, discomfort certainly. Memories of places that seem always slightly confusing, slightly ambiguous. Places whose meaning slips away, but not too far away.3
The world and spaces we occupy are constantly in flux, and Nonas seeks to embrace this contingent and ever-shifting aspect of our lived experience through his sculpture. Holding no singular interpretation or prescribed meaning, his pared down objects readily accept our all-too-human responses of uncertainty and doubt.
In addition to examining one of two Nonas sculptures in our collection, my hope is that Untitled (2 Pieces) might also act as an introduction and larger framework for future Object of the Week posts: By looking closely at SAM's collection and asking questions what can we learn about an object, artist, people, or culture? And what can we learn by opening ourselves up to a particular work?
– Elisabeth Smith, Collections Coordinator
Image: Untitled (2 pieces), 1978, Richard Nonas, steel, 6 x 2 x 22 in. and 6 x 2 x 20in., The Dorothy and Herbert Vogel Collection: Fifty Works for Fifty States, a joint initiative of the Trustees of the Dorothy and Herbert Vogel Collection and the National Gallery of Art, with generous support from the National Endowment for the Arts and the Institute for Museum and Library Services, 2008.29.21
1 Susan Cross, Richard Nonas: The Man in the Empty Space (North Adams, MA: MASS MoCA, 2016), 4.
2 Alex Bacon, "In Conversation: Richard Nonas with Alex Bacon," Brooklyn Rail, March 4, 2013, http://brooklynrail.org/2013/03/art/richard-nonas-with-alex-bacon.
3 Cross, Richard Nonas: The Man in the Empty Space, 4.