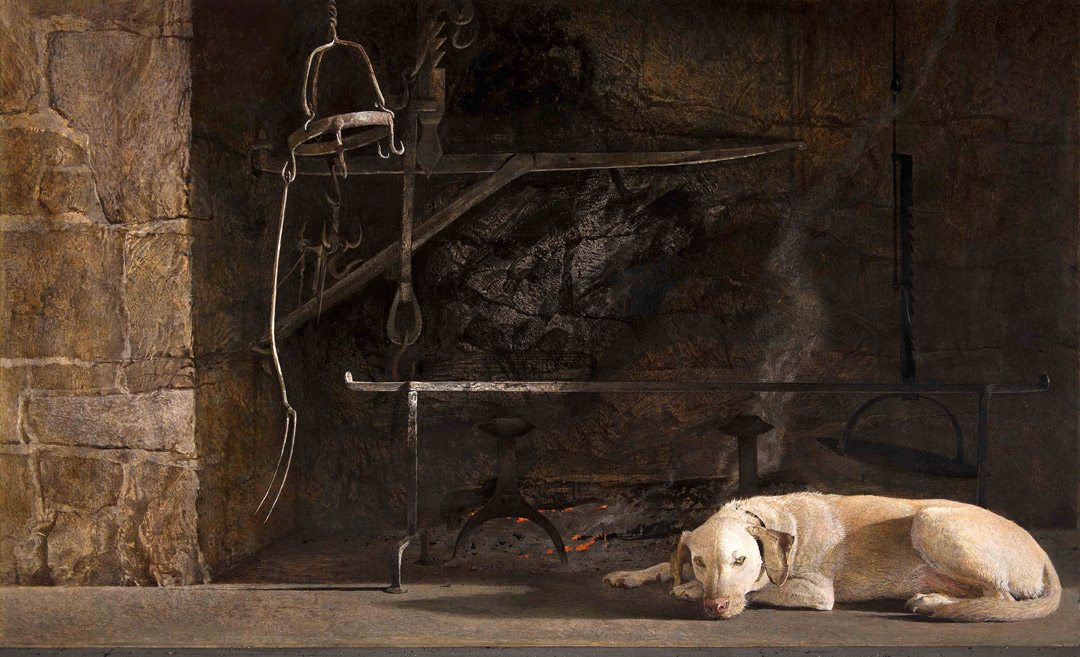 "You know, dogs are the damnedest thing. They just take over the house."
– Andrew Wyeth
Dig into the life and paintings of Andrew Wyeth and you'll start to notice that there are dogs all over the place. As a dog owner, it seems Wyeth was as susceptible as anyone to sharing images of his favorite mutts—man's best friend often makes an appearance in Wyeth's paintings. Visit Andrew Wyeth: In Retrospect and keep your eye out in the galleries for K-9 companions, Rattler, Nell Gwyn, or neighborhood hounds. So how did Wyeth's love for his four-legged friends influence his artwork?
Old faithful isn't just a geyser. Ides of March, above, shows Wyeth's dog lying in front of the cooking fireplace in the Wyeth's old home. Is this an idyllic domestic dog scene or a metaphor for the murder of Julius Caesar? Why not both? The title helps us see, perhaps, the detailed antique iron fireplace implements as spears and an emperor's crown, its wearer dead and gone, his pyre or tomb protected by a loyal dog.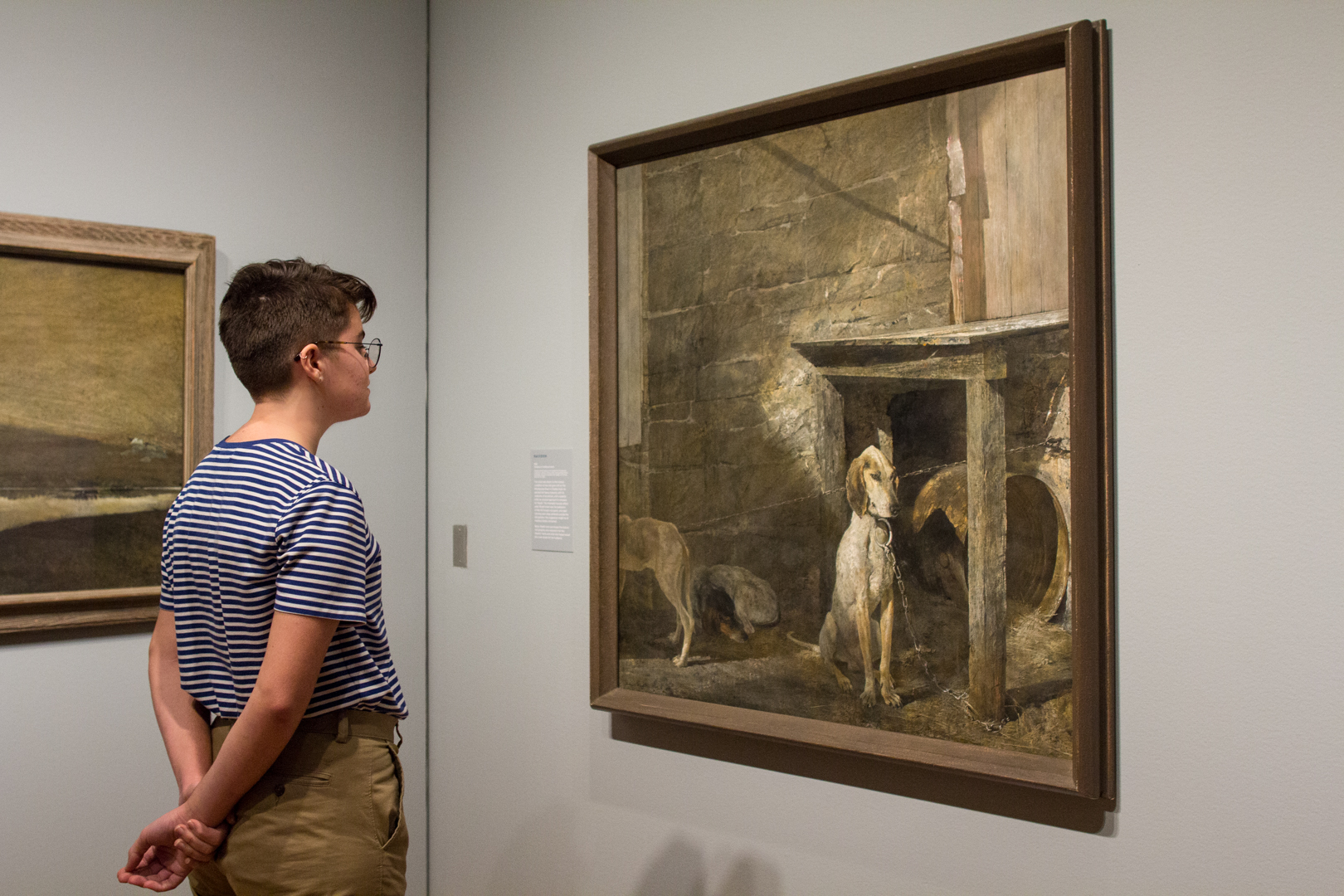 These poor pups! The occupant of this decrepit mill kept starving coon dogs tied up outside the old granary. We never promised cute-overload here, but the good news is that eventually Betsy Wyeth purchased the historic mill property and restored it as a new home for the Wyeths. We hope these dogs found better homes and treatment too.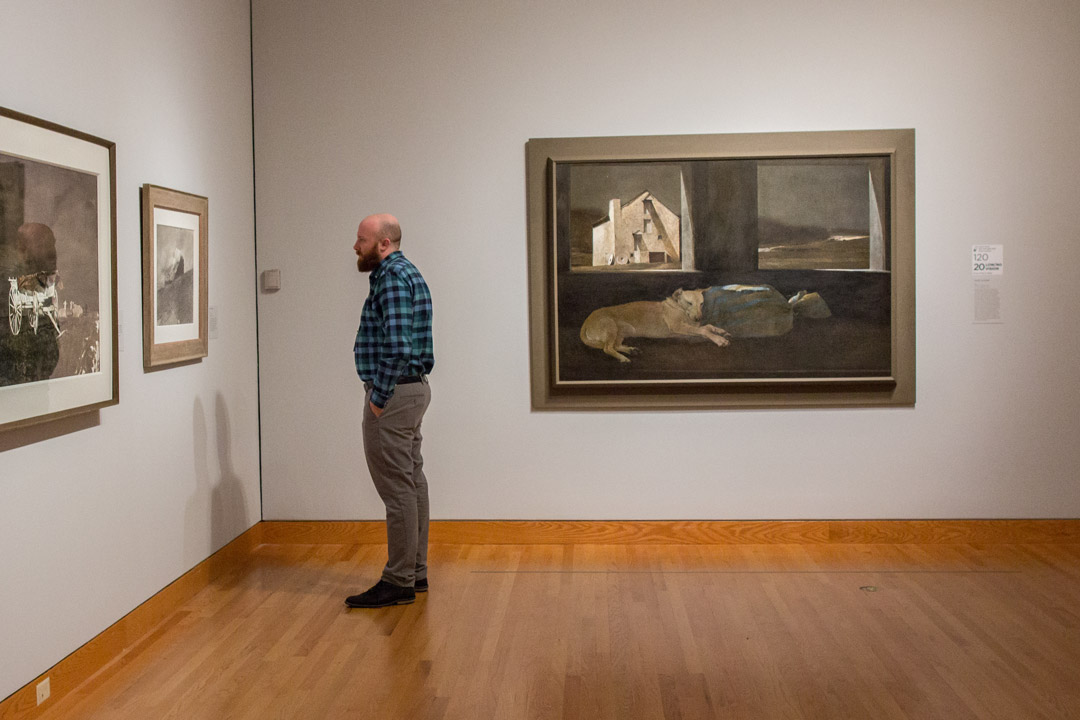 Is this guard dog asleep on the job? Wyeth's dog, Nell Gwyn, sleeps on a bag: does the bag contain a secret? Does the dog guard the secret? Betsy imagined Andrew would move his studio into the mill house she renovated for them, but he refused. Wyeth was living a double life at the time this painting was made—painting a woman, Helga Testorf, in secret. This dog was named for the mistress of Charles II, which probably amused the artist since he admitted that the painting was an extension of his studies of a sleeping Helga.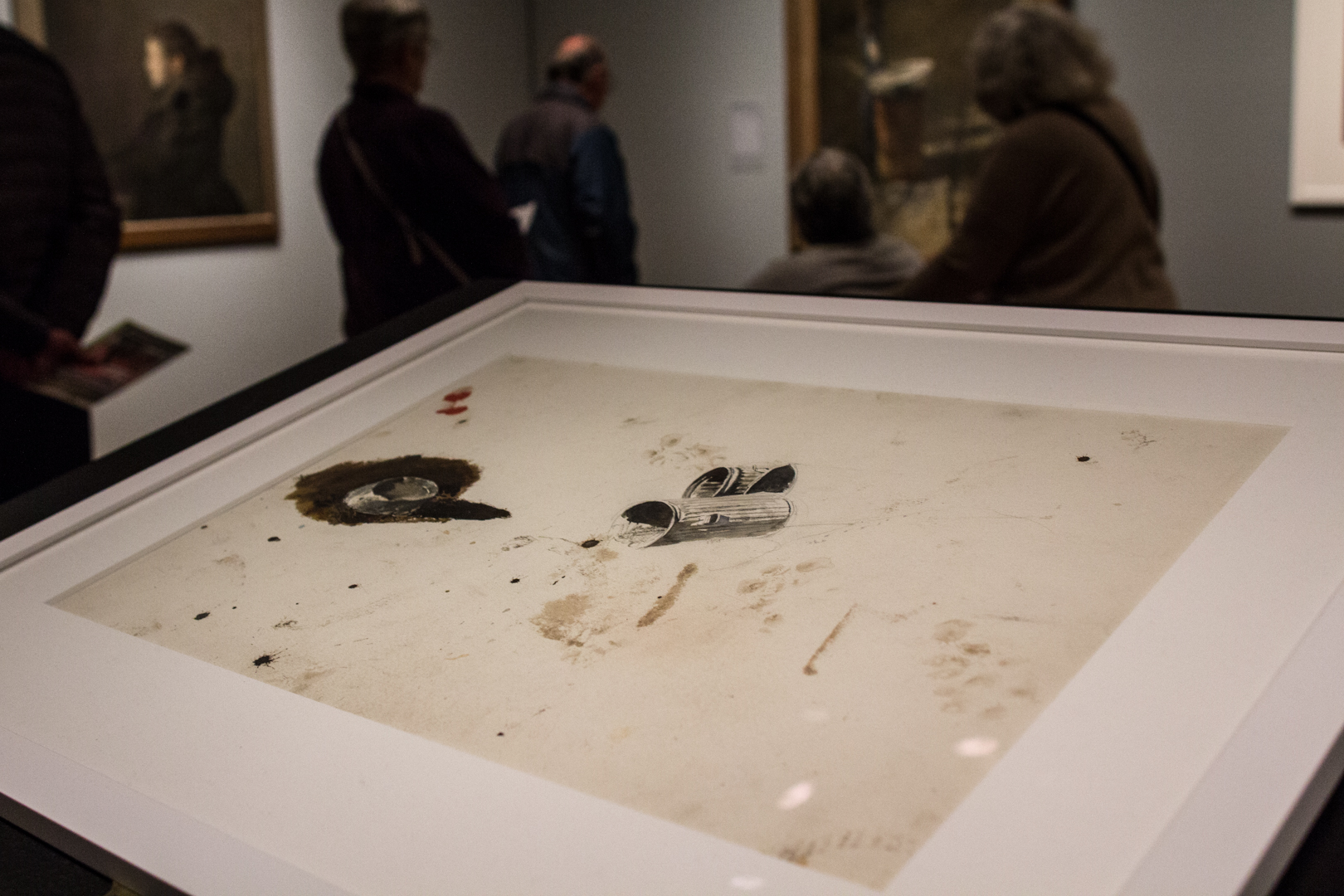 This study for his painting, Adam, does not include any dogs, so what's it doing in this blog post about Andrew Wyeth's dogs? Look closely. Moving across the sketch you can see paw prints. Perhaps Andrew Wyeth left this sketch on the floor of his studio to reference while producing the final painting and one of his dogs wandered in, without care for the artist at work—what does a dog care for fine art? Snoopy might have an opinion on that.

Obviously, Charles Schulz was a fan.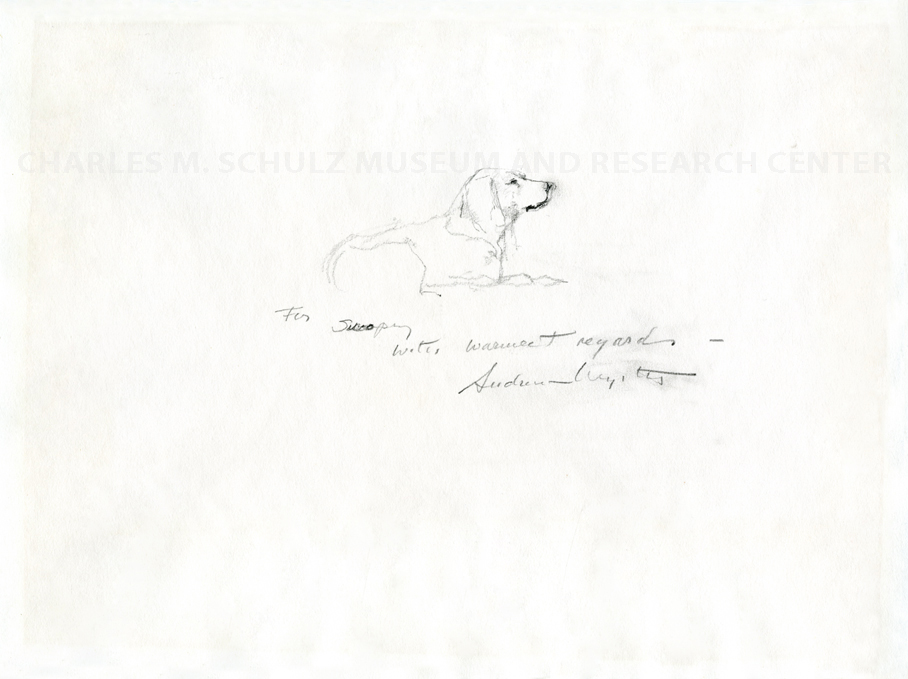 – Chelsea Werner-Jatzke, Content Strategist & Social Media Manager
Images: Ides of March, 1974, Andrew Wyeth, American, 1917–2009, tempera on hardboard panel, 24 ½ x 41 ½ in., Collection of Mr. and Mrs. Frank E. Fowler, © 2017 Andrew Wyeth / Artist Rights Society (ARS). Raccoon, 1958, Andrew Wyeth, American, 1917– 2009. tempera on hardboard panel 48 × 48 in. Brandywine River Museum of Art, Chadds Ford, Pennsylvania, Acquisition in memory of Nancy Hanks made possible by David Rockefeller, Laurance S. Rockefeller, Mimi Haskell, and the Pew Memorial Trust. Installation views of Andrew Wyeth: In Retrospect at Seattle Art Museum, 2017, photos by Natali Wiseman.