Get to Know SAM's VSOs: Alexandrew Wong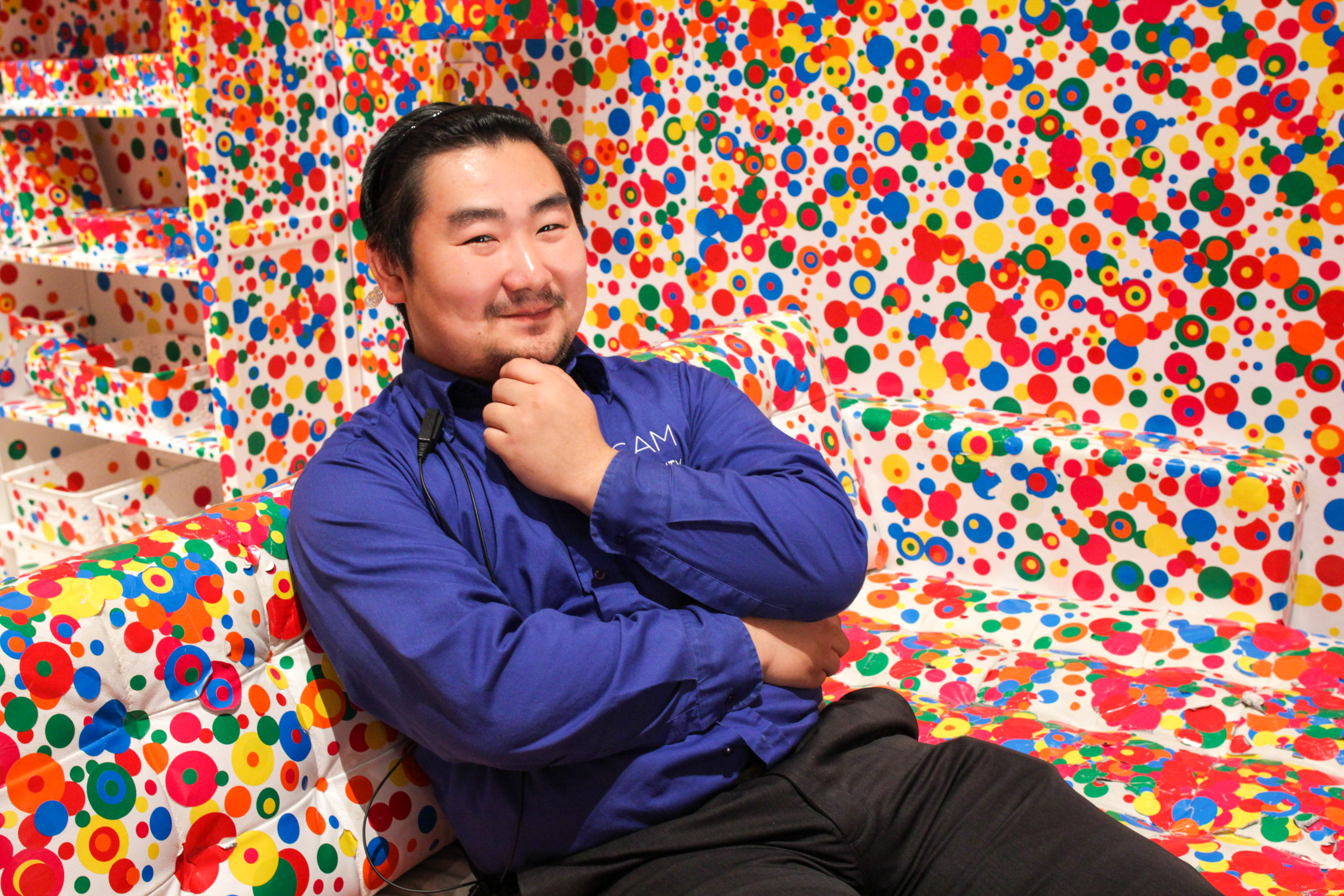 Alexandrew (Alex) Wong is an artist and native Seattleite, raised in the south end of the city. He attended Franklin High School where he first learned to use wood tools to create art. At the University of Washington, Alex thrived and was accepted into the School of Art as a 3D4M major. He gained skill sets using tools to create multimedia sculptures with glass, wood, steel, and ceramics. Alex joined the SAM as a Visitor Services Officer (VSO) after he graduated. He's been here for about a year and a half and truly enjoys it.
SAM: Yayoi Kusama: Infinity Mirrors opened June 30 and runs until September 10. What is your favorite piece in this exhibition?
Alex: My favorite piece in Yayoi Kusama is The Obliteration Room. The idea of creating a room and sticking colored dots on the living room surface is genius. The concept is so playful and colorful. One thing I struggled with in school was using color, I was terrible at it. But the room itself uses people to contribute to the art and has them color the piece themselves. Genius.
What is your favorite piece of art currently on display at SAM?
My favorite piece at SAM is the Native American house posts. The skill in creating those posts is phenomenal. Imagine the carver themselves, just chipping away at a log for hours to create the four things that hold your house up.
Who is your favorite artist?
Kendrick Lamar, his music keeps me going. When it's time to get hyped, I start bumping his tunes. For those wondering put on "m.A.A.d City," "Swimming Pools," "HUMBLE," "King Kunta," and "Backseat Freestyle." Tell me these don't get you hyped up too.
What advice can you offer to guests visiting SAM?
The bathrooms in the forum are to the left at the end of John Grade's Middle Fork (the south side of the tree).
Tell us more about you! When you're not at SAM, what do you spend your time doing?
I work at an art co-op in Capitol Hill, Blue Cone Studios, where I create ceramic sculptures. So to whomever is reading this, come check my work out. I'll teach you a thing or two about clay. I'll provide materials and lessons. We do art walk every second Thursday. Come by and let's talk art.
– Katherine Humphreys, SAM Visitor Services Officer