2016 Betty Bowen Award Winner Wendy Red Star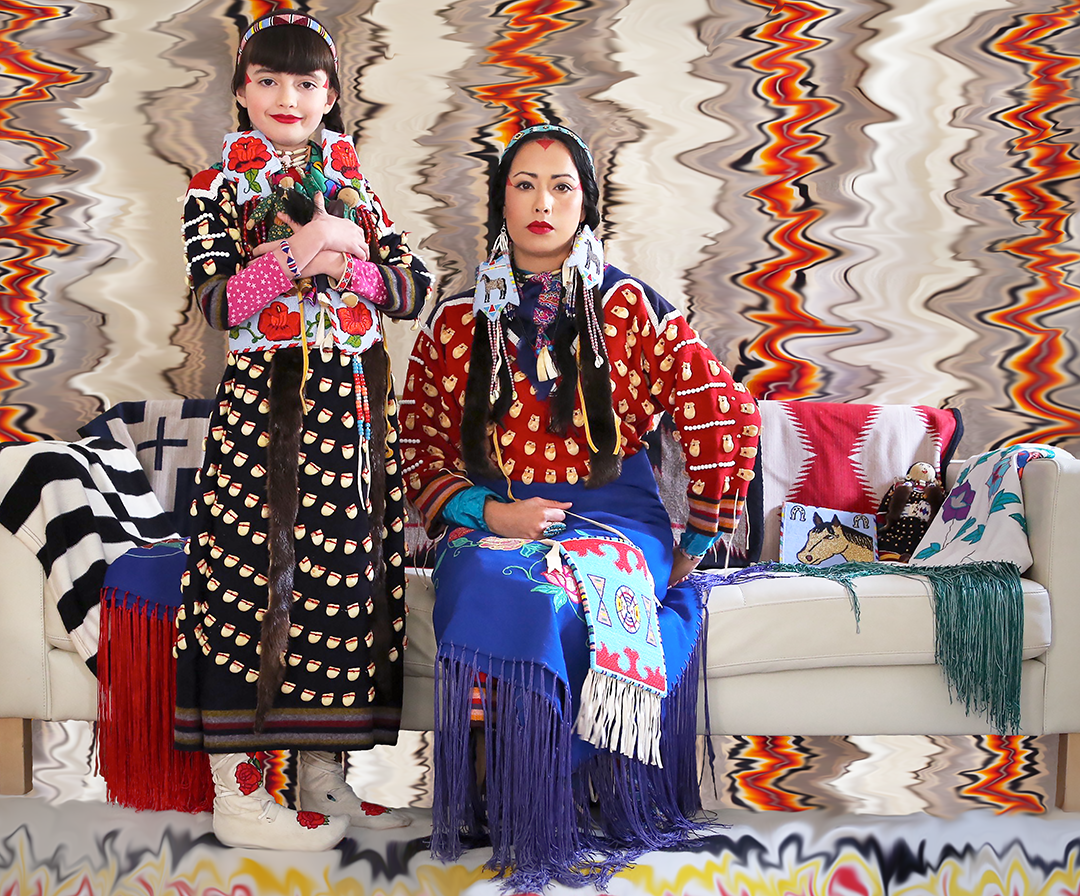 We talked with Wendy Red Star, the 2016 Betty Bowen Award winner, to discuss her art and ideas of cultural archiving, inclusion, expectations, and engaging communities through a creative process. Raised on the Apsáalooke (Crow) reservation in Montana, Wendy Red Star works cross-generationally, looking in particular at matrilineal relationships within Crow culture and ceremony. She has critically examined historical portraits of Crow leaders by white photographers and taken apart stereotypical representations of Native American women in a variety of popular culture contexts. Her work centers on photography but sculpture, video, fiber arts, and performance are also important to her practice.
Learn more about this artist's compelling work which will be featured in an installation at the Seattle Art Museum beginning November 10. And don't miss an opportunity to celebrate the winner of the Betty Bowen Award during the ceremony on the 10th, beginning at 5:30 pm, honoring Wendy Red Star as well as  Dawn Cerny and Mark Mitchell who both received special recognition this year. The ceremony and reception following the artists' remarks are free and open to the public.
Seattle Art Museum: You've described yourself as a cultural archivist in the past, can you describe how your work fills this role?
Wendy Red Star: My practice is collaborative and research-based. I am in pursuit of an on-going excavation of historical Native American imagery and material culture. I like to bring these "artifacts" to life in a contemporary visual arts context. Through an art practice that is driven largely by process, I want to unpack the fraught relationship and history of Native images, portraits, self-representation, and do so with wit, humor, and subtle satire in order to have levity in my art without sacrificing integrity.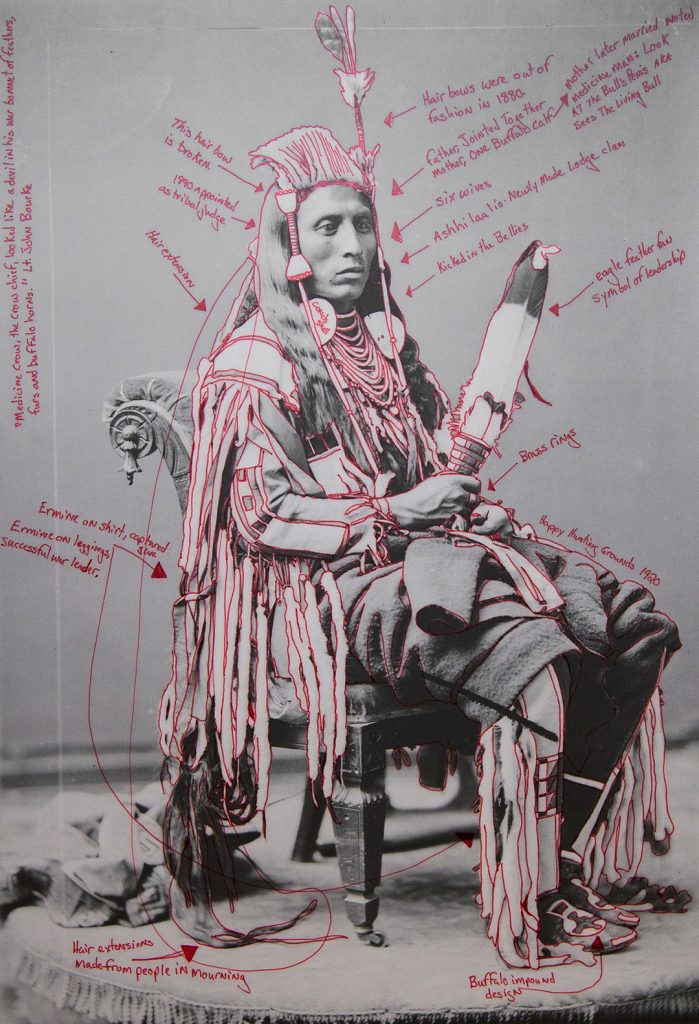 SAM: You've literally annotated a series of images of Crow chiefs. Do you consider your larger body of work to be an annotation? How are your cultural annotations in conversation with the erasure or removal aspects your other work?
WRS: Native voices have historically been silenced, unable to explain or even place our own narrative within the larger society. As a Native person I have witnessed the lack of inclusion for Native artists in particular in the contemporary art world, many of whom struggle for inclusion in important exhibitions. Also troubling is a prevailing but antiquated expectation of what Native art should be, whether from the 19th century or the 21st. This leaves many Native artists feeling segregated into categories of "traditional" work and without a place in the contemporary art world. I consider my practice and the act of annotating, revealing, and erasure a reclamation of my own history and identity. The act is so much more than a rejection of the colonial gaze, it is a deliberate act to take authority and rewrite histories in humanist way.
SAM: How do you see your work in conversation with SAM's collection, if at all?
WRS: My recent work has had at its center an intensive engagement with my own Crow community and I am seeking to expand that focus into the broader contemporary art world to explore how other artists are grappling with narrative and performative aspects of their work, and how to continue exploring ways of creating greater accessibility and a sense of openness. I am inspired by the work of conceptual artist Fred Wilson who SAM has worked with and the ways in which I could further reappropriate and reimagine the photographic possibilities inherent in portraiture, staging and candid images, institutional critique, and curating museum objects in broader historical and contemporary contexts. SAM is an institution that is open to this process and I find that very exciting and necessary.
SAM: Tell us a bit about your process—how does the fabrication aspect of your creative process add dimension to the final product?
WRS: The actual making of my work happens fairly quick. The majority of my time is spent engaging in research and processing ideas while out walking with my dog in the woods. Once I have settled on an idea the execution happens in many different forms but is almost always image driven witha  focus on richness of color and cultural content.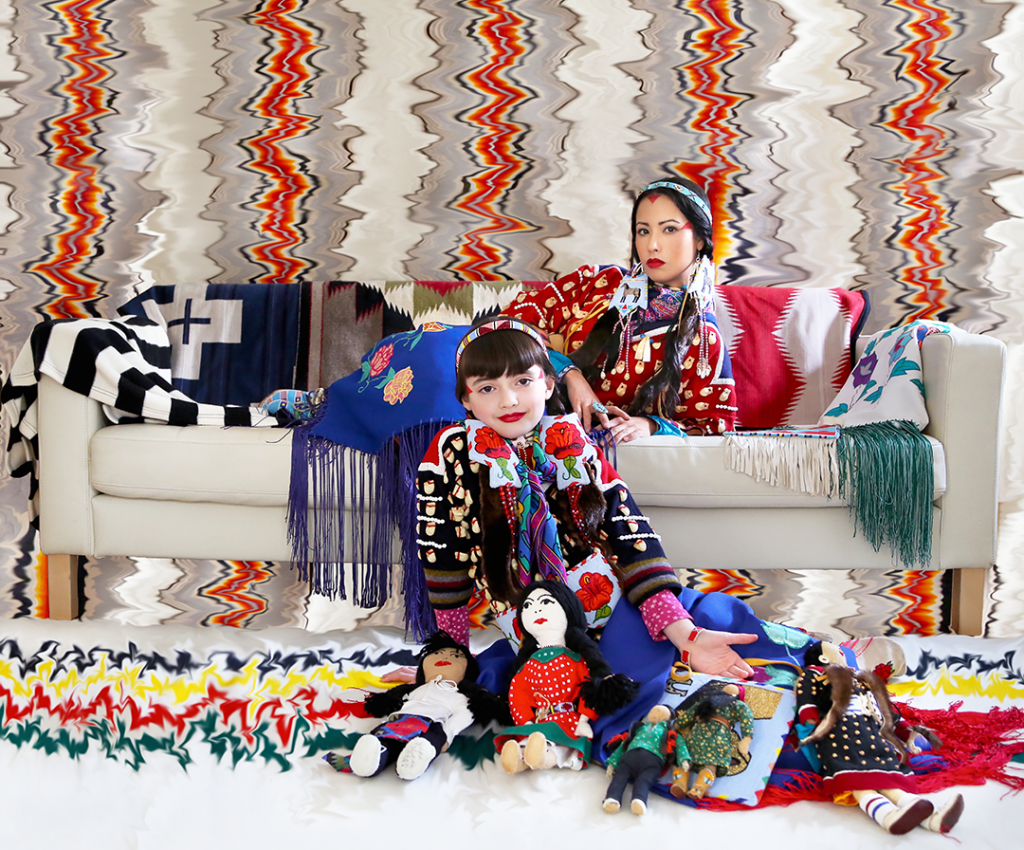 SAM: How does clothing design fit into your practice? Are you intrigued by your work being up at the same time as Yves Saint Laurent: The Perfection of Style?
WRS: My grandmother, Amy Bright Wings, made sure I participated in Crow cultural traditions. She provided me with a traditional elk tooth dress, a shawl, beaded belt, and moccasins—all objects that I have since integrated into my artwork. I soaked up as much of my grandmother's knowledge as I could by watching her continually making. Although she never actually showed me directly how to make traditional Crow regalia, I learned through the process of immersion. Traditional Native regalia has signifiers that state the honors and virtues of the owner and maker of each individual garment. Every piece of traditional clothing is made with intention and striking beauty virtues that I use to help guide me in all aspects of my art making. I am a self taught seamstress learning the basics about nine years ago when my daughter was born. I have a deep admiration for the construction of garments, fine tailoring, and the sculptural aspect of making clothing. I am looking forward to viewing Yves Saint Laurent: The Perfection of Style and seeing the elegant construction and display of clothing. I suspect it will provide me with many ideas.
ABOUT THE BETTY BOWEN AWARD
Betty Bowen (1918–1977) was a Washington native and enthusiastic supporter of Northwest artists. Her friends established the annual Betty Bowen Award as a celebration of her life and to honor and continue her efforts to provide financial support to the artists of the region. Since 1977, SAM has hosted the yearly grant application process by which the selection committee chooses one artist from the Northwest to receive an unrestricted cash award, eligible to visual artists living and working in Washington, Oregon, and Idaho. The award comes with an unrestricted cash award of $15,000.
Images: Apsáalooke Feminist 1, 2016, Wendy Red Star, digital print on silver rag, 34 x 40 in., Courtesy of the artist, ©Wendy Red Star.
Peelatchiwaaxpáash/Medicine Crow (Raven), 2014, Wendy Red Star, inkjet print with red ink, 16 x 11 in., Courtesy of the artist, ©Wendy Red Star.
Apsáalooke Feminist 3, 2016, Wendy Red Star, digital print on silver rag, 34 x 40 in., Courtesy of the artist, ©Wendy Red Star.