Object of the Week: Bell with five-pronged handle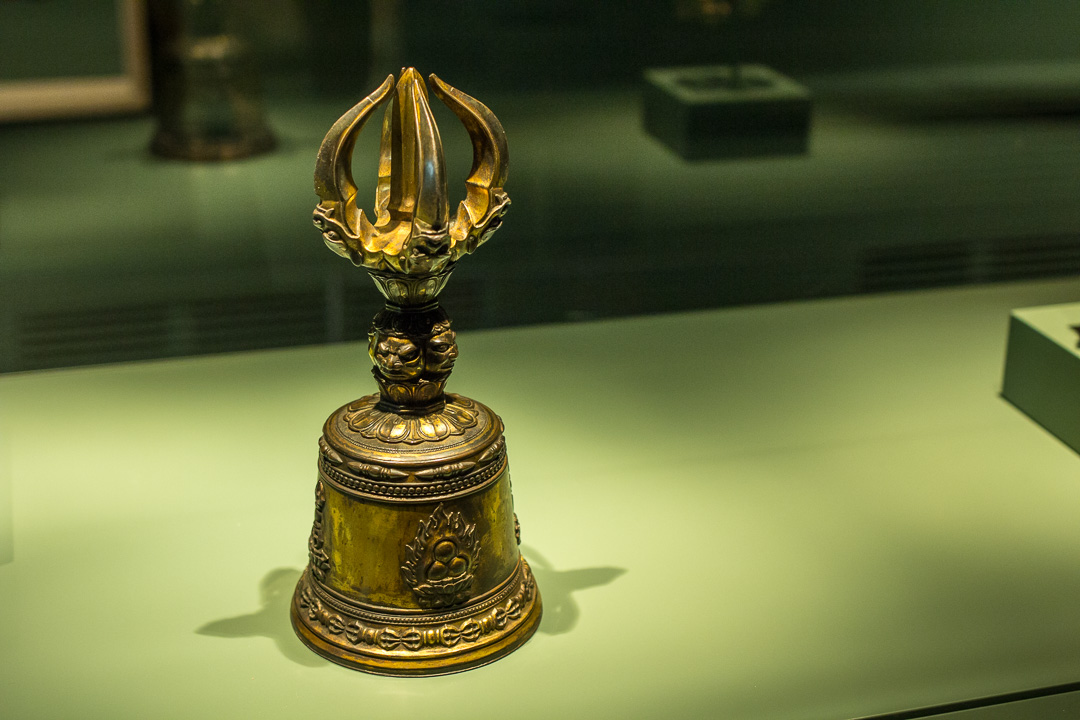 SAM's Bell with five-pronged handle, one of the works you can visit now at the Asian Art Museum, looks an angry and forbidding object. Pointed prongs wend upward from the bell's handle, emanating from the mouths of snarling lions, curving like the teeth of a predator. A band of decoration on the handle features a circle of human faces, each one with its brow angrily furrowed. Come hither and ring me! it does not bid you. It looks like something that could just as easily be found here.
Yet the bell has a striking form, and looking more closely reveals the thoughtfulness of the work's form and decoration. To dig into the concepts present in the work we have to think about vajra. A Sanskrit term, vajra means both "diamond" and "thunderbolt," carrying the connotations of strength and power that those things embody—an indestructible jewel, a boom and flash of energy. More than a concept, the vajra is also a visual form. Looking back at the bell, the five prongs at the top make up a vajra. A vajra can feature different numbers of prongs, and elsewhere on the bell one will find single and three-prong vajras in decorative motifs, as well as the torture-y five-prong vajra at its top. The form of the vajra has specific meaning in the Buddhist visual language, in which it signifies the vow of a Buddha or bodhisattva. Everything on the bell has meaning: Lotus blossoms, enflamed jewels, and more vajras on the body of the bell signify the presence of the Buddha, his law, and his priesthood.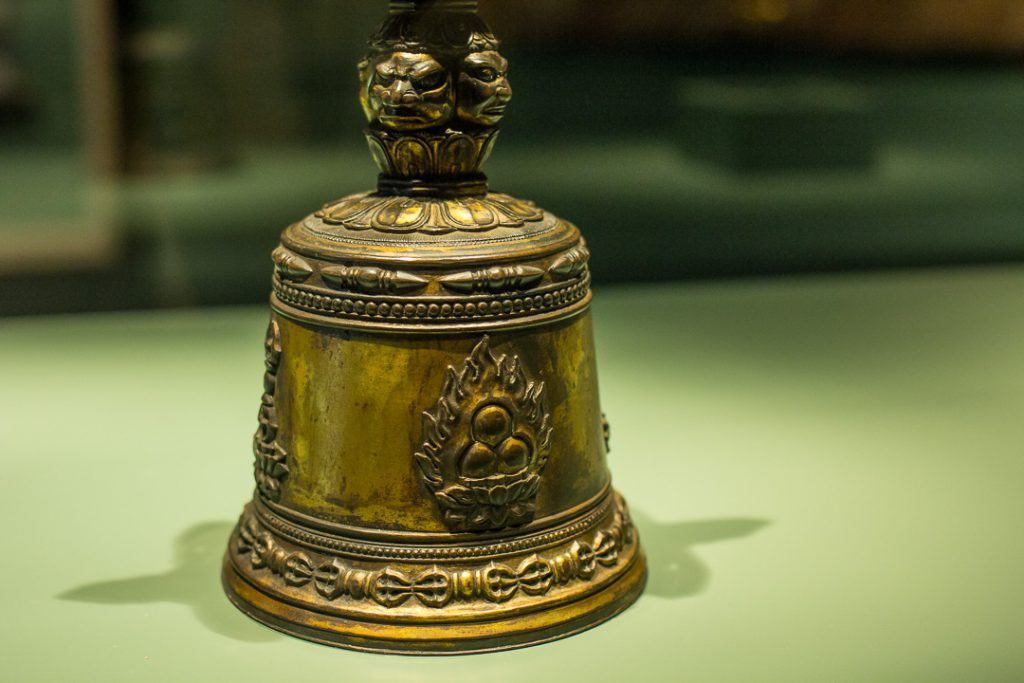 Situated in GOLD: Japanese Art from the Collection, the Bell with five-pronged handle joins other fine art and functional objects, including portable shrines, hanging scroll paintings, a sword stand, a fan, ceremonial kimono, netsuke, sake cups, and a folding screen. One of my other favorite works in the show lies somewhere between functional and purely formal: a Hooded Cape meant to be worn by the wife of a Japanese feudal lord on the specific occasion of a fire. I have to think the absurdity of that purpose essentially makes it a decorative object.
The bell and its company in GOLD reveal a culture that has infused religious and philosophical symbolism into its functional objects. "Used" or not in their first lives, they all now have a second existence as museum artworks, as examples of exceptional craftsmanship and markers of cultural stories. Gilt bronze amid other works in gold leaf, gold lacquer, gold thread, and pure gold, the bell shows, on the part of its maker, an appreciation for eye-catching aesthetics, complemented by a desire for stimulating thought.
—Jeffrey Carlson, SAM Collections Coordinator
IMAGE: Bell with five-pronged handle, 12th-13th century, Japanese, Late Heian period (794-1185)-early Kamakura period (1185-1333), gilt bronze, 9 1/4 x 4 1/4 x 1/4 in. Seattle Art Museum, Eugene Fuller Memorial Collection, 49.237, Photo: Natali Wiseman.