Object of the Week: The Judgment of Paris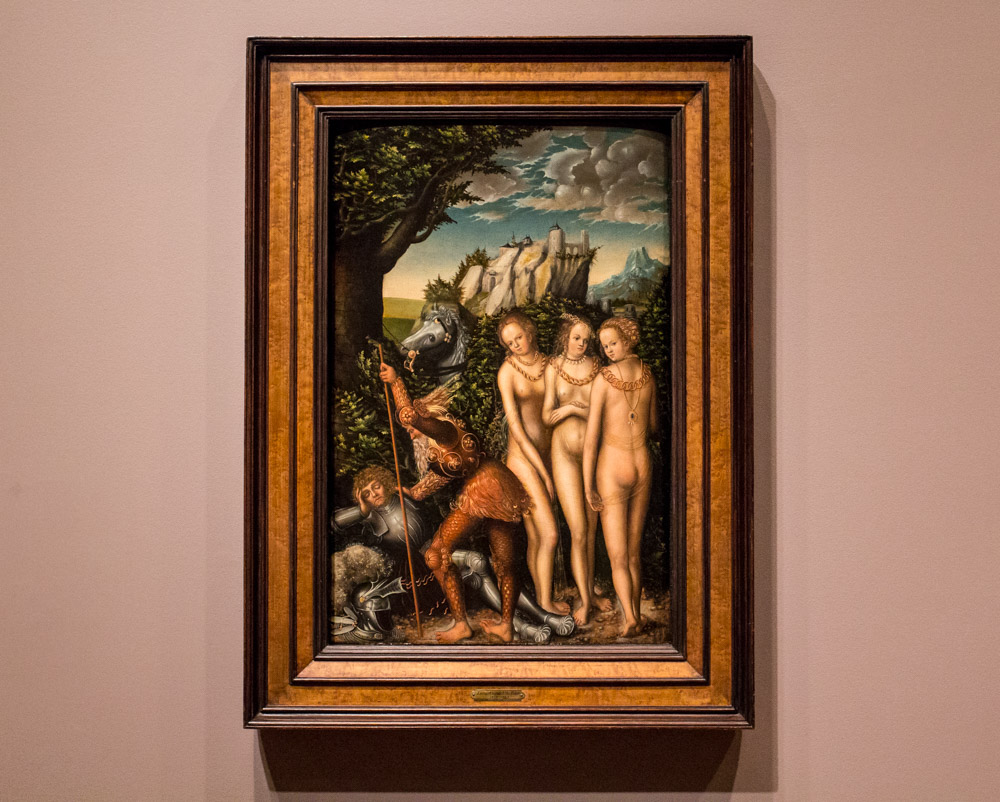 I was raised up believing I was somehow unique,
like a snowflake, distinct among snowflakes, unique in each way you can see.
And now after some thinking, I'd say I'd rather be
a functioning cog in some great machinery,
serving something beyond me.
– "Helplessness Blues," Fleet Foxes
Why do I visit museums and what do I hope to encounter there?
There are as many answers to that question as there are people to answer it, and actually more, because I would respond differently depending on the day. I might want something challenging and make it my goal to find something like that, or I might want to be awed by something made with otherworldly skill. But why would I go to the museum? What's so significant about what's here, and does it matter that I have to be here—and nowhere else—to see it? On some days I make the case for the museum by saying that the art in our galleries tells important stories in the history of the world, including ones that are still unfolding today.
Standing face-to-face with an original and unique artwork can be a deeply moving experience. I remember vividly when I "met" Michelangelo's David at the Galleria dell'Accademia in Florence and Picasso's Guernica at the Museo Nacional Centro de Arte Reina Sofía in Madrid. I would argue, though, that the uniqueness—the idea that this thing is one-of-a-kind, and that only when I am standing with my two feet here, at this specific spot in the world, can I know it this way—is only part of the specialness of the museum. What completes it is the network of art-making across the whole of human history. It wouldn't matter much to us if this were the only David by Michelangelo if not for the artist's role in shaping the visual art of his time and managing to influence artists hundreds of years after his death. That entire conversation is what makes this moment of emphatic punctuation so gripping.
SAM's painting of The Judgment of Paris by Lucas Cranach the Elder is not exactly notable for its uniqueness (though it is a pristine original). It's a great painting because of its place in the story.
A highly productive artist and one who was especially drawn to this theme, Cranach produced at least ten similar paintings. There are wonderful examples in the collections of the Kimbell Art Museum in Fort Worth, Texas; the Metropolitan Museum of Art in New York; the St. Louis Art Museum; and several European museums. Cranach has sometimes been criticized for the very fact that he was so productive. He established a studio and could be seen—from one perspective—as churning out pretty pictures, maybe investing less in the paintings, and making the artworks less remarkable.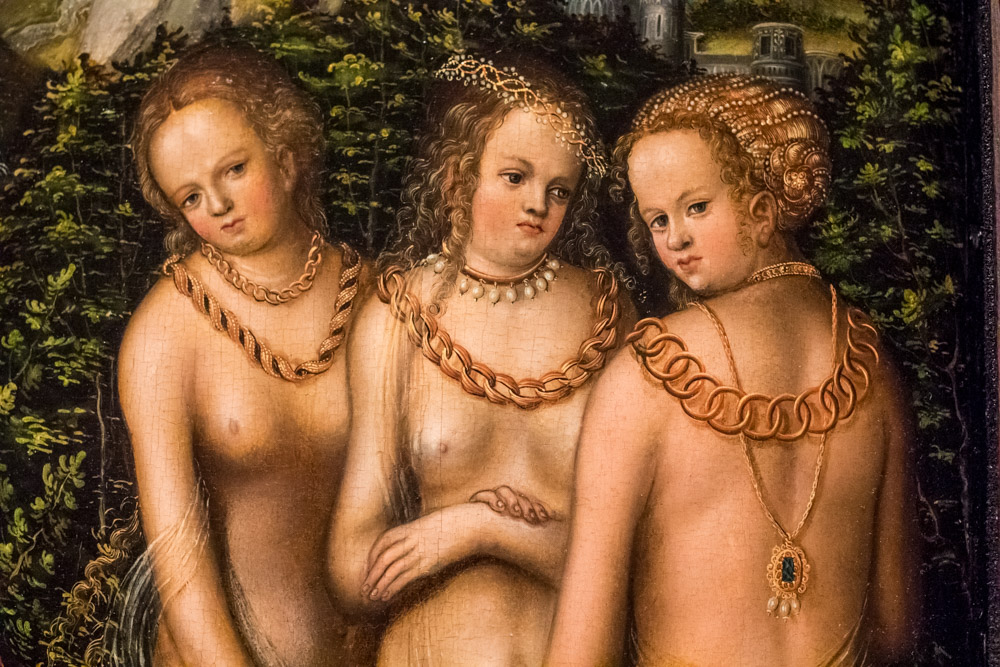 From another perspective, he was a trailblazer: a skilled and highly successful artist. Cranach was a pioneer for the nude painting in Northern Renaissance art. In The Judgment of Paris, he's couching his sexy idea in a scene from classical mythology that made it culturally acceptable. He paints the goddesses in three different, seductive poses. As the story goes, Paris, who is represented in the picture by the dozing fellow in armor, was on a hunting trip in the woods when he got lost, tied up his horse, and fell asleep. Mercury, here shown as an older man with an elaborate plumed costume, came to him in a dream to present him with Juno, Minerva, and Venus. His task: to choose the fairest. Maybe Cranach was remarking on the difficulty of rating goddesses when he painted these three almost indistinguishable nudes. That they are anatomically a bit awkward reflects the newness of the nude in Northern European art when Cranach was working.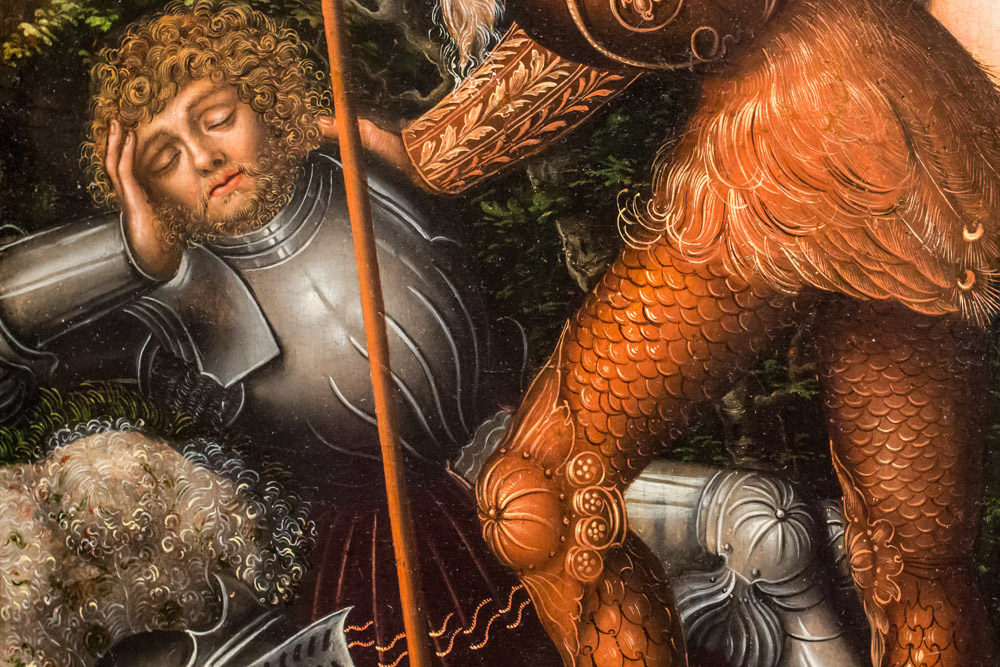 While there are others like it, there are certain charms to this painting one can only enjoy in person. Cranach painted it on an unusually thick piece of oak that has gone back to its original curvature, as panels tend to do over time. The flat frame around the curved panel creates a quirky and interesting viewing experience. The intimate size of the painting and the precision of its detail are other features one can really only appreciate in the gallery. Apparently the painting is also magnetic to fingers: SAM conservators have had to care for it multiple times after folks put their grubby paws on it. If you feel so compelled, just think: it might be your last opportunity to see the original.
—Jeffrey Carlson, SAM Collections Coordinator
Images: The Judgment of Paris, ca. 1516-1518, Lucas Cranach the Elder (German, Wittenberg, 1472-1553), oil on wood, 25 x 16 1/2 in. Seattle Art Museum, LeRoy M. Backus Collection, 52.38.