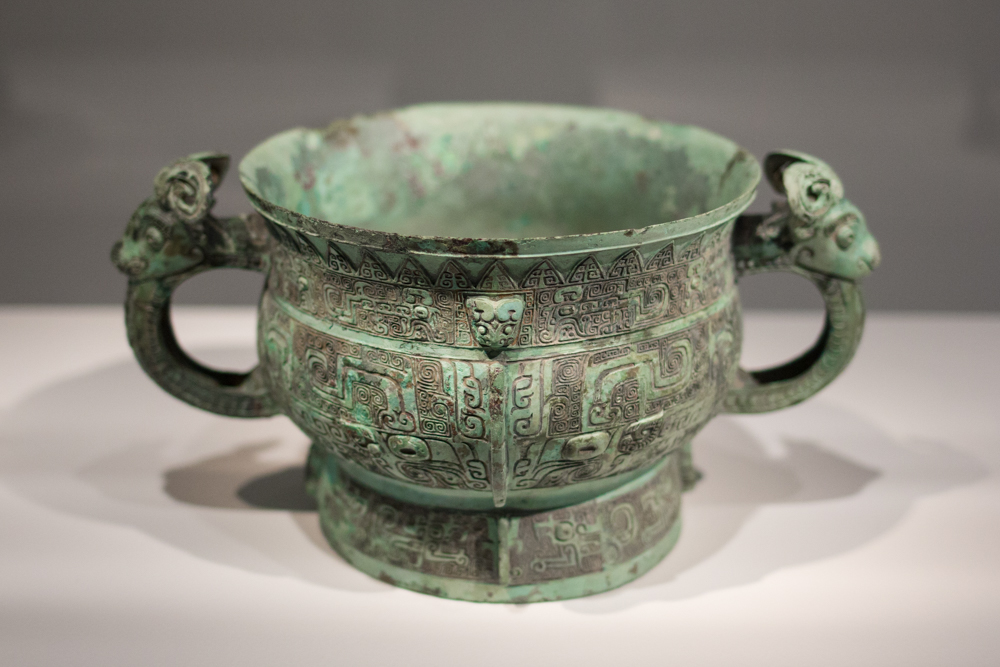 Imagine cooking up some morning oatmeal over the stove, and then using a ladle to serve it up from this 13th-century B.C. Chinese food vessel. Culture swag.
The form of the vessel is known as a gui, and it was developed in the Shang period (which lasted from roughly 1600 to about 1100 B.C.). At this time in Chinese history, the invention of bronze casting precipitated a higher level of artistry than was possible before, with materials like clay, stone, and wood. The strength of bronze meant it had great versatility in terms of its shape and also held great possibility for decoration. Structural integrity became less of a concern, so the makers focused more on aesthetics. The precision of line and extravagant detail available to artisans when working in bronze encouraged the experimentation and advancement that leaves us with stunning examples like SAM's gui, on view at the Asian Art Museum.
The decorative scheme, covering the entire surface of the vessel, is repeated on both sides of the bowl. Abstract patterns and beast-like figures meld together and create an impressive total visual effect. The ornament breaks down into three registers: the lip, the foot, and the main, central register. The spiral designs we see used all over the vessel as filler ornament are known as leiwen. The upper register features pairs of beasts known as kui dragons that face a pretty intimidating head in the middle. The central register features a creature known as a taotie—a widely used and important design element for the period. The flange right in the middle forms a kind of nose or beak; the eyes are about halfway up the register and equidistant from the flange on either side; scythe-like horns rise up on either side. This and the other beast-like creatures in the upper and lower registers show a remarkable vision that blends representation and design. The ram heads that crown the handles show how both can play into function, too.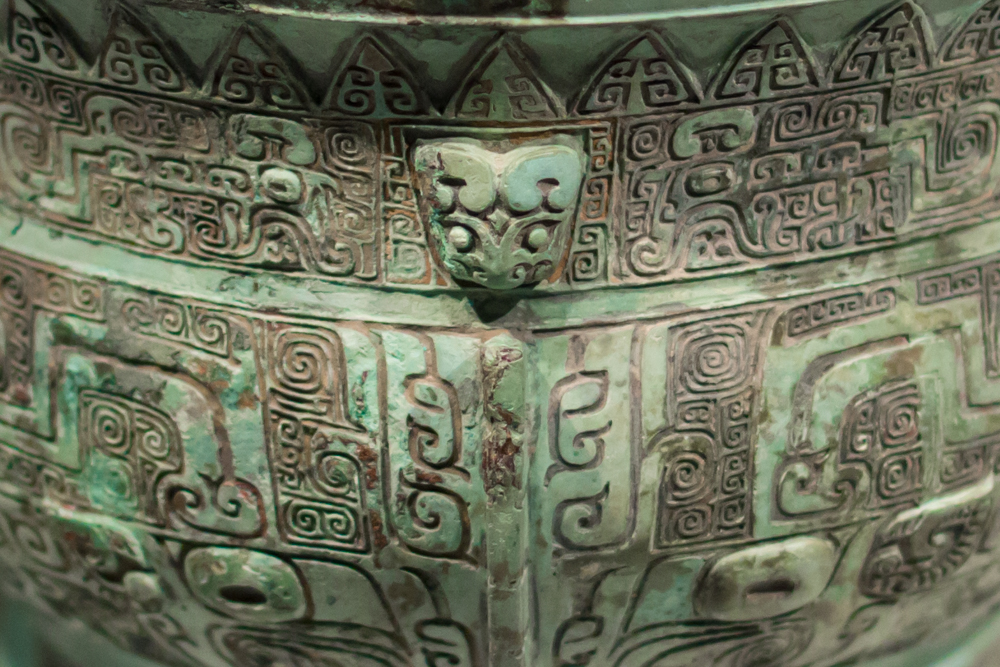 The scheme is perfectly symmetric—a mirror image on either side—which makes it especially interesting that the maker formed it from a ceramic piece, (mold composed of three parts). Like most bronze vessels of the early Bronze Age in China, the gui was designed for serving food in the rituals of the aristocracy. Today we can't make use of its function, but we can definitely still admire its craftsmanship. Gorge with your eyes!
—Jeffrey Carlson, SAM Collections Coordinator
IMAGE: Gui (vessel for serving grain), Chinese, 13th c. B.C., bronze, 5 3/8 x 10 3/4 x 7 in. Seattle Art Museum, Margaret E. Fuller Purchase Fund, 56.34.