Object of the Week: Blanket Stories: Three Sisters, Four Pelts, Sky Woman, Cousin Rose, and All My Relations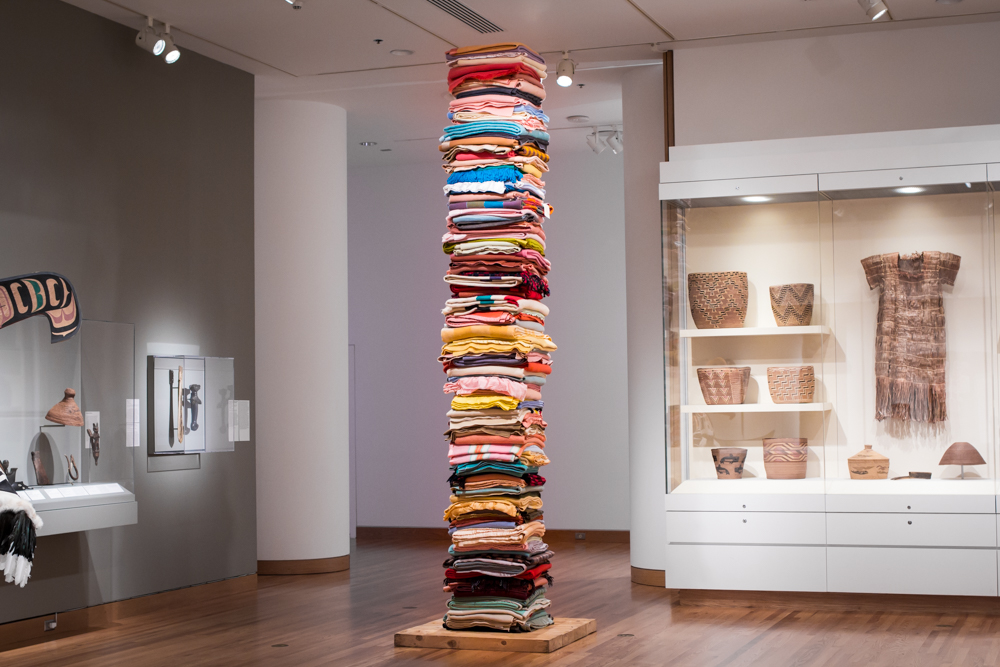 Why do we say stories are woven?
They are built from many parts that only convey our meaning when arranged just so. A story is like a blanket—another woven object—with its threads arranged precisely for bodily comfort and visual delight. In Blanket Stories: Three Sisters, Four Pelts, Sky Woman, Cousin Rose, and All My Relations, artist Marie Watt has woven together the stories of a wide range of people in an impressive, inviting stack of blankets. For Watt, a daughter of the Turtle Clan of the Seneca Nation, Native culture provides a source of inspiration for community-focused works like this one.
Blankets strike emotional chords within many of us. For most everyone, the sight of a blanket brings on the thought of a story, and then its telling. On Indigenous Peoples' Day, here's a sampling of some visitor revelations inspired by Marie Watt's Blanket Stories:
"The rough wool blankets remind me of bundling up on sea voyages to ward off the bitter, crisp chill of the Baltic Sea. It was the blanket that could save your life and keep you from hyperthermia for an extra 30 minutes in hopes of rescue. For me however, it brought me closer to my ancestry of fisherman clans and an ocean women that sometimes feels so far away for an immigrant raised on foreign shore. —CVF"

"When I see these blankets it fills my mind with memories of my mother and grandmother. Making forts with the blankets and being sick and feeling them against my face. —Mariel Grumby, 2007"

"One of the wool blankets reminds me of an old army blanket belonging to my dad. I loved the weight of the blanket, despite its scratchy surface. It provided warmth and smiles and a sense of security—all the wonderful characteristics of my father. —J. Mainer, 10-8-2007"

"When I was about 7 or 8 years old, I lost my baby blanket on a family vacation to Disneyland. It remains on of the most traumatic experiences of my childhood. –KB"

"When I see this stack of blankets, I have an overwhelming compulsion to charge it, like a bull to a matador. I imagine that when I make contact I will scream, 'Yeeeeeaarrrgh!' and throw my arms upward like the wings of a triumphant war bird, flinging blankets in all directions and giving the surrounding land a fuzzy-warm feeling. Sincerely, The Unknown Guard"

"I live in New York City, and one day found a homeless woman in front of my house…with nothing to protect her from the elements. I went upstairs and got a blanket off my bed and gave it to her. I sometimes wonder what ever happened to that blanket. I loved it."

"Every blanket looks important. I'd like to unfold each one and snuggle with it a little. I have my blankie, which was given to me at birth, by my parents 22 years ago. Recently, my grandma asked me how much longer I expect to carry it around with me. Without hesitation, I answered 'forever.' —CM & TM"
—Jeffrey Carlson, SAM Collections Coordinator
IMAGE: Blanket Stories: Three Sisters, Four Pelts, Sky Woman, Cousin Rose, and All My Relations, 2007, Marie Watt, American, born 1967, wool blankets, satin binding, with salvaged industrial yellow cedar timber base, 150 x 40 x 40 in. Seattle Art Museum, General Acquisition Fund, in honor of the Seattle Art Museum © Marie Watt.