Not Your Ordinary Screen Savers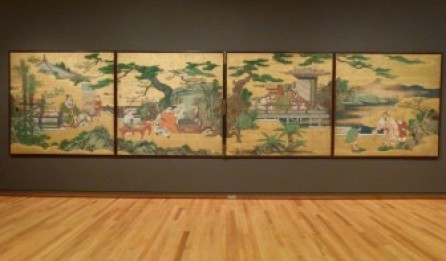 Apropos the fabulous Golden "Bamboo and Poppies" Kanō school screens, and the other famous and beloved screens currently displayed in Luminous: The Art of Asia, the Seattle Art Museum's collection of approximately 70 Asian screens, has been recently rehoused in the best state-of-the-art storage cabinets available thanks to a generous federal grant from the Institute of Museum and Library Services (IMLS).
SAM's significant collection of Asian screens includes paintings of singular artistic and cultural importance. The screens range in date from the sixteenth century to the twentieth century. Together with our collection of hanging scrolls, they convey to visitors an experience of splendid art and vivid impressions of the story of painting in Japan, China and Korea.
Although SAM's collection has a handful of Chinese wood, lacquered and cinnabar panel screens, the bulk of the collection is comprised of Japanese and Korean painted screens. The Japanese screens at SAM fall into two categories, the byōbu, or folding screens (from two up to eight panels) and the fusuma, or sliding screens, typical partitions used to divide large rooms in temples or castles. Both of these styles are represented in Luminous.
From a collection care manager's perspective, these objects have specific preservation needs in storage.  Asian folding and sliding screens, due to their scale, materials and construction, are challenging objects to store and handle. Made over lattice wood panels that have been covered with up to ten layers of paper and a final layer of silk or paper where pigments, gold and ink are applied, these Asian screens are highly susceptible to deterioration and damage from environmental conditions and mechanical impact. Despite the museum staff's assiduous care for its collections, the necessity to upgrade the storage furniture for these precious screens had become an urgent priority.
In 2010, SAM was honored to be awarded a Conservation Project Support Grant from the Institute of Museum and Library Services. The IMLS is the primary source of federal support for the nation's 123,000 libraries and 17,500 museums. Their highly competitive Conservation Project Support awards require matching funds and are only granted for an institution's highest conservation needs.
With IMLS funding, the Seattle Asian Art Museum purchased 16 professional conservation cabinets, made specifically to house these screens from Spacesaver Northwest, a local business.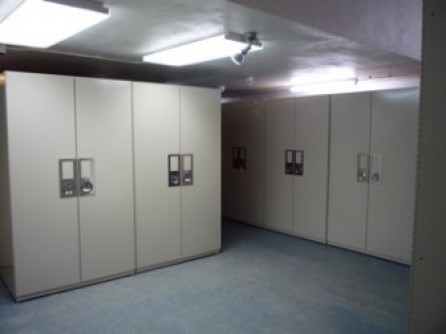 This Conservation Support Project has proved invaluable in preserving our significant screens, mitigating risks to them and improving access by simplifying handling of the screens for display and examination. Condition evaluations of each of the screens and detailed photography were also part of our project, enriching our permanent documentation records.
We are grateful that the IMLS appreciates the need for funds to preserve objects so rich in cultural heritage as a means of creating and sustaining a nation of learners. Our mission at SAM, to connect art to life, endures with our duty to preserve these treasures to ensure their display for generations to come.
 -Marta Pinto Llorca, Collection Care Manager
Top photo: Kanō Takanobu, (1571-1618) fusuma "The Four Accomplishments"