SAM SHOP: Great for Holiday Shopping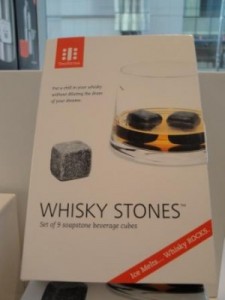 The goal of any holiday shopping excursion is to find something for your friends, family or significant other that is genuinely special and will surprise them. Whether it is an amusing novelty item or an exquisite hand-made mask, it is important to find a gift that will bring a smile to the receiver's face.
Normally, I wouldn't go to a museum shop to buy my Christmas gifts, I'll admit, but I decided to give it a try and it was a good thing I did. I always had it in my mind that SAM SHOP sold only museum paraphernalia, a place to sell catalogues and books on the featured artists and not a place to do my holiday shopping. Instead, I landed on a shop that I immediately knew housed items that my friends and family would love. As I walked around the shop, the first thing I noticed was a common theme. Everything I looked at was unlike anything I'd seen before. It seems clichéd to say, but it is true. Many of the pieces in SAM's Shop are actually one-of-a-kind pieces made by local artists. Most of the hats and scarves are made locally and about 85% of the jewelry artists live in the area, setting this shop apart from other stores.
After my initial walk-through, I doubled back to the three things that caught my eye. First, there were the Whisky Stones. They were next to the graffiti cocktail shakers, which are fun in their own right but the stones seemed both useful and original. I spent a semester abroad in Scotland and if there is one thing that the Scottish take pride in, it's the quality of their whisky, so these little guys immediately caught my eye.
In short, these are stones that keep your whisky cold without diluting the taste. You can buy an entire set with tumblers included or just the stones by themselves. Personally, I thought the idea was ingenious.
The next item was directly behind the whisky stones – the ninja bread men. Around this holiday season, a popular activity is to bake gingerbread cookies with loved ones but the key to a great cookie lies in its shape, not just its taste. I loved that these cookie cutters put an amusing spin on the standard "gingerbread man" and it is almost guaranteed that they will elicit laughter at the next holiday party.
The last item was more of a grouping of items. On the back wall near the entrance to the SAM SHOP was the blown glass and ceramics display. It was full of colors and shapes that I couldn't help but just stare at the wall for a few minutes.
There were so many rich colors and interesting shapes that I couldn't help but want everything on the shelves. One local artist put a new spin on serving plates by playing with their shape, another used earth tones to create exquisite flouted glasses but my favorites were the blown glass ornaments hanging from the ceiling. The details are difficult to see in the picture below but each one either had spirals, dots or other fun elements that set them apart from the rest.
The SHOP clearly does a great job of understanding its customers and stocks items for people that appreciate art as well as people who want to find something different to give to their friends this holiday season, especially if you're on a budget. The prices were more than reasonable especially since many of the items are locally made and each purchase helps support SAM's educational and artistic programming to boot.
I have to say that I was amazed at the vast array of items that were stocked. The SAM SHOP was full of gorgeous museum paraphernalia (like the Gauguin & Polynesia: An Elusive Paradise catalogue or the Crow Screen ties) as I expected, but they were among items that I didn't expect to find at all, like house wares, clothing and jewelry. By the end of my excursion, I basically crossed everyone off of my list and had finished my holiday shopping. All in all, I would definitely check out the SAM SHOP to find your holiday gifts.
Remember:  Now through Sunday, December 11 SAM is hosting its Member Appreciation Days where SAM members can enjoy a 20% discount on all items throughout the store at all three locations, just in time for the holidays.
– Lindsay Baldwin, Public Relations Intern