SAM Art: Sango dancewand, lecture on Wednesday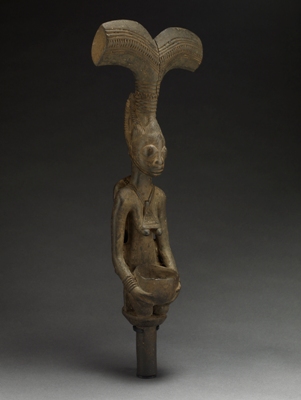 Sharp drumming, sounding like a lightning strike, signals the arrival of Sango's devotees to a festival in his honor. Dancing to the piercing, cracking sounds and staccato rhythms, the devotee will wave wands such as this to illustrate Sango's hot temper and punishing justice.
Sango, the Yoruba thunder deity, may be wild and belligerent but he can be assuaged by the attentions of female devotees. Showing her alliance with Sango's moral fire, this woman's head is adorned with the double axe, the god's visual sign. She kneels before his authority to present an offering. Such generosity is considered a noble gesture of morality and ensures that Sango will consider blessing her with children and wealth.
Women Who Tame Thunder: Yoruba Sango Staffs
Pam McClusky, Curator, Art of Africa and Oceania
Members Art History Lecture Series: New Perspectives
December 7, 2011
7–9 pm
Plestcheeff Auditorium, SAM downtown
Open to SAM members and their guests. For tickets, click here.
Members: $5.00
Guests of members: $9.00
Dancewand for Sango, Yoruba, Nigerian, wood, 19 7/8 x 7 9/16 x 4 5/8 in., Eugene Fuller Memorial Collection, 67.91. Currently on view in the African art galleries, fourth floor, SAM downtown.