SAM Art: Golden Screens of the Kanō School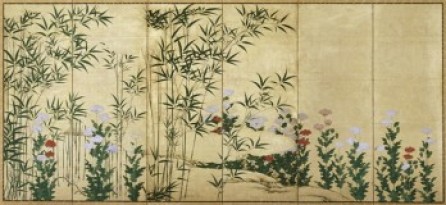 Hattie Branch, Blakemore Intern, returns to SAMart with an entry on the golden screens of the Kanō School.
During the Momoyama Period (1573-1603), drastic change came to Japanese art from an unusual source: Western firearms. As warlords vied for control of the country, Portuguese traders introduced Western guns and cannons to Japan.
For centuries, Japanese palaces had been built as sprawling, single-story complexes, with wooden floors and roofs, and paper walls. Sliding doors allowed rooms to open easily to the surrounding gardens, and even when shut, light permeated the thin paper. With the advent of firearms, by necessity, the Japanese rapidly designed towering fortress palaces. Walls thick enough to withstand cannon fire suddenly plunged the world of the elites into darkness.
<
The Momoyama-period Kanō School is best known for its innovative and distinctive large scale paintings on gold leaf. The development of highly decorative gold screens resolved the problem of the dark, austere surroundings of the new palaces. The gold ground and bold pigments were an opulent display of wealth and power for warlords striving for dominance. The gold leaf's warm glow helped fill dark, cavernous rooms with light. Images of the natural world served the decorative function formerly fulfilled by gardens. By the time peace came in the Edo Period (1603-1868), dramatic gold screens were firmly established as the preferred aesthetic of the elite.
The decorative quality of Kanō Shigenobu's (active ca. 1616-1644) Bamboo and Poppies embodies this new taste. Primarily rendered in thin outlines and broad areas of color silhouetted against a vast ground of gold, the low embankment on the left employs the traditional Chinese ink brush technique—a primary influence on the Kanō School. Shigenobu heightens the sense of realism through his attention to detail and by building up parts of the flowers with gesso to create a three dimensional effect. The gold that dominates the upper half of the painting is echoed in the lower half by using gold for the fine veining on the flower petals and leaves so that its glow suffuses the entire composition. Bamboo and Poppies exemplifies the elite ideals of beauty, prestige, and illumination.
Bamboo and Poppies, early 17th century, Kanō Shigenobu (Japanese, active ca. 1616-1644), pair of six-panel screens; ink, color and gold on paper, 62 1/8 x 140 1/4 in., Margaret E. Fuller Purchase Fund, 61.79.1-2. Currently on view in LUMINOUS: The Art of Asia, special exhibition galleries, fourth floor, SAM downtown.