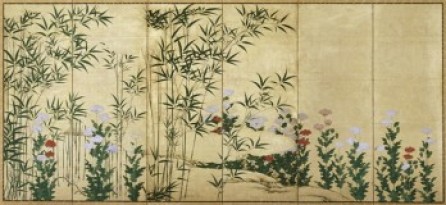 Hattie Branch, Blakemore Intern, returns to SAMart with an entry on the golden screens of the Kanō School.
During the Momoyama Period (1573-1603), drastic change came to Japanese art from an unusual source: Western firearms. As warlords vied for control of the country, Portuguese traders introduced Western guns and cannons to Japan.
For centuries, Japanese palaces had been built as sprawling, single-story complexes, with wooden floors and roofs, and paper walls. Sliding doors allowed rooms to open easily to the surrounding gardens, and even when shut, light permeated the thin paper. With the advent of firearms, by necessity, the Japanese rapidly designed towering fortress palaces. Walls thick enough to withstand cannon fire suddenly plunged the world of the elites into darkness.
<