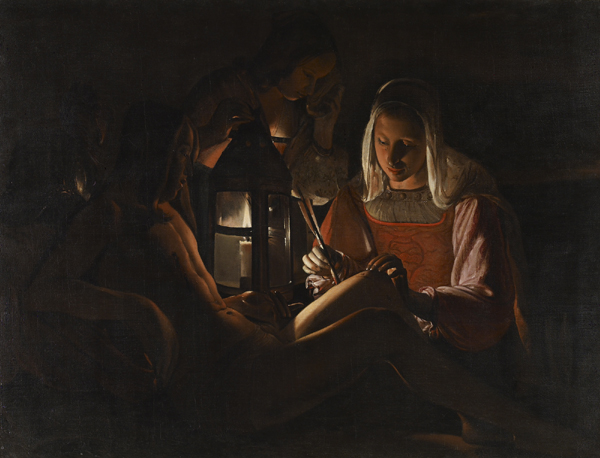 In seventeenth-century Europe, many artists drained their paintings of bright colors, creating drama instead through strong contrasts of light and dark. This is striking in the ceremonial gravity of Saint Irene Tending the Wounded Saint Sebastian, attributed to the French artist Georges de La Tour and his studio. The holy woman gently removes an arrow from the young soldier, who has been persecuted for his Christian faith.
De La Tour is often mentioned as one of the many followers of Caravaggio (ca. 1571-1610), the Italian artist who pioneered the use of contrast to heighten drama and religious feeling in his paintings. This nocturnal scene of deliverance was such a popular image that no fewer than a dozen other versions exist. The original painting is probably lost; this example is one of the best of the other versions.
Saint Sebastian Tended by Saint Irene, ca. 1638-39, Georges de La Tour and Studio, French, 1593-1653, oil on canvas, 42 x 55 7/8 in., Gift of Richard and Elizabeth Hedreen in honor of Mimi Gardner Gates, 2008.67. Currently on view in the European art galleries, fourth floor, SAM downtown.