See It, Try It, and Buy It at SAM Gallery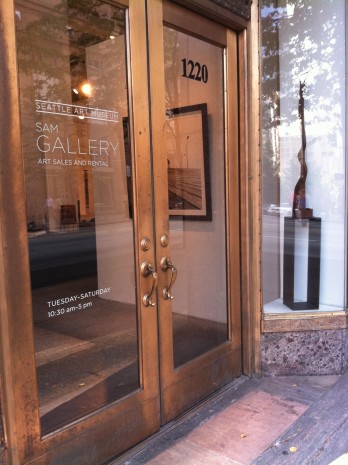 Have you ever wanted to know more about local art and artists?  What motivates artists, how they see the world and how that is different from your world view?  All of these discoveries are part of what we do every day at the Seattle Art Museum. We support local art and artists in many ways and one of the most popular is SAM Gallery Art Sales and Rental.
Tuesday through Saturday, 10:30 am – 5 pm, you can stop by 1220 3rd Avenue (at University, one block east of the museum) and view a wide variety of local artist's work.  We're always free and open to the public.
So how exactly does a person become well-versed in local contemporary art?  It's really easy—you start looking.  Much like reading books, the more you read the more you know what you like.  With visual art, the more you look the more you see and the more competent you'll become at deciphering, or "reading" what contemporary artists are trying to say and do.
At SAM Gallery, we carry nearly 200 local artists and have hundreds of pieces of fine art in our inventory.  All of these pieces can be viewed during our open hours and we also set up appointments outside of our set hours.
If you like the artwork you see at SAM Gallery, SAM members can rent the artwork.  It's a way to try it before you buy it, or some folks simply enjoy rotating the artwork in their home or office.  If you're sure about what you like, members can purchase on a payment plan and receive a partial credit for the rental.  If you're not a SAM member, you can join while here or you can purchase any work of art outright.
If you're just getting started with art, enjoy a good party, or already know you love art, then stop by for SAM Gallery's next opening Thursday, September 8 from 5 -7 pm.  Twice a year our Exhibitions Director Barbara Shaiman seeks new artists for the gallery. Our next show is Autumn Introductions and it features work by these local artists, who are all new to the gallery: Matt Cosby, Frank Huster, Leanne Grimes, AJ Power, Robin Siegl, Jennifer Stanton, Laura Thorne and Jacqueline Will.  Our University Street window will feature "Knitting Meditation for Peace" by Christen Mattix.
If all of this sounds easy, that's because it is– see it, try it, buy it.  You can become a part of the local art scene at SAM Gallery Art Sales and Rental.
-Jody Bento, SAM Gallery Manager