Beauty Shot Fridays: "Green" Winner and Our Final Question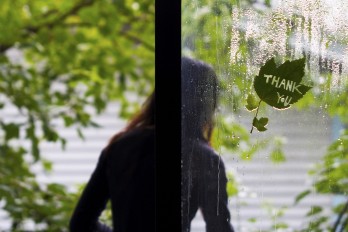 We have really enjoyed the Beauty Shot Fridays project that we put together to give people an opportunity to respond to the themes in our Beauty & Bounty and Reclaimed exhibitions.
Last week we asked, "What does 'green' mean to you?" and offered two tickets to Beauty & Bounty to the photographer behind our favorite photo.
SAM staff member Liz Stone selected the winner. Liz is a digital media assistant and a member of the SAM Goes Green Team. Of the winning entry she said, "I like this photo for its simple act of gratitude. Green means all of the things people posted here and more but I found that in almost all of the submissions this week there was a sentiment of gratitude in them. Whether it was the appreciation of a backyard wonderland, or a velvety forest full of life, to the recognition of all the possibilities Earth provides―it never hurts to take a moment―and a breath―and thank the Earth for its bounty."
Congratulations to Atsuko Nagakura! She was the photographer behind our favorite "green" Beauty Shot. There were many great pictures to choose from. Click here to see the complete album.
Beauty & Bounty and Reclaimed close September 11 so this week's Beauty Shot Fridays question is our final one. We want to know: How has your landscape changed?
Send your photo response to beautyshots@seattleartmuseum.org by 4 pm on Friday. Our favorite photo will win a $25 SAM gift card and a copy of Puget Sound on the Pacific Coast: A Superb Vision of Dreamland by SAM curator, Patricia Junker.
-Madeline Moy, Digital Media Manager