SAM Art: A new acquisition, all about place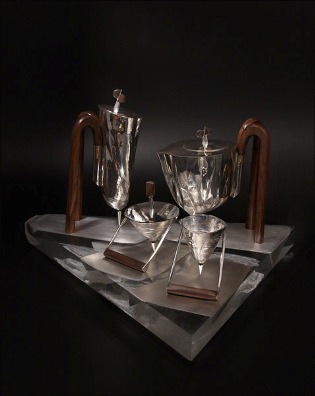 Location, Location, Location
My tea and coffee sets relate to the place they are going.
—John Marshall
Destined for an art museum, a home in the San Juan Islands, and a 1950s Seattle residence, a trio of recently installed tea and coffee services glory in their sculptural delight, technical virtuosity, and the promise of a festive gathering around warm stimulating beverages. Each piece, while an exquisite work of art, was designed to be used and pours properly without a drip—the artist's impeccable touch.
Tea and coffee pots rank as seminal works in the annals of silver production— in fact, teapots are considered a benchmark for the silversmith. Representing three decades of master silversmith John Marshall's career, these services blend traditional vocabulary—such as towering, vertical coffeepots and shorter, more horizontal teapots—with his evolution of individual expression. The service shown here was produced as a commission for the Seattle Art Museum.
In this video, Marshall talks about his work and demonstrates metalworking techniques.
"Tea and Coffee Service," 2008-09, John Marshall, American, born 1936, sterling silver, rosewood, Argentium sterling silver (an amalgam of fine silver and germanium), and acrylic, overall: 15 ¾ x 25 x 26 in., The Guendolen Carkeek Plestcheeff Endowment for the Decorative Arts, 2009.27.1-5, Photo: jerrydavisphoto.com. Currently on view in "Here and Now," the new acquisitions exhibition space, third floor, SAM downtown.