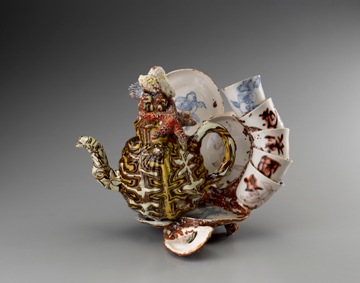 Inspired by the artifacts excavated from Junk shipwrecks that brought "china" from Asia to Europe, Koi Junk alludes to the migration of culture through trade, and specifically the culture of tea. It also references the forms, techniques, and ornamentation that dominated the aesthetics in the seventeenth- and eighteenth-century age of colonization. Thus, Koi Junk speaks in a contemporary voice to a long history of objects which bridge cultures and time.
Message from the Deep: Koi Junk, a Sculptural Teapot by Michelle Erickson with Julie Emerson
Members Art History Lecture Series: New Perspectives
Wednesday, 18 April 2012
7—9 pm
Plestcheeff Auditorium, first floor, SAM downtown
Open to SAM members and their guests only please.
Koi Junk Teapot, 2009, Michelle Erickson (American, born 1960), porcelain, colored earthenware agate, indigenous clays, 12 ½ x 11 in. overall, Howard Kottler Endowment for Ceramic Art, 2011.23. © Michelle Erickson. Currently on view in Here and Now, third floor, SAM downtown.