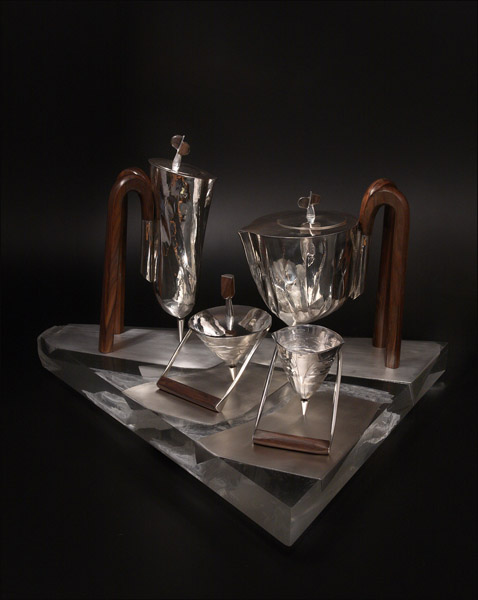 What, exactly, are the decorative arts? The answer might surprise you…
Part of the answer would certainly include metalwork, and objects meant for use. This contemporary tea and coffee service, commissioned for the museum by Julie Emerson, The Ruth J. Nutt Curator of Decorative Arts, ties the museum's historical American silver to the present. The design for this service was envisioned by master silversmith John Marshall when he walked into the expanded Seattle Art Museum. He believes that a strong clarity of space is an invitation to the art, and that three-dimensional, sculptural objects are a way of making the space have movement. The silver rises from a carved acrylic base that bears a visual similarity to rock crystal.
Beyond this stunning set, the decorative arts are varied and wide-ranging. Tomorrow evening, please join Julie Emerson as she discusses the decorative arts, and explores their histories and presentation.
Members Art History Lecture Series: Curator's Choice with Julie Emerson
What, Exactly, are the Decorative Arts?
Plestcheeff Auditorium, first floor, SAM downtown
Where and why did the terms "decorative arts" and "fine arts" originate? In the history of Western art, what were the roles of trade guilds, value, and geographical accessibility? Are paintings and sculpture favored over ceramics, metalwork, glass and textiles today? How do curators in European and American museums define and explore artistry, craft and design? Addressing these questions, Julie Emerson, The Ruth J. Nutt Curator of Decorative Arts, will place decorative arts in an historical context and discuss their significance at SAM.