SAM Art: Model Totem Pole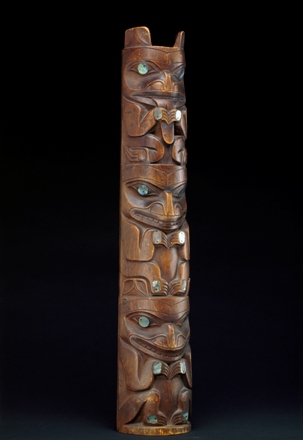 According to legend, Dan-kea was a grizzly bear hunter who was captured by the bears but escaped and returned home. Trying to quell a fever by sitting in the water, a rival chief got a sea-dog to seize him.  Dan-kea put out his tongue to feel what had touched him and his tongue stuck to the sea-dog, then was drawn out to a great length. This model totem pole has three bears with their eyes, hands and feet inlaid with abalone; the bear at the top is Dan-kea, holding his long tongue in his hands.
The small-scale totem pole is an indigenous genre that pre-dates contact: Captain James Cook personally collected one at Nootka Sound in 1778. Some model poles are diminutive, specific versions of the forty- to sixty-foot versions erected to honor the lineages of deceased chiefs and nobles. By the mid-19th century, these easily portable and compelling sculptures were in steady demand by outside buyers (including museums and World's Fairs).
"Gyaa.angaa" (Model totem pole), ca. 1890, Haida, yellow cedar, abalone shell, height: 23 ½ in., Gift of John H. Hauberg, 91.1.44. On view in the Native American art galleries, third floor, SAM downtown, starting Wednesday, 24 August.